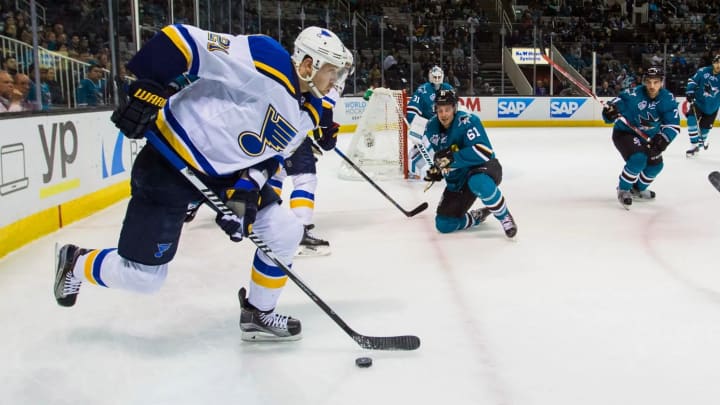 I Dunno, Man': A Western Conference Finals Preview
In case you missed our Eastern Conference Preview-turned-Cops-episode, this is not your typical NHL playoff preview. This is just two guys talking hockey. Viewer discretion is advised.
*
Rupp
You O.K., bud? Last time we left you, you were seeing flashing lights.
Whitney
I got busted living in the fast lane. That's what happens when you get me goin' talking playoff hockey. I gotta settle it down here. Thankfully, I told the officer I was doing some wicked hockey analysis and I got off with a warning.
Rupp
The people at home, they probably think we're sitting around with nice little stat sheets and stuff. No way, man. We're kicking this stuff straight from our heads.
Whitney
Alright. Woof. Let's do this.
Rupp
Sharks vs. Blues. I mean … yikes. I don't know.
Whitney
I really don't know, man. That's my analysis: "I dunno, man." You should go on the NHL Network and say that. It's the truth the people need.
Rupp
The first thing that comes to my mind is, San Jose's power play is ridiculous. When you say skill the first team that comes to most people's minds is probably Chicago, Washington, Pittsburgh. But honestly, I don't think there's a collection of five guys who are more skilled than the Sharks' top PP.
Whitney
Thornton. Marleau. Pavelski. Couture. Burns. That's disgusting. Filthy.
Rupp
And they way they whip the puck around without even looking, it's like watching five Sedins out there. They know where each other are at all times. We had Logan Couture on the Arena Cam on NHL Network after Game 7, and he said it something like, "You got Burns out there with the big shot. Thornton finding the seams. Pavelski is one of the best in the league in front of the net. Then it's just my job to skate around and clean up the junk."
Logan is underselling himself there, but he's hitting on a good point — they're all fitting into a perfect role on that unit.
Whitney
Listen, I know people are saying, "Ah, yeah, the Sharks look good, but come on, it's the Sharks." No, man. No. There's a real fire with these guys now. Look up the clip of Pavelski's goal in Game 5 against Nashville. Look at his face.
Thornton gives him a ridiculous no-look backhand pass, and as he releases the pass, he gets smoked by the defenseman. He stands in there and takes it like a man.
The first thing Pavelski does when the scores? He turns to Thornton and screams, "What a f—— pass!"
Look at that face.
Rupp
You played with Pavelski in the Olympics, right?
Whitney
Yeah, and I didn't know that much about him going in. He's kind of a quiet guy. So we get on the ice for Team USA, and he does everything well. Responsible defensively, great knack for scoring, drives the other team nuts. Then we get off the ice, and we're playing Ping-Pong in the village, and he's an unreal Ping-Pong player. He's a two-handicap golfer. I was looking at him like, WTF is wrong with you? What aren't you good at?
Rupp
Pavelski is such a smart player. Sometimes it doesn't leap off the screen. Since you went to the friggin' telestrator I guess I have to as well. Check out this power-play goal he scores in Game 7 against, in my opinion, the toughest defensive pairing in the NHL, Josi and Weber.
Notice what he does in front of the net when the puck gets down low to Marleau. Now, most guys would keep their position. But Pavelski actually skates toward Marleau just slightly, because he knows Weber is going to go down to eat up the passing lane. He goes right into that little pocket of space with his stick in shooting position.
Whitney
Some guys just have this knack for knowing exactly where to be on the ice. Pavelski knows where the puck is going.
Rupp
We've all seen the donkeys who don't seem to realize the boards are round. Seriously, they see a puck get rimmed hard around the boards and they chase the puck instead of skating to where it's going to be. But Pavelski seems to be two steps ahead of the puck.
Whitney
There's a guy like that in St. Louis, too. Alex Steen is not really well-known to the casual hockey fan, but he's an undercover star who plays the game the right way, similar to Pavelski.
Rupp
I don't see much separating these teams, and I think the one deciding factor will be how aggressive they will be in activating their defensemen. St. Louis and San Jose are both really good when their weak-side D pinches in hardcore in the offensive zone. You'll see Kevin Shattenkirk do this a lot for St. Louis, and of course this is Brent Burns's speciality in San Jose. They almost become a fourth forward.
Of course, that takes some guts, especially as you advance further in the playoffs. Because you can absolutely get burned if you turn the puck over.
Whitney
This is especially true for the Blues because they're so hard and heavy on the forecheck. They need to balance a fine line between playing hard and being assholes versus crossing over that line and taking penalties. I know that sounds like typical talking-head stuff, but seriously, if they take penalties, San Jose will make them suffer.
Rupp
In the Eastern Conference Preview, we talked about how rare it is for a defenseman to be a team's offensive creator and also to be a No. 1 shutdown guy. There's one guy I left out of that discussion who is playing in this series. Shattenkirk has really impressed me this season.
Whitney
Smart kid. Really solid player.
Rupp
He does this thing that's very rare.… Let me explain. When I was first coming into the league, I remember I tried to make a play in the neutral zone and I turned the puck over. When I got to the bench, my coach said, "What were you doing? Didn't you know your defensemen were tired?"
I'm like, "What? How the heck am I supposed to know that?"
There's so many variables going on in a game, and as a young player, especially in the playoffs when the speed is crazy, you're just trying to survive. But the truly great players realize all the little variables on the ice, like whether or not their teammates are gassed and need a change.
It's very hard to pick this stuff up on TV, and that goes for me as well. Sometimes I'll be watching Shattenkirk, and he'll have the puck in the neutral zone, and instead of making a play he will spin around and shield the puck from the defender.
I'll think, What's he doing? The guy's all over him?
And then I'll notice his forwards are jumping off for a line change. They were gassed, and he recognized it. As soon as the new guys jump on, he spins away from the defender and moves the puck. It's really impressive.
Whitney
That's exactly what I was saying in the other preview about Scott Niedermayer and these other horses like Hedman and Letang. It's not just the physical conditioning. Niedermayer wasn't a huge guy. But his hockey IQ was through the roof. He controlled the game with his mind, and that's how he was able to play so many minutes without breaking a sweat.
Rupp
Shattenkirk reminds me of a really good point guard in basketball. When the other team gets hot and goes on a run, a good point guard has a way of bringing the ball up real slow, calming the tempo down. There will be stretches where St. Louis doesn't look great, and Shattenkirk will make a smart play to buy some time and calm things down.
Whitney
As a former defenseman, I was excited for Burns vs. Doughty in round 1. Burns won. Then I was excited for Burns vs. Weber in round 2. Burns won.
The Blues don't have that knockout defenseman, but they've got two excellent guys in Shattenkirk and Alex Pietrangelo, split up on two different pairings. They're very nicely balanced, and that's the reason they've been able to slay two of the best offenses in hockey in Chicago and Dallas.
Rupp
This is the key, for me. Can the Sharks' third and fourth lines provide enough secondary scoring? Because I think the production of Pavelski, Thornton and Couture might dip a bit when they're up against St. Louis' super-disciplined defensive system.
Whitney
Look out for Robby Fabbri. The dude has the sickest head-shot in NHL right now.
Rupp
Hahaha. He looks a little like Borat. The kid can can fly. And I think what makes him so dangerous is that the Blues' forwards aren't really known for their speed. Since Fabbri is so fast, it's almost deceptive. He's a little spark for them who goes above and beyond their normal grinding style. Getting 14 points in 13 playoff games as a 20-year-old kid is pretty impressive.
That Stastny-Fabbri-Brouwer line is kind of a strange mix, but they have it all.
Whitney
This is the first series where I really have no idea who's gonna win. I'm going to say St. Louis just because I was with them for some training camps and I know how tight their room is. So many good guys. I'll say Blues in seven.
Rupp
If San Jose has a disproportionate number of power plays, they'll win. But if St. Louis plays hard and smart, I think their system is going to be too tight for the Sharks over seven games. I'll go Blues in seven.
Whitney
Can I just take this time to thank the Mass. PD for letting me off with a warning today? I really appreciate it. Thank you for your service.
Rupp
Wicked nice. Until next time, bud.