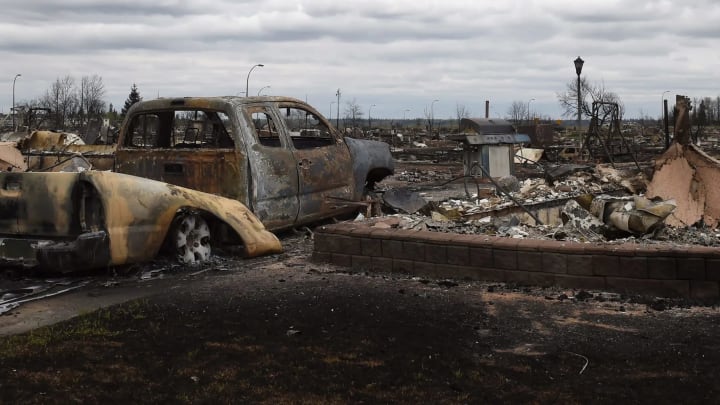 For Fort McMurray
During warmups, I looked up into the crowd and saw my brother, Brent, tapping away on his phone. I could tell from his face that it was bad. This was right before Game 3 of our playoff series against Dallas. The series was tied 1–1. It was moments before one of the biggest games of my career, but all I could think about was the smoke and the fire.
I took a few shots and then looked up into the stands again. Brent had his head down. His face said it all. When it's your brother, you just know.
Our hometown of Fort McMurray, Alberta, was being engulfed by a wildfire. Brent and his fiancée, Shannon, had flown in from Fort McMurray to see me play. Their daughters, Avery, Emma and Grace, were back there, 2,000 miles away, staying with our mother. 
It had started out as nothing too crazy. The previous day, just before my brother got on the plane, he heard about a little forest fire on the edge of town.
Shannon's motherly instincts kicked in right away and she actually wanted to get off the plane, but it was too close to takeoff.
When they landed, they called home to tell our mom to have a bag packed, just in case.
The next day, after our pregame skate, I took my routine nap. Even though we were at home, the Blues actually put us up at the Four Seasons hotel right by the rink. It's a playoff thing. When I woke up around 4 p.m., I had received a tweet from Dan O'Toole, an anchor at Fox Sports 1. Dan and I go way back to when he was the play-by-play guy for our local Fort McMurray junior team. We actually won the Royal Bank Cup national championship together when I was 16.
So getting a chirp from Dan wasn't unusual.
It said, "You just know @ScottieUpshall will be playing tonight's game for everyone in his hometown. Stay strong Fort McMurray."
I retweeted it immediately, thinking nothing of it except, Oh, yeah. I heard there was a little forest fire back home.
Then I started scrolling through Twitter and I saw photos of Fort McMurray. The big pine trees were on fire. The same pine trees we used to ride our mountain bikes through to go play street hockey every day in the summer. Not just a little fire — but like something out of a movie about the end of the world.
Imagine the woods or the streets you ran through as a child. Now imagine them engulfed in flames. I was numb.
I immediately called my dad, who just so happened to be in Vancouver for work that day. He told me that everyone back in Fort McMurray was getting evacuated.
I hung up and … well, I just freaked out. I knew my mom was there alone with the girls.
So I called her in a panic. My mom, she's the funniest person because she hates flying. She hates traveling, period. She worked in a grocery store in Fort McMurray all her life. Asking her to pack up her bags and leave town all of a sudden was a worrying proposition.
She was like, "Oh, no, everything's fine. We're packing up a cooler. We've got a tent in the truck. Don't worry, Scottie. Good luck in your game."
Like nothing was happening.
I'm like, "Mom! You're being f—— evacuated!"
So then I called my brother, who was back at my place getting ready for the game. He never shows his emotions.
I'm like, "What's going on?"
He says, "Oh, nothing you need to know about right now."
He was trying to protect me and keep me focused. I could tell he was hurting. I didn't know what to say. I told him that everything was going to be O.K.
And then he just broke down.
If you don't have children, you can't understand. He was so devastated that he wasn't there with them. The day before, the fire had seemed like no big deal, and now he was reading news reports online that the fire was out of control and that people were in danger of being trapped in the town on all sides.
I sent out a massive email to everyone I knew who might be able to help. I even called people who I thought might have access to a helicopter.
When I got to the arena, I was a mess. I was on my phone during warmups, which I never, ever do. I just couldn't get it out of my head that my mother was at home with three little girls.
Right as warmups were ending, I looked up at my brother one last time. He gave me a little fist pump, like, Go get 'em.
For him to have the strength to think of me in that moment — with all he was going through — meant so much to me. Hockey was always been an escape. It could be 5 a.m. or it could be midnight; it could be 20 below or 80° outside. When you're in a hockey rink, there's no time, no weather. Everything in the world goes away.
When the puck dropped to start Game 3, I forgot about the fire.
We won 6–1.
After the game, I went straight to the Wives' Room to hug my brother and his fiancée. They told me that my mom and the girls were safe, but that when the local authorities had finally opened up the roads and started the evacuation, it was complete chaos. People were driving over sidewalks in a panic. My mom met up with Ryan, the father of the two oldest girls. As they were driving out of town with the girls, they could see a 100-foot wall of fire on one side of the highway. There was ash raining down on all the cars. 
It took them five hours to drive 10 miles.
Imagine leaving the only home you've ever known with a wall of fire in the rear view mirror.
Now imagine being a child and seeing that.
Ryan and my mom did an amazing job of keeping them busy, watching movies on their iPad and singing songs together during such a horrific time.
Even though we knew they were safe, we all still felt helpless. That was an intense and surreal moment.
Finally, my brother turned to me and said, "You guys scored six tonight? Shoot, bud, I probably only saw one go in."
When we saw the photos and videos of the destruction over the next few days, it was heartbreaking. So many homes had been burned to the ground. So many small businesses that had been anchors of the town for years were lost. To see videos of people evacuating with black smoke all around and embers hitting their windshields — like they were literally driving out of hell — and then to think of my nieces, it was mind-blowing.
There is a lot I could say about this disaster. Obviously you can look at the photos of the destruction yourself. But I don't want people to just scroll through Twitter and shake their heads in disbelief.
I want people to know what Fort McMurray is all about. When I read news stories about my hometown, I see the word boomtown a lot. I read about the economic ups and downs, and about the people who just go there to make money in the oil fields. It paints a picture of a place that's all about big business. But it's not. It's a real community that desperately needs help rebuilding.
The heart of Fort McMurray is the hardworking people who have been there since the beginning. When you read the words Fort McMurray, I don't want you to think of oil, I want you to think of real people, like Ms. Jomass. She was the woman who worked the concession stand at Beacon Hill Arena when I was growing up.
Ms. Jomass made the most legendary fries and gravy in Alberta. In fact, I've played in lot of hockey rinks all over Canada, and I can say without a shadow of a doubt that Ms. Jomass's fries and gravy were the best in the country. After games, you would tail it straight to the vending machine to grab your orange pop and then get in line. You had to wait. Most days the line would stretch almost out of the building. If there was a tournament, it would get so long that you'd have to bribe someone's little sister to wait in line for you.
Everyone had the same ritual. The parents. The coaches. The kids. It was like a religious thing at Beacon Hill Arena. (Now called "the Frank," after the late Frank Lacroix, a legendary ambassador for Fort McMurray Minor Hockey.)
I can still close my eyes and smell that rink. I made the 20-minute drive to Beacon Hill probably 1,000 times. First with my mom and dad, then with my hockey buddies when they got their driver's licenses. We would roll down all the windows in the middle of winter and blast Pearl Jam to get our juices flowing before the game. It would legitimately be –30° Celsius (yes, us Canadians will do just about anything to wake up for a little hockey match) and we'd be rolling through town belting out the lyrics to "Even Flow" like a bunch of idiots.
The fire came for Beacon Hill first. That whole side of the city is gone now. I'll never forget getting the text message that said, "The arena is gone, man."
I thought about our banners that had been hanging in the rafters.
TOURNOI INTERNATIONAL DE HOCKEY PEE-WEE DE QUÉBEC
CHAMPIONS
1996
For those who don't understand the significance, there's a huge youth hockey tournament in Quebec every year. The best teams from all over Canada, the U.S. and even European teams are invited to compete in front of huge crowds. It's really like something out of a Mighty Ducks movie.
But it's also very expensive, and very exclusive.
Our little Peewee team had been making some noise, but Fort McMurray was so far out in the middle of nowhere that we would have to drive four hours to Edmonton or seven hours to Calgary to play against good competition. To give you some perspective, when I was growing up we had a Pizza Hut, an A&W and one McDonald's. Those were the big things. That's where you and your team would hang out every day: Club Pizza Hut or McDicks!
In the fall of 1996, all the kids on the team wrote letters to the Quebec tournament committee basically begging them to accept our little team from middle-of-nowhere Alberta. Since a lot of us took French immersion in school, we wrote our letters in French. It was probably terrible French, but we figured it was the thought that counted.
We even had the mayor, the fire department and the police write letters of support to the committee.
At practice a few months later, our coach had us all take a knee. He told us our application had been accepted. We were going to Quebec.
The only problem was, Quebec was a 41-hour drive from Fort McMurray. Flying everyone there and putting all the families up in hotels was going to be incredibly expensive. This was before the oil industry really took off. Our moms and dads were straight blue-collar. There wasn't a ton of extra money around.
The only way to get the funds together was to hustle bottles. This might be a very Canadian thing, but it was like our version of selling Girl Scout Cookies. All the kids on the team paired off in twos and went door-to-door asking everybody in town for their empty pop and beer bottles so we could exchange them for cash at the bottle depot.
Thankfully, people drink quite a lot of beer in Canada in the winter, so there was no shortage of bottles to go around.
Once the word got out that we were raising money to go to the Quebec tournament, people in town started packing up boxes for us in advance. We didn't even have to do our little sales pitch at their doorstep. They invited us right into their garage, we'd toss the bottles into the back of our parents' big pickup trucks and we were off to the next house.
We got 10 cents a can and 20 cents a bottle.
At the height of our hustle, we were pulling in about $2,000 a day.
I'll never forget riding around in my dad's truck on those freezing days, just dreaming about playing in front of thousands of people in Quebec, in the same tournament where Gretzky and Lemieux still held records. We were probably going to get annihilated, but it didn't matter. It was like we were going to the mecca of hockey.
The whole town rallied around our little Peewee hockey team. Without their kindness and sense of community, we simply could not have raised enough money to go.
The crazy thing is — and I can't stress enough how crazy this was at the time — the tournament was one-and-done. If you lost a game, you were out. So all of this money and effort was being put together so that a tiny team from nowhere could basically go get crushed by a travel team from Montreal or Russia and then pack up and come back home.
Funny story, though. We didn't lose our first game. Then we didn't lose our second.
We ended up winning seven tournament games in a row and took home the championship. More than 120 Peewee teams had come to Quebec, and we were the ones left standing. No small-town team from Alberta had ever won before. I still remember the kids on other teams looking at our jerseys like, What the hell is Leo Roberts Enterprises?
We were the Leo Roberts Enterprises Peewee AA Barons because of the generosity of Mr. Leo Roberts. He personified everything good about our town. He started his business with one welding truck. Then he added another. He ended up building an entire heavy equipment repair business from just one truck, and he was always the first to reach into his pockets for the kids in the town.
We brought back the banner from Quebec to the Beacon Hill Arena, and the whole town came out to watch it go up into the rafters.
A lot of the doors we knocked on are no longer there anymore. A lot of the people who opened their homes to us have lost everything. More than 2,400 structures have burned down, and 500 more have been damaged.
Fort McMurray needs generosity and assistance. But I want people reading this to know that there's more to my hometown than pictures of devastation and news headlines. It is not just a boomtown, where people come to to make a little money before moving on. It's a real community with hardworking people that is worth building back up. Yes, 15% of our town has been damaged, but 85% still remains.
As the community is slowly allowed to return to Fort McMurray, it is my genuine hope that the local businesses and companies that have been here since the beginning are the ones that will spearhead the efforts to build it back up. The people of my hometown have been through a trauma they will never forget. But this town was built on the backs of people who had to scrap for everything.
A few days after Game 3, as the chaos died down and the smoke started to clear, the first aerial shots of the town started to show up on the internet. Beacon Hill was almost completely flattened and black. My friends' houses, where I used to sleep over before early hockey practices, were just gone. The woods, where we mountain biked through amazing trench-cut trails every day in the summer, were gone. The golf course that we used to sneak onto and play 54 holes a day (and where we drank our first Molson Canadians) was gone.
But there was one familiar building still standing. The rumors were premature after all. The Beacon Hill Arena was still there. Amidst all the chaos, our banner was still hanging.
I shouldn't have been surprised.
When we went to Quebec as peewees, we played against one of the big local Quebec teams in the final. There were 16,000 fans packed into le Colisée, the Nordiques' old arena, and every single one of them was against us, except for our families.
We were down 3–1 going into the third period. To most people, it looked hopeless. But not to us.
Don't count out my town.
To the firefighters and police officers who bravely stood in the face of unimaginable danger to lead people to safety: Thank you.
To the hundreds of people who have reached out to me personally to offer help: Thank you.
To Ray Whitney, a great friend and one the best teammates I've had the pleasure of lacing up with, who opened his home up to my nieces so they could keep going to school in the wake of the fire: Thank you.
To Ray's wife Brijet, who opened up her dance studio for the girls and their entire Fort McMurray dance class so they can continue to do what they love: Thank you.
To the people of Fort McMurray: Keep fighting.