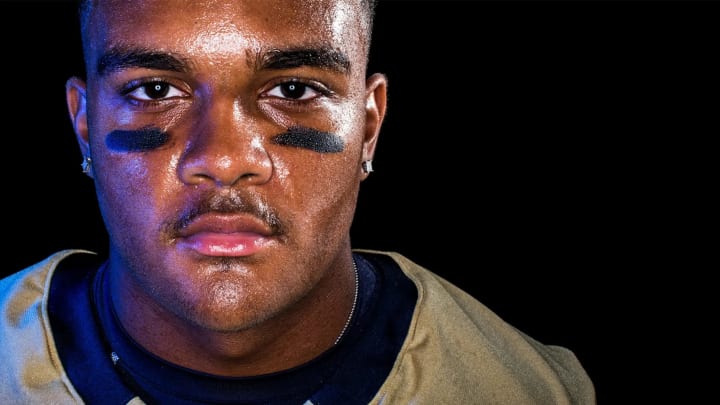 Hello, Wake
Earning a football scholarship is a process.
It takes hard work and focus, but more than anything else it takes time. The time spent discovering the sport, recognizing your passion for it and then practicing. You practice and practice and practice with the hope that one day the right person will be watching you at the right time and you'll be awarded the scholarship you've been working toward.
That dream came true for me when I was a junior and committed to play football at Wake Forest.
Getting to that moment took a lifetime. But facing the possibility of having it all taken away occurred in the blink of an eye.
Last October, I was playing in what I thought would be the second-to-last game of my high school career. I was the starting quarterback at Bishop McDevitt High School in Harrisburg, Pennsylvania, just outside of Philadelphia, and we had a home game on senior night against Lower Dauphin High. A lot of people might not know this, but high school football is a pretty big thing in PA. Maybe not to the level of Texas, but it's still pretty intense. The fans get rowdy, especially the parents.
This game occurred about six months after I'd committed to Wake, and our team was playing well. We were up by a good margin when we called a designated run play for me. I ran to my left and got hit on the right side of my knee.
POP!
I tried to get up but I just laid there helpless. That's when the stands went quiet. I tried to move my left leg three or four times just to stand up. Nothing worked.
Eventually, I was carried off the field by some teammates and our trainer. They placed me on a bench on the sideline. I looked up at them. I think they saw pain in my eyes … not because of how much my knee hurt, but because in that moment I knew that I would never play another down with them again.
Instead of thanking my teammates for carrying me to the bench, I yelled something that I thought was going to be much more powerful. Maybe it was a little corny, but it was also something I hope they'll always remember:
"Keep your heads up, boys. Go and finish this game!"
From the sidelines, I saw my teammates battle to the end. They went on to win 42 – 21 … a resounding way to finish off one of our biggest games of the season.
I celebrated as much as I could in the locker room. But just by the way our trainer had been talking about my knee, I knew this wasn't an ordinary injury. I went home soon after the game, and the next morning, my mom drove me to the hospital for an MRI.
It revealed a complete tear.
The doctor started talking about surgery options, recovery time, rehab. But I don't really remember much of what he said. It was all a blur.
Because, in that moment, the only thing that crossed my mind was a terrifying thought: Damn, my football career could be over … forever.
Complex Networks /
All right, all right. I hope I'm not overdramatizing it (my teachers taught me to control my tone in my papers). But, for real, when you're 18 and this type of injury happens to you, all you can think of is the negative. It's just natural.
Pretty soon after finding out that I had torn my ACL, though, I had surgery and started rehabbing. The doctors said that if everything went according to plan I would be back on the field in eight months or so. For that to happen, however, I was going to need to commit to an intense rehab schedule. So that's what I've done.
I learned that type of work ethic from my father.
My dad always harped on the importance of working with a purpose. It didn't matter whether it was homework or football. What mattered was that I cared enough to see a job through to the end.
Which gets me thinking … let me tell you a funny story.
You're probably not going to believe this, but back in middle school, I was a bit chubby. (O.K., don't hate, my mom fed me well.) I was about 10 pounds too heavy to participate in the football league my friends played in. There were times that I made it clear to my dad that I didn't want to put in the effort to make the league's weight limit — whether I said it explicitly or showed it in my body language.
Complex Networks /
Well, my dad wasn't having any of it. So every weekend he had me out running, to make sure I lost the weight to be able to play. And when it looked like I was about to quit, he'd say something like, "You aren't quitting, Tay. You're gonna play football."
That was Dad.
When I finally lost the weight, I thought the hard part was over. You know, I thought I could just go out there and ball like the rest of my friends. But my dad was smarter than that. He drilled me to be a leader, to take responsibility for the entire team. Dad definitely knew what he was talking about, too. He was a star quarterback in high school, and even had the opportunity to play in college. When I was younger, I wanted to be just like him. Sometimes my family and I will put on some of his high school tapes and marvel at how similar our style of play is.
I wish more than anything that he could watch me these days — I want that more than anything else. But my dad isn't with us anymore. He died in a car accident when I was 12 years old.
I wonder what he'd think of the fact that I have a scholarship from one of the top universities in the country. He knew the value of an education was much greater than anything I could ever achieve on the football field.
If he were here, I think he'd make sure that I was doing everything I could to get back on the field. But only if I never lost sight of the fact that there's so much more to life than a game.
As excited as I am to get to Wake Forest, I can't help but also be a little sad that my dad won't be there to help move me into my dorm or watch me take my first few snaps in practice. I'll be thinking about him a lot when I get to campus — what he'd make of the beautiful quad, the North Carolina weather, the barbecue.
It's the little things that I miss the most, you know?
But even though he's not around anymore, I think he'd be happy with where I am in my life. I have a few incredible women who deserve all the praise in the world for that.
Let me tell you about my mother. This woman had to raise two boys while dealing with the loss of her best friend. Think about that … think about how strong you have to be to give your children a good life as a single mother. Not only that, she's made sure that I've kept my grades up while also supporting my decision to pursue a life in football. She's the real life wonder woman.
Just like my mom, my grandma has also come to every one of my football games since I was just a chubby kid. I'm kind of laughing about it right now, cause she'll sit in the stands yelling her head off the entire game without a care in the world. The same is true with my girlfriend. It's one big party, really.
The truth is, no matter how much I chuckle thinking about it, I kind of like it. I know how important my football career is to them. I get to look up during the games and see the people who have fought just as hard as I have — if not harder — just so I can live out my dream and play quarterback in college.
Everything I do, I do it for them.
James Robinson/PennLive.com /
A few hours after I woke up from surgery for my ACL, the anesthetic started to wear off and the pain kicked in. I barely wanted to move, so when my phone started ringing, no lie, I was a little annoyed. Then I looked at number.
It was Coach Clawson.
My heart dropped. In my mind, I started running through all the scenarios of what might happen — the scariest, of course, being that maybe the program didn't have a scholarship for me anymore.
But when I answered, Coach wasn't angry or disappointed that I'd been injured. In fact, the first thing he asked me was how the surgery went. And then he said something I'll never forget:
"I want you to know that your place at Wake Forest is still secure. I know that you are 100% committed to us. And you know what? We're 100% committed to you."
Those words, man … they meant the world to me. I honestly almost started crying. I wanted to get on a flight down to Winston Salem just to hug the guy. Just hearing his tone of voice made me want to work even harder once I was medically cleared.
Complex Networks /
Oh, and speaking of getting medically cleared — you might have heard that I was grayshirting this coming year at Wake, which meant that I would arrive on campus in January 2018.
Well, I have some good news: My recovery is ahead of schedule. I'm already running and will start making cuts soon. In fact, everything has been going so well that I've now been cleared to redshirt.
I'll be going down to Wake on July 5, 2017.
I. Am. Hyped.
It's a good feeling to already get this much support from the people at Wake, and I'm going to do everything in my power to make them proud.
So I guess if there's one message I want my fellow Demon Deacons to hear, it's this: I hope you're 100% committed to me, because I'm 100% committed to you. We have a lot of work to do, but I'm not scared of a challenge. Actually, it's the complete opposite.
I'm prepared for one.
---
---
You can learn more about Tayvon Bowers and his journey to Wake Forest by tuning in to Complex Networks'' QBI: Beyond The Lights, a 10-part docu-series created by Peter Berg's. Film 45.Available for free, only on go90. Feel free to follow the show on Facebook and Twitter.