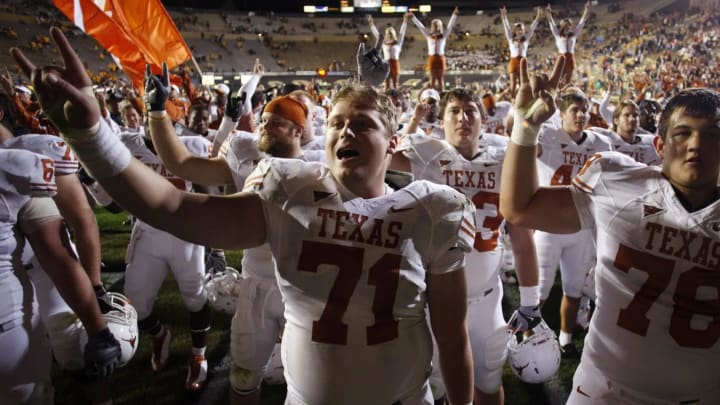 Bring Back the Lone Star Showdown: Familiarity Breeds Contempt
During my five years at the University of Texas, I played in some of the most iconic football venues in the nation — the Cotton Bowl, the Rose Bowl, AT&T Stadium, to name a few. We played for bragging rights and national championships alike. But the most difficult place to play was undoubtedly Kyle Field, home of the Aggies.
It turns out that the 12th man is actually a real thing (and that's why Aggies won't stop talking about it).
The first time I played at Kyle Field was 2007. We were 9-2, poised for an at-large bid to another BCS game. The Aggies were a middle-of-the-road Big 12 team. They had lost four of their last five games and were on the verge of firing Dennis Franchione. Position by position, they were outmatched. On paper it shouldn't have been much of a game.
But on that night, I was introduced to the transformative powers of a rivalry.
Kyle Field was literally rocking that night, and the Aggies suddenly morphed into a top 10 team. They ran the ball effectively and chewed up the clock, grinding out four yards whenever they needed three. Our offense ran only 62 plays the entire game. But honestly, it felt like even less than that.
It was my first start at left tackle, which meant I was protecting Colt McCoy's blindside. Knowing how important that job is (and taking into account that I naturally belonged at guard or center), I was nervous every time a passing play was called. The fact that we were behind the entire game certainly didn't help matters. And I was also tasked with blocking a young Von Miller.
I wish I could convey what we experienced that game. Our offense was in great shape, but I somehow felt drained at the end of every drive. I remember we scored with two minutes left in the 4th quarter and narrowed A&M's lead to 8. But nobody on our offense even celebrated; we jogged off the field and got ready for the onside kick. When our coaches made us watch it on film afterwards, we were speechless when they demanded to know "Why?" Years later, now I think I know. It was just that game, in that atmosphere. The emotion of it all sucked every ounce out of us.
It wasn't two teams playing against each other; it was two fan bases, really two tribes, at battle. Those rivalry games were a catharsis in full motion, and it's those kind of experiences that make life memorable. They're the stories you tell again and again.
As a former player, I miss it.
It's sad that memories of such a great rivalry are all the state of Texas has now. Thanksgiving will never be the same without it; the past century or so has made the Lone Star Showdown part and parcel of Texas culture.
That being said, the Aggies should probably never play the Longhorns again.
In the minds of Longhorns, Texas A&M has always been our jealous and ornery little brother. Little brother wins every now and again, but only enough to be annoying and make us mad. Numbers don't lie: the rivalry record is 76-37-5 in Texas' favor. But what the Aggies have done since 2011 might be considered one of the savviest marketing moves in recent college football history.
After more than a century of toiling in frustration, Texas A&M has finally gotten out of big brother's shadow. It all started when they left the Big 12 for the SEC. The conference move was publicity in itself, but they also caught lightning in a bottle with Johnny Football. Suddenly the Aggies went from a Big 12 also-ran, to becoming the most exciting team to watch in the country. I cheered for them like crazy when they beat Alabama in 2012. Their record setting offense, electric Heisman trophy winner and devastating defeat of OU in the Cotton Bowl—it all developed into the perfect storm. Combine all that with the Longhorns downturn, and the football landscape in Texas looked different. From a business perspective, A&M would be foolish to ever reignite the rivalry again. Four hours on one Thanksgiving night could completely undo all they've accomplished since the last time they lost to Texas.
What's good for the Texas Aggies is one thing; the greater good of our state is quite another. The UT and A&M rivalry needs to come back because this is Texas, football is our sport and playing it on all levels is our pastime.
Our math departments are going to compete for research grants, our alumni are going to compete for jobs, our colors are going to compete for shelf space at Marshall's and TJ Maxx. This rivalry has roots much deeper than sports, but it's only properly settled on the state's grandest stage: the Lone Star Showdown on Thanksgiving night.
It's far past time to stop letting internal politics deprive both fan bases of our game — one that's nearly as old as the state itself. Let's not forget that the decision makers at both of these schools don't own this rivalry; they inherited it.
Yes, we can play other games against fill-in rivals, but every Longhorn and Aggie knows deep down that it's not quite the same. It lacks that good old personalized hate. The Texas and Texas A&M rivalry is special not so much because of our differences, but more so because it's full of familiarity. And familiarity always breeds contempt.
The men on both teams know each other, playing with or against one another in high school. When they sign letters of intent on national signing day, those familiar relationships and rivalries only escalate.
There's a good friend of mine named Lee Grimes. Lee was an offensive lineman from Brownwood who I began following back in high school. We were both getting recruited and played the same position. At that age I spent all my time on Rivals.com. I wanted to see who got offered by who, how big they were and even how much they benched pressed—although admittedly, most of those numbers are completely bogus.
After we both signed our LOI's—me at Texas and Lee at A&M—we actually played in the THSCA (Texas High School Coaches Association) All-Star Game together. It was North vs. South, and this game featured some of the best players in the state: Javorskie Lane, Jamaal Charles, Jermichael Finley and Colt McCoy, to name a few.
Lee and I played on the same offensive line, so for that whole week we lived in the same dorm. We practiced together, ate meals together, hung out together. Lee was this hilarious guy who I got along well with. He also happened to get a staph infection during the camp.
It's the important things you remember, you know?
Lee confessed to me that he had wanted to play at Texas, but was blunty denied by one of our coaches. Something like a straight up: "You're not good enough." Seriously, that was it. So as you can imagine, after he signed with A&M, he hated the Longhorns. The recruiting advantage has tipped back and forth between the schools over the years, but for the majority of the 2000s, there was just a way things happened: The best players in Texas went to UT (or sometimes, regrettably, OU), and A&M would end up with a class full of young men who were angry that Texas didn't recruit them. There was never a game we played against them—regardless of final score—where you couldn't sense that massive chip still there on their shoulder.
Throughout our college careers, Lee and I would always make sure to meet up after the annual game. My senior year in 2009 we played at Kyle Field, and no surprise, the 12th man showed up too. Lee was starting for A&M and they had one of best offenses in the country, with Jerrod Johnson tossing passes to a generally uncoverable Jeff Fuller and Ryan Tannehill. We came into the game as a top five team with hopes of playing for another national championship. But because of the '06 and '07 games we knew nothing was going to get handed to us. We were in for a dogfight.
The Aggies played like their hair was on fire. They ran up and down the field on our defense—which nobody was prepared for. But we were responding and scoring as well. Both teams were pushing each other and playing at an incredibly high level. We eventually were able to pull out a close win, but it took everything we had to secure it.
After all of that, at the end of the game, Lee and I had our annual reunion again. Reflecting on the previous five years, we appreciated the journey. I wanted to linger and soak it all in. Walking off the field as a senior is surreal. Memories are all you take with you once you leave. With Texas and Texas A&M, there's rivalry, but with so many of us there's a relationship as well.
Yes, you can play against other opponents. But there's nothing that can replace the genuine article. Baylor and TCU are great, but they couldn't fill Darrell K. Royal Stadium even if they tried. I know that sounds harsh, but one measuring stick of a rivalry is how many people will pay to see it. For Baylor and TCU, it's around 40,000. For Texas and Texas A&M, it's over 100,000.
The people of Texas deserve better than to spend their Thanksgiving weekend watching the Iron Bowl. They shouldn't be relegated to watching the Gators and Seminoles battle it out for bragging rights in Florida. Football is a big deal in Texas too, if you haven't noticed. We have our own game with a rich history.
It's time to bring it back.