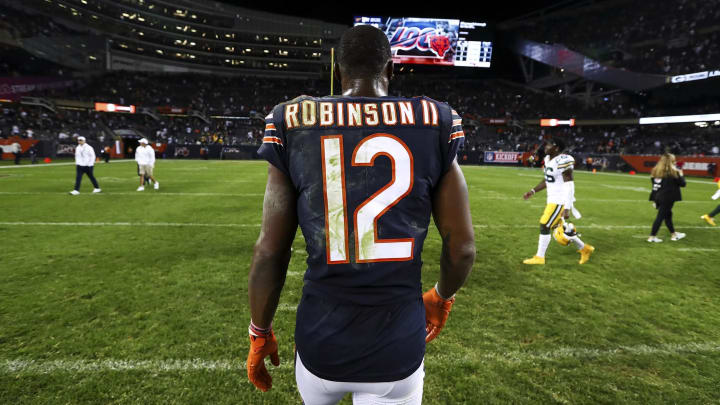 The Iso: Allen Robinson II
BEN LIEBENBERG VIA AP
The Players' Tribune is introducing a new series called The Iso. With so many of us keeping our distance from each other in a variety of ways, we decided to ask some of our favorite athletes to share how they've been dealing with life in the Covid-19 world, and how they're spending their time away from their sport.
---
---
Ileft New York in early March. I was training in the city, like I always do around that time, when the first local cases were reported. I didn't want to risk exposing myself to the virus, so I left. I hit the road, heading toward Chicago — choosing a car over a flight. Along the way, I stopped in Detroit, where I'm from, to check on my family. I knew a quarantine order would hit soon and wanted to make sure they were situated.
I found out that someone I went to high school with had the virus. One of my aunts — she lives in Detroit — she had it too. She's doing well, thankfully. And I also have an uncle who had it and was released from the hospital in March. So I've been pretty close to it and understand how serious it is.
I live deep in the suburbs of Chicago. I live about 15 minutes south of Lake Forest, where our daily facility is located. I'm about 45 minutes away from the city. For guys who are coming off of injuries and need treatment, the team developed protocols to get those guys treated safely. But other than that, we're shut down.
I'm worried about the kids out of school right now, who rely on school being in session to be able to eat each day. Growing up in Detroit, I knew a lot of kids who were in that situation — some who did things they shouldn't have had to do to put food in their mouths — so I understand how education and food can become synonymous.
About five years ago, I started a foundation in Jacksonville called the Within Reach Foundation. When I signed with Chicago two years ago, we moved the whole foundation here. When the virus started affecting the community, we were in a position to act quickly. We typically focus on education, but we recently partnered with a local food depository to get meals to kids who rely on school for at least one of their daily meals. We've been lucky enough to get a lot of support and matching donations.

Trying to prepare yourself for what is ultimately unknown is the hardest part of this whole thing. I want to be able to come back and be in decent enough shape to hit the ground running. I initially didn't foresee us being back until training camp, but now that's been delayed, as well. I normally train in South Florida before training camp, so hopefully everything is back to normal by the end of May. But the uncertainty is tough.
Ryan Kang via AP
I'm listening to music a lot. Three of my favorite artists are Lil Baby, Roddy Ricch and NBA YoungBoy. NBA a wild dude, but he can make some good music, I will say that. I was very impressed with his last album that he put out in 2019. It was an album that I listened to a lot throughout the course of last season.

In no particular order, my top five regular rotation:

1. Woah, by Lil Baby
2. The intro on Roddy Ricch's last album, Please Excuse Me for Being Antisocial
3. The Box, by Roddy Ricch
4. Lonely Child, by NBA
5. Broke in a Minute, by Tory Lanez
My trainer sends me workouts to do every day. I'm lucky to have equipment at my house. It's difficult not being in a full training environment, though, and not having him here, because he's typically very hands-on. There's an app that he uses to send my workouts, with videos accompanying everything he's sending me. It's really cool.

Typically, I try to get a workout in every morning, between 10 and noon. Then I'll throw something on the grill. I've been grilling a lot — hamburgers, chicken, hot dogs, steaks. (Everything pretty much, except ribs — I leave that to my dad. My dad is the grill master when it comes to that.) And after that it's video games or just watching TV. I just finished watching Ozark. I don't want to spoil it, but it's about a normal, modern American family, and they get caught up in a drug cartel. It's actually a pretty good show.

Other than that, I've just been chillin'. Playing video games with my buddies over the headset. I play Madden and Call of Duty. Me and a few friends made a Madden league online that we all tap into every day. I wear the headset like all day, even when I'm at the grill, so we're always talking back and forth.

Try to get outside, if you can, while still practicing social distancing. It'll help with your mental health being able to maybe go for a jog or something like that. Also, try to do outside some of the things you would normally do inside. If you watch a show, you could grab a chair and stream it from your phone outside. Just being out there will clear your head and give you a different perspective.

It's a tough time, but tough times bring people closer. The country, people around the globe, we really have come together as one. You see musicians and DJs doing live concerts on Instagram to give people some extra entertainment. You see people who are wealthy pitching into the community, donating medical supplies and food. Let's make sure this carries over when all is said and done. We need one another now more than ever.