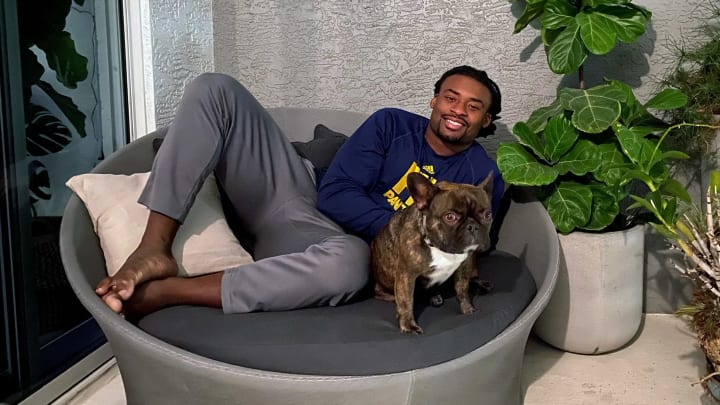 The Iso: Johnathan Cyprien
COURTESY OF JOHNATHAN CYPRIEN
The Players' Tribune is introducing a new series called The Iso. With so many of us keeping our distance from each other in a variety of ways, we decided to ask some of our favorite athletes to share how they've been dealing with life in the Covid-19 world, and how they're spending their time away from their sport.
---
---
Istill remember the beginning.
I was in South Africa when the news broke. A disease first discovered in China could get to the U.S. I started to hear more and more that it could get to the States. All someone had to do was get on a plane. And then — it did.
I'll never forget what I saw in San Francisco. When I got back from South Africa, I had to go there for business. I'd thought about putting the trip off, but I was advised to go as soon as possible because the virus was spreading so quickly. There was a chance that I wouldn't be able to fly there soon, if I didn't go then.
It was there that I saw how bad things could get. There was a cruise ship docked nearby with more than 3,500 people on it who couldn't leave. I forget the exact number, but there were quite a few people from the ship in isolation in the water, being quarantined away from everyone. That was crazy to me.
I've been home, here in Miami, ever since. I live on Biscayne Boulevard, which is the area they call Edgewater.
Little by little, you start to see. Edgewater is really close to bars, nightlife and a lot of activity in the day. But it's a nightlife area where a lot of people make their money by waitressing or bartending. And now, all entertainment is being shut down. These friends of mine have so much time on their hands, but at the same time they gotta think about rent. It's just a big pool of people being affected.
I'm betting on being signed any time between now and training camp. Honestly, for me it's not a rush. The one thing that I would say is unfortunate is that, because of the shutdown, I'm unable to travel to teams and meet with them or do workouts. Any team that I would join this year, I'd have to do a workout for them. So if I can't do the workout, what do you do? You know what I mean?
It's sketchy, but not sketchy. A team could want to see me work out today, so they could sign me. But that's just not going to happen right now. I'll just be patient, though. I know that time will tell and it'll all work out in the end.
I wake up, take my dog out, feed him, and go to work out. I got a PT working with me every morning at a private gym. I'm happy I'm able to still go there. I'm just doing functional movements and running, things like that — get on the track and just do small things to get my body ready for the future, for when the season comes.
On my way home, I stop by and see my family. I stop at either my mother's or my sister's house about once every week. Try to get there to see them and spend some time. I'm just checking on family as much as possible, letting them know that if they need anything, I'm there. That's not just talking about money. It's about making sure they know that they have someone who cares about them enough to check on them. It means a lot, so I suggest people take the time to do that.
Mark Brown/Getty Images
In the group chats. Talking about the new CBA, mostly. I definitely voted. Every player in the NFL was sent a link and they were able to vote. To be honest, if you just watch TV you're just going to hear the highlights of it. But I wanted to know the ins and outs, so I could really make a calculated decision. I reached out to the right people to hear what exactly the owners wanted and what they were pushing for.
Here's the thing about the NFL. (I'm going long, so bear with me!) At the end of the day it has to be about the money, right? I think the biggest, most glaring things in the CBA contract are the 17th game and the additional playoff game. The NFL is the most violent sport in America, and I believe we're the only sport that doesn't have fully-guaranteed contracts. I don't have the numbers on this, but I can bet that the majority of players in the NFL do not make it through 16 games healthy enough to play every game. That's just based on my experience from the last seven years of playing football. If guys can't even play a 16-game season healthy, what makes you think they can do a 17th game healthy?
It just puts more pressure on the player. You don't play all 17 games? The team looks down on you because now pretty much you're looked at as injury-prone. Now it's your fault that you're getting hurt, even though you were doing everything that you could. You're playing the game hard as you can, and now you're either released or you're asked to take a pay cut. It's going to be a lot more profitable for the owners than the players.
Honestly, I preferred to say no because there's more I think we could have accomplished. But it was 60 votes off, and we signed it, so we're going to live with it. There are definitely goods and bads. It is what it is. The next one, in 10 years, will be another chance for other guys because it won't be me voting.
I just started reading Decoded, by Jay-Z. It came out a couple of years ago. His book and one by Rick Ross have been sitting on my desk and my bookshelf. So, I'm opening them now and trying to get through them all.
Just listened to the new Uzi. Uzi, he's not my favorite rapper, but he's for sure somebody I like to listen to — Kanye, Rick Ross, Rod Wave, Iceberg. The list goes on. For the movies, I've been getting so many movie recommendations from people because a lot of times I can't find nothing to watch. I know the TV series On My Block is something I'll probably watch, and also All American, which has Season 2 now.
I think so positively that I usually block all negativity out. But in the worst-case scenario, I would hate to see the U.S. get to a point where people are starving, and they need help that they're not getting. I also worry that we could get to a point where we have our military on the streets. I would just hate to see more tragedy.
If it's a problem for some, it should be a problem for all. But try to stay as positive and optimistic as you can. Pray, and reconnect with your faith. Be close to your family as much as possible and stay safe. Stay safe.