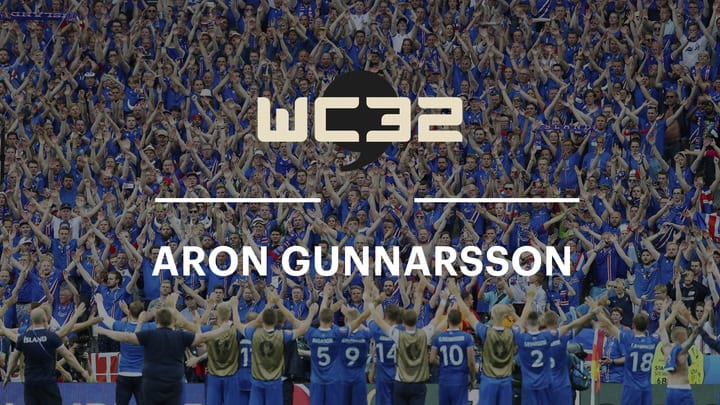 There Be Ice Dragons Here
I hope our World Cup opponents aren't reading this, because I'm gonna tell you exactly what has made our tiny country so successful.
But first, I need to explain a little bit about Iceland. Because I've noticed that now, whenever I meet people, they'll say, "Oh, you're from Iceland? That's so cool. Northern Lights! Yeah, man!"
After the Euros put our country in the spotlight, it seemed like everybody started going to Reykjavik on vacation.
But I'm not from the vacation part of Iceland.
I'm from the north of Iceland.
If you try to find my town on old maps, it just says: There Be Ice Dragons Here.
My hometown is a place called Akureyri, with about 18,000 people. There wasn't really much else to do there except play sports, so I began playing football. Of course, I dreamed of becoming a pro. But there were two problems.
First, I could only play in the summer. You see, in the winter, the pitches were covered with … come on, everybody say it together! You guessed it: ice and snow. And I'm not talking about the kind of winters you have in England, where a few centimeters of snow cause panic. I'm talking about proper winters. Several meters of snow. Minus 10 °. Four or five hours of sunlight a day.
Have you seen Game of Thrones? Well, then you get the idea.
So in winter, I played handball instead. But that didn't solve my second football problem. You see, when the snow finally melted, I didn't play on grass. That kind of luxury was reserved only for the senior players.
So I had to play on gravel.
Seriously.
Safe to say, it wasn't ideal. One day I came home with this horrific gash on my leg, and my mother was shocked. Of course, all I had done was to go into a sliding tackle, but you'd think I had been fighting a bear!
The team I started playing for was called Thór, named after the god of thunder. (I'm not making this up — you can ask my mother.) And I wanted to be a footballer so badly. I was doing these sprints, I was hitting the gym … basically, I was working like a madman. But I also knew the odds were stacked against me. I kept asking myself questions, and I didn't like the answers.
Aron, how many professional footballers have come from Akureyri?
Not many.
And how good can you possibly get by playing only in summer on a gravel pitch?
Probably not very good.
But I chose to ignore the facts. And then came the game-changer. You see, years ago, the Icelandic Football Association invested heavily in these indoor halls with artificial grass. Suddenly every kid in Iceland could play football all year.
Do you realize how big a deal that was for us? All year!
Of course, I immediately moved into my local hall. I made it my living room. They often had to kick me out at night. But there was still this mental block. What I mean by that is, nobody really believed you could win anything as a footballer from Iceland. In fact, this one time, a player on our national team told me a story about how he told his club coach that he dreamed of playing in the Euros.
"That's a nice thought," the coach said. "It's just a shame you're from Iceland."
Pretty depressing, right?
Personally I didn't let that bother me, but I did know I had to leave Iceland to evolve as a player. So when I got the chance to join AZ Alkmaar, in Holland, I took it. I was 17 years old. And man, it was tough. The football was on another level. In my first training session, I got nutmegged four times. I was so embarrassed that I considered jumping on the first flight back to Iceland.
Sam Robles/The Players' Tribune
But the hardest part was leaving my family. I spent the first two months holed up in a hotel, calling my mother, crying, saying I didn't really want to do this. Thankfully, my family encouraged me to keep going, and deep down I was still hell-bent on making it.
I guess all my tears paid off, because 18 months later I got the call for the Iceland senior squad. They were playing a friendly against Belarus in Malta, and I had to get on a flight immediately in order to make it in time. Only I didn't have a car. During my first year in Holland, I had been riding a bicycle everywhere because I couldn't afford anything else.
So you know what my mother did? She bought me a scooter.
A red scooter. It looked more like a motorcycle really, which I thought was kind of badass. I actually grew quite attached to it. So when they called me up to the national team, I strapped on my backpack, put on my bike helmet and drove to the train station, where I got the express train to the airport.
Thanks for that one, mum ?
So I go off and live my dream, playing for Iceland, and it's incredible. I fly back to Holland, and I'm still in the clouds. I'm buzzing. I'm a big time footballer now, right? Well, I walk outside the train station to fetch my scooter from the rack where I had parked it … and what do I see?
In the very spot where my scooter was supposed to be, there's nothing but a single tire with a chain wrapped around it.
Someone had stolen my damn scooter while I was off playing Belarus.
My mother just laughed about it, but I'm telling you, I was genuinely upset! That robbery really brought me down to earth quickly.
A few years later, I was part of the group that qualified for the 2011 under-21 Euros in Denmark. That was a big deal, because Iceland had never done that. By the time we entered qualifying for the 2014 World Cup, many of us guys from the under-21 team had become part of the senior side.
Of course, even with all that young talent, we were never supposed to make the World Cup.
People always used to say, "Iceland? Bah, there's not many world-class players in Iceland."
But, actually, with 330,000 people living there … we don't have many players full-stop.
So we had to be clever about the way we played. And that's where our former coach, Lars Lagerbäck, came in.
When you look at Lars, he doesn't appear to be a prolific coach. He's very understated. But, man, he knows what he's doing. When he arrived in 2011 he began holding these meetings about how we defended. They were long, and honestly, extremely boring. Just so, so boring. But Lars kept going on about it. Positioning. Corners. Throw-ins … none of the fun stuff. In training, we'd play attack vs. defense, just so that we could work on our defensive shape.
Because of that collective spirit, we made the playoffs, and faced Croatia. And when we got a 0–0 draw at home… honestly, I thought we had a chance. Then in Croatia, when they went 1–0 up but got a man sent off, we just needed one goal. One goal. We were so close…
But we never made it.
Croatia won 2–0.
Afterwards our locker room was like a graveyard. Not just because we hadn't won, but because we hadn't played well. But then somebody says, "Well… Let's just go to the Euros then!"
I still don't know who said it, but I remember thinking, He's right. Screw this. Let's just move on to the next one.
So that's what we did. We started working even harder. And in that qualifying campaign for Euro 2016, we just got better and better. Our fans were a huge part of it, too. When we played Holland at home in October, I remember we went up 1—0, and the stadium fell quiet for a bit …  and then …
BOOM, BOOM, HÚH!
I turn around. What was that? It was like the sound of a thunder strike.
BOOM, BOOM, HÚH!
Shivers run down my spine.
BOOM, BOOM, HÚH!
You see, that was the first time our fans did the famous Viking Clap. We may only play in front of 10,000 people, but when they do that clap … man, it feels like 100,000.
That night, I looked at some of the Holland players, and I thought, Whoa … They must be feeling that.
At the end of qualifying, we needed a point at home against Kazakhstan to become the smallest nation to ever reach the Euros. That match was a struggle. I even managed to get sent off. But when we dug out that 0–0 draw…. We went ballistic. I sprinted out on the pitch with my jacket on. We did the Viking Clap so loudly that the whole of Iceland must have heard it. And when we went to a square in Reykjavik later that night, we saw tens of thousands of people waiting for us.
That's when you realize that you've really made your country proud, you know?
Of course, qualifying was one thing. The tournament itself? Who knows? Many people thought we would be lucky just not to be embarrassed.
It's funny, because I can recall the exact moment when I realized that we had something special. It was after a training session just before the tournament, when Eidur Gudjohnsen came up to me.
He said, "You know, Aron … I really wouldn't want to play against us."
I said, "What do you mean?"
He said, "Well, there's no space. I wanted to play these passes, and I wanted to create chances … But I just couldn't."
And that's when the penny dropped for me. Because if you didn't know, Eidur is football royalty. He's played for Pep Guardiola at Barcelona — he's played with Ronaldinho and Messi. Basically, if Eidur says you have a great defense, you really do have a great defense.
We started off against Portugal. And everyone was talking about what Cristiano Ronaldo would do to us. "How many will he get? Two goals? A hat-trick?"
So when we ground out a 1–1 draw … well, the Portuguese weren't happy.
Of course, we celebrated. Then I saw that Ronaldo had criticized us for having a "small-country mentality".
And I thought, "Hang on, we've never been at this stage before. You have done it plenty of times. We're Iceland. Of course we're gonna be proud!"
We could only draw against Hungary next, so we needed a point against Austria in the final group game. They needed to win. As usual, we defended well. It was 1–1 on 90 minutes…. They're putting pressure on us…. We clear a corner, we launch a counter-attack…. And we score!
Arnór Traustason! 94th minute! Iceland goes through to the knockout stage!
Unbelievable….
I guess you may have seen the clip of the commentator on Icelandic TV going berserk when we score. It went viral, and no wonder. I mean, the guy genuinely lost it. He was screaming and crying, losing his voice.
But the thing is, everyone in Iceland was feeling like that. It wasn't just the players and the fans — it was people back home too. We were all going berserk.
As we celebrated on the pitch, I went looking for the drummer in the Iceland fan group. I knew him, so I gave him a hint … He told everyone to be quiet … and then we did our most famous rendition of the Viking Clap. We had never done it like that before, with both the fans and the players together.
It was just pure, spontaneous joy.
BOOM, BOOM, HÚH!
Thibault Camus/AP Photo
We were so relaxed ahead of the Round of 16 game against England. We had reached our goal — everything else was a bonus. We actually had extra motivation, because everyone in Iceland loves the Premier League — they show every single game on TV. Literally. So now we had this great chance to beat our heroes. And just in case anyone wasn't fully up for it, Eidur made a speech.
He said, "Is everyone full? Do we want any more? Are we still hungry?"
You can imagine the roar of the response.
It was the opposite for England, I think. I almost felt sorry for them. They were under so much pressure, and you could definitely tell. They were making simple mistakes, getting the basics wrong…. They knew the trouble they would be in if they lost to Iceland.
Everyone spoke about how bad England were, but watch the game again. Look at how organized we are. We run. We shut down space. We cover for each other. What Eidur had said after that training session was spot on: We really are horrible to play against.
When the game was over, I sprinted toward our fans so quickly that I forgot to shake hands with the England players. So if you guys are reading this … sorry!
And, then … well, I know this may sound weird, because I'm this Icelander with all these tattoos and a beard and all that. But as we celebrated, I wanted to cry. Honestly. When we did the Viking Clap with our fans, shivers ran down my spine.
I must admit that it took us a while to come back down to earth after that tournament. But we managed to do it. You see, at our next team meeting, Heimir Hallgrímsson shook us back to life. He had been the joint first coach with Lars during the Euros, but now that Lars had left for the job in Norway, he was in charge.
His message was simple.
We had never made a World Cup in our nation's history.
So … Why can't we do it?
Sam Robles/The Players' Tribune
I mean, we could have said, "We're tiny Iceland. Nobody expects us to qualify. We won't put any extra pressure on ourselves."
But there was no way that was happening. That's just not us.
In fact, at the Euros, we had already sent people to scout our World Cup qualifying opponents. That tells you something about our mindset. We wanted more.   
Some of us players are nearing the end now. We're in our late 20s and early 30s, and we know we'll have to give way for younger players soon. That's why it's so important that we pass on the values that have made us successful. I mean, we could go to Russia and try to play like Barcelona. But what would be the point? We'd just be a bad copy. We'd definitely be a worse team.
That's not what Iceland is about. It never has been.
In a way, I see our style as a symbol of Iceland. Just look at some of our players — I mean, maybe we're not the most technical. Maybe we're not the prettiest to look at. But would you want to fight us? I don't think so.
We're united. We're tough. We fear nothing.
And that's the lesson I want to pass on to our young players in Russia. I want them to realize that if you work hard, and if you have guys who are willing to stick together, anything is possible in football. Anything.