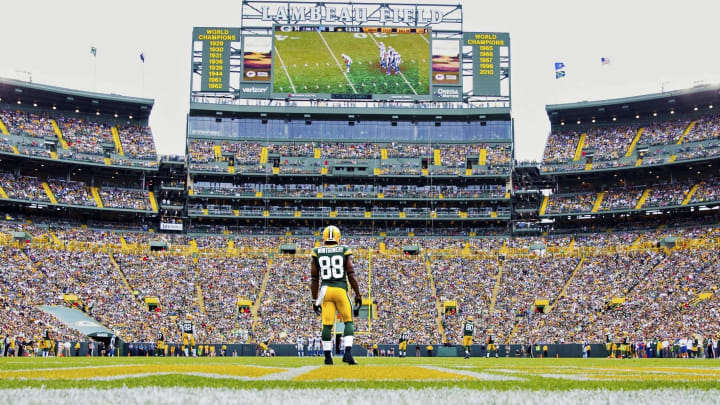 What Makes Green Bay Special
PHOTO BY TOM HAUCK/AP
Aaron Rodgers can make a football sing.
Seriously … I've heard it.
The first time it happened was during minicamp my rookie year. I was basically fresh out of college and Aaron was already Aaron: Super Bowl champion, MVP — all that stuff. I ran a slant, and when I got out into my route and planted my foot, that's when I heard it. It was this … whoosh. A whistle, like one of those little Nerf Vortex balls.
I put my hands up as quickly as I could, and as soon as I did, the ball was right on me — right on time, right on target, right in stride. His accuracy definitely matches his power. It was unlike any ball I had ever caught.
I've seen Aaron do this to other guys, too. He always makes sure he zips one at you in the first couple of passes, and he'll make sure to do it when he's throwing a short pass so he can really put something extra on it. I think it's just his way of welcoming you and letting you know what he expects out of you — like he's gonna bring it, and you need to be ready at all times. It's one of those little things he does to set the tone.
And every now and then, if he zips one at you and you don't catch it, he'll stand in the backfield and flex at you, like you can't handle the heat. So I think he does it to have a little fun, too.
Being on the other end of one of those passes, it's definitely an experience. And although I've transitioned to running back full time now….
Actually, transition isn't really the right word. When I think of a transition, I think of moving from one thing to another — in my case, that would mean putting wide receiver behind me. But I haven't done that. I don't need to be put into some running back box, confined to the space between the tackles. I can still play wide receiver from the running back position, and I can still benefit from a passer like Aaron.
So I look at it more as an evolution … a true utilization of my skill set.
Ric Tapia/AP
If you would have told me when I got drafted in the third round in 2015 that I'd be the No. 1 running back on the Packers' depth chart two years later, I would have said you were crazy.
Then I would have said, "But hey, I'll take it."
So what if I'm not playing the position I was drafted to play? I'm just trying to contribute to this team and add value in any way possible. I knew that being the No. 1 wasn't very likely when I initially made the move to running back. It was actually kind of a doomsday scenario. I joined the running backs, and then Eddie Lacy got hurt. Then Don Jackson. Then James Starks. And….
Doomsday.
Get in there, 88.
It was a far cry from where I had been back in training camp last year. Before the season even started — when I wasn't sure if I was even going to make the team.
I'm serious. I can actually remember coming home from practice early in camp to find my wife unpacking some boxes, and I sarcastically said, "Don't unpack too much just yet, because I'm not sure how long we're gonna be here."
I was coming off ankle surgery. I had missed the entire off-season. I hadn't practiced the whole first week of camp. Plus, we had a lot of talented receivers. It was competitive. I mean, I still went out on the field every day with confidence and left everything I had out there. But at the end of the day, I felt like I was too far behind. I just really didn't know what was going to happen.
I didn't see a lot of action during the preseason, or in the first few games of the regular season. As the weeks went on, I grew more and more uncertain about my future in Green Bay.
Then one day, I walked past Mike McCarthy in the hallway. He stopped me, said hello … and then he mentioned that he had an idea.
The coaches had been talking, and they thought they could use me in a lot of different ways out of the backfield. So they were thinking about trying me out at running back, if I was up for it.
I was like, "Hey, if you're even thinking about it, let's just do it. Let's dive right in and see how it goes."
I kept my best "be professional" face as we shook hands and went our separate ways. But as I walked down the hall, I was on a cloud. I was light on my feet, light in my spirit. I knew it was going to be a big opportunity for me.
And then, at practice the next day, we were doing a half-line drill, and coach called me over to line up in the backfield.
I could feel some of the guys looking on kind of laughing, like, What's Ty doing? Is he allowed to be back there? Like if I was back there, it must be a trick play or something.
Then, when the ball was snapped, I took the handoff and ran an outside zone play. I hit the hole hard, too. The offense regrouped and I lined up in the backfield again. And again, I took the handoff, this time on an inside zone play.
You should have seen my teammates' faces. They were all looking at each other like, Wait … what? Is this for real?
After five or six runs, I think the guys started to realize, Whoa, this is for real … and Ty's not that bad.
Jonathan Daniel/Getty Images
A lot of people don't know this, but I grew up carrying the football. I admired guys like Eddie George, Emmitt Smith and Walter Payton. Being an NFL running back had always been my dream. It wasn't until high school that I made the switch to wide receiver. I even played some running back when I was at Stanford, and I loved it.
So when I started taking handoffs from Aaron, my instincts were still there. Making the cuts … seeing and hitting the holes … doing it full speed … falling forward after contact … it all came back naturally.
The real difficulty came in learning the playbook, specifically pass protection. It was like learning a foreign language. It was completely new to me.
I think I put a lot of pressure on myself because as a running back, when you stay in to block, you're the last line of defense before a pass rusher gets to the quarterback. So deep down, I just didn't want to be the guy who missed an assignment and got Aaron killed back there.
That's where the other running backs — and Aaron — came in.
If there's one thing I've learned about this game, it's that you can't do anything alone. Football is the ultimate team sport. Communication is key, and we have to help one another to make sure we're all on the same page. And our team kind of embodies that.
When I first walked into the running backs room, I wondered how I would be received. I mean, there are only so many snaps in a football game, and with me walking in as another guy vying for playing time, I would have understood if guys had been defensive and focused on themselves, just out of self-interest.
But not our guys.
They welcomed me.
When we were watching film or putting in the weekly game plan, I never felt dumb if I didn't know what to do on a particular play or if I had a question. I was never afraid to speak up because everybody in the room had let me know from Day One that the running backs room isn't full of selfish individuals. They didn't necessarily say it, but I definitely felt it. They were helpful and gave me constructive advice.
I honestly don't think I could have made the switch as well as I did if it hadn't been for those guys — Eddie Lacy, James Starks, Don Jackson, Aaron Ripkowski, Coach Sirmans — helping me throughout the season.
So what if I'm not playing the position I was drafted to play? I'm just trying to contribute to this team and add value in any way possible.

- Ty Montgomery
Aaron was the same way. And that was probably the best part of being in the backfield: I was right there with him in the middle of everything, not split out on an island at receiver. So if I had a question, or if I didn't know what to do on a particular play, I would just lean over and tap Aaron, he'd tell me what to do and then I'd try to execute it to the best of my ability. Simple as that.
But I get so much more than just guidance from Aaron in the backfield.  
I also get confidence.
Aaron is so cerebral, and he sees the game in a way that I think only he can see it. He's a perfectionist, and he demands that others around him strive for perfection as well.
That's why, every now and then, he'll zip one of those rockets at you.
Just to keep you on your toes.
And when you're the one setting the tone, like Aaron, you have to have an air of confidence about you. That's just part of being a leader. You can't be hesitant. You can't second-guess yourself. And I sort of took of that attitude when I joined Aaron in the backfield. I don't know … it's tough to explain. His confidence is just contagious.
That's why when he came out and said that whole "run the table" thing last year, I was kind of glad. A lot of guys were. That was just him letting all of us know — along with the rest of the world — that he had confidence in us. A lot of people tried to put pressure on us to win out after Aaron said that. But that didn't bother us because we put more pressure on ourselves than anybody outside of our locker room ever could.
That's just another example of what makes this place so special. It's the kind of place where the running backs will welcome you into their group, even if it means you might steal some carries. The kind of place where the coaches will try anything and everything to maximize the talent on the roster, even move a receiver to running back. The kind of place where the quarterback tells the world we're gonna win out, and everybody on the team believes him.
It's all just … Green Bay.
It's part of what makes being a Green Bay Packer so special.
Jonathan Daniel/Getty Images
This year, I feel like a rookie all over again — which is a little weird because I'm also the veteran in the running backs room. It's my first off-season preparing to play running back full time. I've put on a few pounds — good pounds … running back pounds. And I'm ready to put them to use.
It's kind of crazy … you just never know what God has in store for you. At this time last year, I was telling my wife not to unpack too many boxes. I wasn't even sure if I was going to have a job come Week 1. Now, I'm playing a key role in the offense.
I guess that's why I was so excited about the idea of playing running back. Having Coach McCarthy tell me that the coaches thought I could be a valuable contributor out of the backfield meant just that — that they thought I was valuable. That they wanted me here. That I was a part of their plan.
That really meant the world to me because my wife and I love it here in Green Bay. It's funny: I was born in Mississippi, grew up in Dallas and went to college in California. And when I go back to those places and tell people how much I love living in Green Bay, they think I'm kidding, or that I'm just being nice. Like it's such a small town and it's so cold and so … Green Bay … that I couldn't possibly love it as much as I say I do.
But I honestly do.
Living in Green Bay is a simple life. It's not crowded. There's no traffic. It's quiet. There's good golf, good food, good beer — great beer.
But what it really comes down to is the people.
My wife and I have made so many great friends outside the team since we've been here. We love the small-town feel. It really is a community in every sense, and the Packers are as big a part of the community as anything. I think that in a world of big-market franchises and billion-dollar television contracts, what we have here is rare.
It's the kind of thing that could only happen in a place like Green Bay.
And after living here, I don't know if I could go back to living in a big city. I might be a small-town guy for life.
It truly is the opportunity of a lifetime for me to play for a winning organization like the Packers — with teammates like the ones I have now, great ownership, and a fantastic fanbase in a great city. And for me to be able to play a key role on a team that has its sights set on winning a Super Bowl is an even greater blessing. It's everything I could have ever asked for.
This season — my first full year as a running back — is only the beginning. I love it here in Green Bay, and I hope God's plan is for me to be a Green Bay Packer for life.