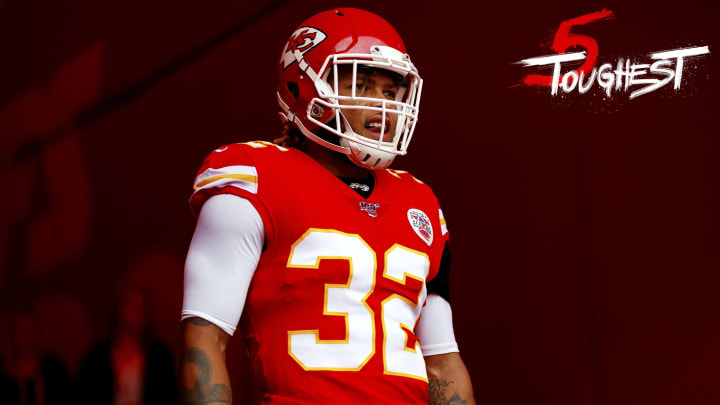 The 5 Toughest Players I've Ever Faced
RYAN KANG VIA AP
I don't have a Heisman vote. But if I did?
Man … you already know.
Joe Burrow.
Look, I'm here today to talk about the toughest players I've ever faced. But the first dude that came to mind when I thought about tough guys to play against wasn't even an NFL guy. It was Joe. There can't be a quarterback in college football tougher to play against right now. He's had a tremendous season. He's led our LSU Tigers back into the national championship discussion and beaten four top 10 teams along the way — including ALABAMA. He's one of the best quarterbacks to come through Baton Rouge in a long time. It's been amazing to watch.
So basically, if he's not your Heisman favorite, you ain't been paying attention. 
O.K. I'm cool now. I just had to get that out of the way off the top. 
Joe Burrow for Heisman.
(Coach O voice)
Now, my list.
---
---
Jarvis Landry, WR, Cleveland Browns

Let's stick with LSU right out the gate. We've had so many great players come through Death Valley, and Jarvis is probably one of the most underrated.

He does all the dirty work. He runs crossing routes over the middle — the ones most guys don't want to run. He blocks linebackers. He blocks defensive ends. He'll crack back. Anything that doesn't show up in the box score, he's out there doing it week in and week out.

And he can still hang 100 yards on you from the slot.
When I was in high school, I went to a University of Tennessee football camp — one that all the top recruits went to. Jarvis was there, and it was just me and him going at it in one-on-ones. Nobody else even wanted a part of it. We'd run a play, I'd lock him up, and we'd go right back to the line and do it again — and then he'd get me the next play. All the coaches were gathering around to watch, Frank Wilson, Lane Kiffin and his dad, everybody. The whole camp stopped to watch us go back and forth, play after play, just competing, trying to beat each other.
I like to think I won those battles, but I didn't leave there with a scholarship offer and he did … so maybe he actually did win.

But, you know, I really found out what Jarvis was about when he came to LSU.

His freshman year, Coach Miles put him on the kickoff team. And you gotta think … Jarvis was a five-star receiver. He didn't come to LSU to run down on no kickoff team. But instead of complaining, he became probably the best special teams player in the country. He started making every tackle on kickoffs. He fell in love with it. He was getting so crazy that Coach had to take him off because he didn't want him to get hurt. That's how violently he was playing on special teams.

Sometimes you hear people talk about a guy's motor. And it's like, Yeah, O.K. We all got a motor. You can't make it to the league without one.

But Jarvis's motor is just different.

He's one of the toughest players I've ever been around — not just in that he's difficult to cover, but in the sense that he's a straight up dog.

He's the kind of guy you hate to play against. But when he's on your team?

Man, you love him.
---
---
Russell Wilson, QB, Seattle Seahawks
An absolute magician in the pocket.
I remember this one play in 2017 when I was with the Cardinals. It's the fourth quarter, second-and-21. We're at home, down by five. If we get a stop, it's third-and-long and we're in position to get the ball back with a chance to take the lead. We're feeling pretty good.
Then … boom.
Russell Wilson.
He takes the snap and rolls out to his left. Chandler Jones does a great job of shedding his block and forces Russell out to the numbers. I come up and close off the sideline. We got him boxed in. Nowhere to go. So he starts running backward, toward his own end zone. And whenever you get a guy retreating like that, it's over. It's like, Oh, he's dead. We got him. 
So he's running the wrong way and he spins to look downfield. Nothing. At this point, he's like 15 or 16 yards in the backfield. He spins again, and this time, off his back foot, right over me and Chandler, throws a jump ball down the left sideline to Doug Baldwin. 
Doug had single coverage and the DB lost his feet, so Doug came down with it and took off down the sideline.
The play ended up going for 50-something yards, almost down to the goal line. 
On the next play, Russell threw a touchdown, and that was basically it. 
Game over.
That right there — that one play — is all you really need to know about Russell Wilson. His ability to extend plays, throw receivers open, and keep his eyes downfield while avoiding the pass rush is ridiculous. I've never seen anything like it.
And whether he's putting the game out of reach or leading his team back, the fourth quarter is basically Russell Wilson Time™. He's top of the line. A top five quarterback, no doubt. And what's really impressive is that he's achieved that status without having the best receivers to throw to.
I can't even imagine what he could do if he was throwing to one of the next two guys on this list.
---
---
Julio Jones, WR, Atlanta Falcons
Julio is special.
And his game is deceiving.
One thing you know going in is that he's 6′ 3″ and he's super long. So he has a huge catch radius and he's great at pulling down jump balls. But typically, when you get a guy who's long and rangy like Julio, if you put a hat on him he'll go down. The taller receivers are usually a little skinnier, not so big-bodied.
But I remember the first time I tackled Julio … it felt like I had run into a wall. He was rock solid, so much stronger than I had expected.
He's deceptively fast, too. When you watch him on film, he looks really smooth because he's so long that when he runs, his stride seems effortless. So even though it looks like he's moving just like everybody else, he's really playing a completely different speed. He covers so much ground with his long strides. He's like a gazelle.
And he can stop on a dime. 
I had a front-row seat when I was with the Cardinals and he dropped 189 yards on us. There was one play where he ran a deep-seven route, and Pat Peterson was all over it — right in his pocket, stride-for-stride down the field. Then, out of nowhere, without slowing down, Julio put his foot in the ground, broke off toward the sideline and made a leaping catch, tapping both feet in before going out of bounds.

I'm telling you, Pat was in perfect coverage.

Julio was just more perfect.

There aren't many guys with that kind of speed and the ability to stop on a dime. Odell is really the only other one in the league right now who comes to mind. Between that and the fact that Julio is big-bodied, very skilled, deceptively fast and super athletic … he probably has the best overall package of any receiver in the league right now.
---
---
DeAndre Hopkins, WR, Houston Texans
I played with Hop last year in Houston. And before I got there, I had played against him when I was with the Cardinals. So I knew a lot about him.
First, I knew he was very physical. I put him in a category with Michael Thomas — one where when you go up against them, it's like a boxing match. You gotta get up in their faces and establish yourself. Hold your own. Because if you don't, they'll make you pay. They'll throw you around like a rag doll.
I also knew that with Hop, a 50-50 ball is basically an 80-20 ball. More times than not, he's coming down with it.
I knew his catch radius was ridiculous, and also that he was really good at catching the ball out in front of his body, basically boxing you out so you can't come through him and get a pick or a breakup.
I knew he had a crazy combination of speed and athleticism, so he could beat you off the line with his first step or shake you within the route to create separation.
I knew he was one of the best receivers in the league.
But the biggest thing I learned from being in Houston with him was that he also has this energy about him. Call it swagger, call it confidence, call it what you want. But I'm telling you, whatever it is, his teammates feed off it. He's a guy who plays hurt. Never gives up on a play. Always does his job. He sets the tone for the entire offense. For the entire team.
I remember one play he made against the Cowboys where he caught a pass and got out in space downfield, and — no lie — the whole team was running down the sideline with him. He hit one spin move, then another — just making dudes miss — and the sideline was going crazy. They were excited because it was a big play in the game, and also because it was Hop out there doing it. The whole team rallies around him. 
That's MVP-type stuff. 
And here's a stat for you: He didn't drop a single pass last season.
Think about that.
Zero drops. 
Dude's getting double-teamed — sometimes triple-teamed — basically every week. He's Deshaun Watson's go-to whenever he's in trouble. His safety valve. So Hop also gets a lot of balls that probably aren't on the money. Tough balls to catch.
And still, not a single drop.
That alone should make anyone realize he's one of the best in the game.
---
---
Deshaun Watson, QB, Houston Texans
Deshaun has a lot of Russell Wilson in his game. He can beat you from the pocket, but he's also great at using his feet to extend plays and escape when the pocket collapses. He can take off and run whenever he wants, but that's not what he's looking to do. Like Russell, even when the play breaks down and he's running for his life, he keeps his eyes downfield and looks for the big play. 
He can make something out of nothing.
One thing that's really impressive about him, being so young, is his consistency. Besides Hop, his receivers have been hurt a lot. It seems like he always has different guys out there. So for him to be so consistent, I think that says a lot about his leadership and his ability to thrive under any circumstances. And that's a testament to his work ethic. I got to see that up close in practice last year — the way he works, the way he leads. 
I think he feeds off Hop a lot like the rest of the team, but he's another guy who players just want to go out and perform for, you know? Make that extra block, give that extra little bit on every play, because they know Deshaun is back there, putting everything he's got out there every time he drops back.
I truly believe Deshaun is one of the most gifted quarterbacks in our league today. To me, he's right there with Pat Mahomes in this new wave of young superstars. Great dude, tremendous leader, and just an exciting player to watch. 
I think he's going to take the Texans to extreme heights.
---
---
Bonus: Quenton Nelson, OG, Indianapolis Colts
I honestly could have started this list off with Quenton Nelson. The only reason I didn't is because I know you guys probably didn't click on this article to hear me talk about offensive linemen. 
But I can't get out of here without mentioning him. 
When I think about the "toughest" players I've ever faced, I think of the most difficult. The ones who give you the most trouble. But also, I think about the straight up toughest — like, the strongest, nastiest dudes.
Quenton Nelson is the meanest guy I've ever played against, hands down. He plays offense with a defensive player's mentality. He's not just looking to block you. He's trying to maul you.
He's also ridiculously athletic for a guy who's 330 pounds. He's fast and he has incredible feet, and the Colts do a great job of getting him out in space blocking linebackers and DBs. 
He's smart, too. He's the one communicating with the rest of the line and setting the protections. He understands defenses really well and he knows what they're trying to do. And he sees everything. So when I come up to the line on a safety blitz, I have to be extra diligent in my disguises, because if I'm not, he'll sniff it out.
And when I'm back there in the secondary and I see number 56 coming at me, the one thing I can't do is try to split him down the middle, like I would a smaller blocker. I can't let him center me up. Because if he gets his hands on me with all that momentum and weight behind him, it's over for me. So I have to pick a side, get low, make myself as skinny as possible. And then rip through … and just hope he doesn't get his hands on me.

Quenton Nelson has it all. The size. The athleticism. The awareness. The ferocious mentality.

He's the perfect offensive lineman.
---
---
That's it. 
We did it. 
Thanks for reading.
And remember….
Joe Burrow for Heisman. 
Joe Burrow 2020.
(Coach O voice)
GEAUX TIGERS!!!