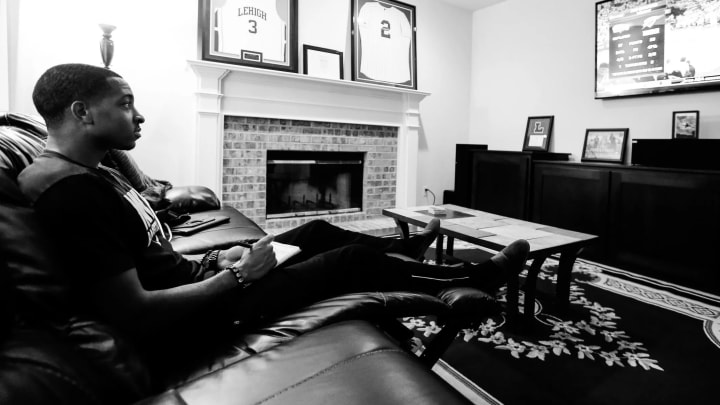 Underrated Guards 101
Did you miss Part 1? Check out Elite Guards 101 here . This week, we're going to break down the games of some of the NBA's most underrated guards. By underrated, I mean these guys do things that the average fan might not notice on TV. Let's get into it.
Kyrie Irving, Cleveland
Such a smooth player. We always joke and say his layup stats are 99. Kyrie always figures out the right amount of rotation to put on the ball to spin it in. He likes to use the right hand in-and-out crossover a lot — that's his patented move. In this clip, notice the in-and-out crossover set up as he rejects the ball screen on Avery Bradley, who happens to be one of the premier defenders in the league. He mixes the crossover with the spin to paralyze the opposing Big.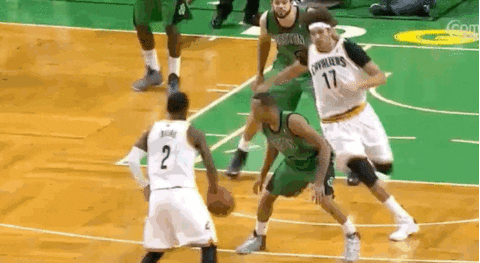 Usually on the left side he likes to use his right hand and flick it in the opposite way, with his body facing the sideline. The basketball is like an extension of his body, and he often cradles the ball with one hand before finishing the layup. He has the playground handle with All-Star caliber game. Notice his balance and body control here.
Last week, we talked about Chris Paul's incredible hesi (hesitation move). But Kyrie has one of the best hesis I've ever seen. In this clip, you see Kyrie once again use the in-and-out cross to beat O.J. Mayo. Then we get a chance to watch him get into his bag of tricks and pull out the hesi to freeze the Big before going into his step-back.
Damian Lillard, PortlandDame's a dog. He's a killer. There's not a shot he doesn't like. He can punch on the Big or shoot going in either direction. Late in the shot clock and at the end of games, he likes to get to that quick step-back three with the ball in his left hand. He stutters his feet, then takes one hard dribble and bounces back quick and shoots it. You know it's coming, but there's nothing you can do about it because he's got unlimited range and a deadly first step. Everyone remembers last season's big shot at the buzzer against Houston, but that was him all year. Dame did it against Cleveland and Detroit, too. Notice how he sticks the quick, hard side dribble into the back-step here.
You want to see range? Dame has range. Watch him come off the ball screen and see the switch with five seconds on the shot clock. Through the legs. Freeze. And the Big Bang from 27 feet.
He has one of the quickest releases in NBA basketball, and it's effortless. He also promised me a retweet on my column if I mentioned he was a potential All-Star (come on guys, we're 16-4).
*
John Wall, Washington
Wall came into the league labeled as a big, athletic point guard with good vision and blazing speed. His jump shot, which was arguably his biggest weakness, is slowly becoming a reliable strength. In my opinion, once he becomes more consistent with his mid-range jumper, he'll be pretty unstoppable. He's very comfortable with the mid-range pull-up off one or two bounces in isolation and pick-and-rolls. Watch how his speed puts the defender on the back foot here:
But speed is nothing without control, and he's learned to control his rare quickness and athleticism while playing with pace. His court vision has improved and Bradley Beal and company have been the beneficiaries. Notice how the threat of his speed draws four defenders here before he makes a great cross-court pass.
Wall is a master manipulator in pick-and-roll; he's able to keep the hedge man off balance while reading the roller's positioning. The majority of his points come in transition due to his straight line speed and ability to change direction without slowing down. He's one of the best transition finishers in the league and is converting on 70 percent of those shots.
See how he outruns four defenders and has ability to get in the paint at will? Yep, the Wizards are a scary matchup at the end of April.
Mike Conley, Memphis
One of the more underrated guards in the NBA. He's really getting paid now so maybe he's getting more recognition, but people should appreciate his game more. His five-year, $40 million dollar contract will be considered a discount once the new TV deal kicks in. His versatility allows him to orchestrate one of the best offenses in the NBA. Mike's so good in the pick-and-roll. When you're that fast and you've got Marc Gasol and Z-Bo setting screens for you, the pick-and-roll is a nightmare to defend. Mike is a lefty who actually writes with his right hand, so he finishes well around the rim with both hands, which is rare. His ability to hit his patented floater in traffic and his quick-finishing layups make him really difficult to defend.
Watch him finish with his left here.
And then in traffic with his right here.
Kyle Lowry, Toronto
Lowry is a pitbull. He's a gritty player who scores in a variety of ways, but he's also one of the few guards who also does the things that go unnoticed on the stat sheet. In addition to being one of the leading charge-takers in the league, he's relentless in hounding the opponent. Watch the effort when he goes after this loose ball against the Lakers.
Offensively, Lowry is a great catch-and-shoot player from deep, and he's very comfortable shooting the trey off the bounce in isolations and pick-and-roll. At 28, he's developed great control and has a lot of maturity to his game. When you watch him play, you'll notice he doesn't have a lot of wasted movement. To get to the basket, he uses a variety of hesitation dribbles and has a spin move in the arsenal that allows him to create space with his body before using the floater in the lane. Notice the economy of movement here:
I hope you enjoyed our little film room session. I'll be back with more later on this season. If you want to see a certain player featured, let me know on Twitter @CJMcCollum.