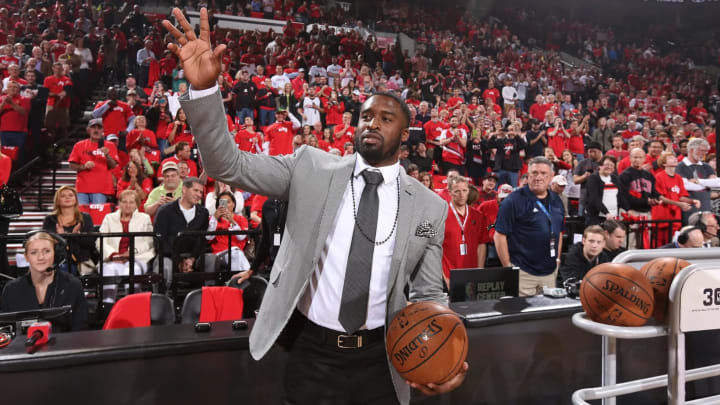 Thank You, Rip City
The plane was landing and I was staring out the window. I remember all I could think about was how green this place was and how many trees there were. Obviously I had visited Portland previously, while I was playing for Utah, but there was a different feel this time. So many thoughts were racing through my head. Where will I live? Will my teammates like me? Will the city like me? I was prepping myself for potential questions from the media, thinking "How do I hold back my nerves, how do I hold in all my excitement?"
Hell, the experts said I wasn't even supposed to be here. I knew nothing about Rip City. I knew nothing about the passion the fans in Portland have. How was I supposed to? I'm a Midwest kid — all I had heard about was that there was going to be a lot of rain. I was just a kid who was on the verge of signing a five-year deal after one season in the NBA.
The plane landed and I was greeted by numerous people from the Trail Blazers, including retired NBA veteran Hersey Hawkins, who I will forever have a friendship with. As I was walking through the airport headed to baggage claim, my thoughts were interrupted by cheers from fans inside the airport. The media was there and I remember signing a little boy's forehead. I couldn't believe how much commotion and excitement there was.
That's when I felt the love from Portland and that's when my love grew for the fans. Obviously, I am extremely grateful to Paul Allen, who had the final say in bringing me to Portland, and Chad Buchanan and Mike Born, who were the acting GMs at the time. I want to thank all three of them for believing in me. I'm thankful for all of my coaches and all of my teammates. I'm thankful for those who worked behind the scenes at the Moda Center and the practice facility in the past and present.
Five years is a long time. In those five years, I've developed many friendships with people within the franchise, but the friendships I am truly, truly grateful for are the ones with all of the fans. To the fans — thank you! I know this is overdue, but I wanted it to be right. You all were amazing to me from the moment I landed in Portland to my last moment as a Trail Blazer, and I can't tell you what that means to me. I gave everything I had every night and I felt the same from you.
Though I am continuing my career in Dallas, and am excited about my future with the Mavs, my love and appreciation for Rip City will always be there!
Thank you again,
Iron Man