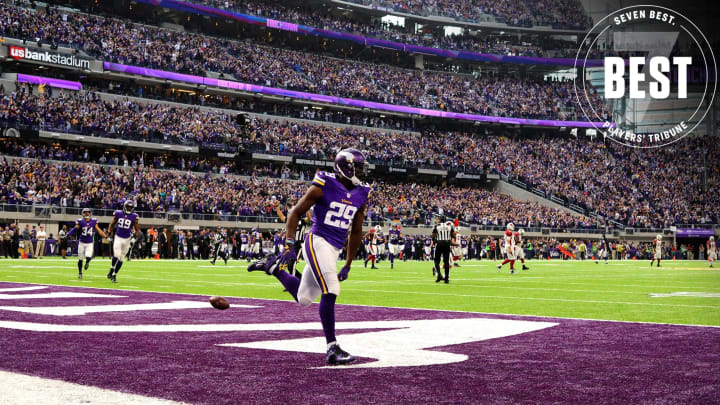 The 7 Best Players in the NFC North. Period.
Adam Bettcher/Getty Images
Kirk Cousins wants to beat you at thumb wrestling.
Actually, I don't know. I'm just guessing. But it wouldn't surprise me. From what I've seen, Kirk wants to win at everything. He wants to win every session in practice. Every drill. Every play. He's not the kind of leader who will be extra vocal and all rah rah. He's the kind of guy who will sit down on the bench and talk to you and joke around, but then he steps on the field and flips the switch. He sets the tone for everybody.
Say what you want about his record in Washington. That doesn't tell the whole story. I can already see that my guy Kirk is a winner.
But he didn't make my 7 Best list. Because he hasn't played in the division yet. Once Kirk gives the rest of the division a taste of what he's working with, I'll rank him appropriately.
Until then, here are my 7 Best in the NFC North.
Stacy Revere/Getty Images
(7) Golden Tate, WR, Detroit Lions
I was thinking that Golden Tate must have played running back at some point in his life, because he's so hard to tackle. So I did what anybody does in 2018 when they're wondering about something.
I Wikipedia'd it.
And … yep, Golden Tate played running back in high school — 1,413 yards and 23 touchdowns his senior year.
I knew it.
He's so good after the catch. His keeps such a low center of gravity, and that's something you usually see in running backs, not receivers. Receivers are usually taller and lankier. But Tate's a little bowling ball, man. He goes downhill and guys bounce off him. It's crazy.
But he's shifty, too. He can make you miss.
I think everybody remembers the overtime play against us last season, when Tate got into the flat and Matt Stafford hit him at the sideline. Then Tate made me miss, broke Harrison Smith's tackle (which just doesn't happen) and flipped into the end zone. Game over.
Sorry, Vikings fans (and sorry, Harry), but I had to do it. I have to back up what I'm saying here, which is … Golden Tate can do it all. He catches everything. He's a YAC monster. He blocks downfield. He's the guy on all the Lions' trick plays — reverses, you name it, it's going to Tate.
Pair him with a great quarterback like Stafford and he can really do some damage.
Brace Hemmelgarn/USA TODAY Sports
(6) Everson Griffen, DE, Minnesota Vikings
Griff's motor never stops.
Like, never.
We'll be in the huddle and it'll be like a TV timeout or something, and everybody's taking a break, getting a squirt of Gatorade, and there's Griff, still hot, pumping his fists and saying, "I'mma go get a sack. I'm getting a saaaack!"
And we're like, "Yo, Griff, it's a timeout, man."
He has no chill.
I've seen times when he's not practicing because of an injury, and he'll be on the sidelines working on his hands. Visualizing, you know? Shooting his hands like somebody's trying to slap them away.
That's Griff. I don't see anybody working as hard as him. If he rushes the quarterback and doesn't get the sack, he'll run 20 yards downfield and make a tackle. He's out there bum-rushing guys, spinning off people — he's got a nice spin move, one of the best in the league. At 275 pounds, he's got legit 4.66 speed, and he's explosive. The way he gets off the ball is unbelievable.
The rest of us feed off his energy. He always wants more, more, more, more, more. He's never satisfied. When you see him run from one side of the field to the other to chase down a quarterback and get a sack, then he does his little sack-daddy dance …
… and then he comes back to the huddle all fired up and ready to go do it again, screaming, "I'M GONNA GO GET ANOTHER SACK!" so loud you could hear him 10 miles away?
That's too much for me, man.
But hey, that's Griff.
His. Motor. Never. Stops.
Jim Mone/AP Photo
(5) Jordan Howard, RB, Chicago Bears
Oh my God … Jordan Howard is so hard to take down.
He keeps such a low center of gravity. He's like Golden Tate, but 25 pounds heavier. And he can make guys miss, too. You have to gang tackle him — and even then, good luck.
I'll never forget a play he made against us last year. He took an outside handoff and hit the sideline, and we had three guys closing in on him with the sideline acting as a fourth defender. I was like 10 yards away, thinking, Ain't no way he's getting out of that. So I slowed up.
Well, he made all three guys miss, somehow stayed in bounds, and then burst right past me down the sideline for a touchdown.
Lucky for us it got called back for holding. Because that play, man … I was at a loss for words. I already knew Jordan Howard was tough. But on that play, that's when I knew he was for real.
Like, for real, for real.
Andy Clayton-King/AP Photo
(4) Xavier Rhodes, CB, Minnesota Vikings
I gotta put myself on here, right?
I've been playing some good football.
But I want to take you back to my first NFL game. I'm 23 years old, and I'm going up against Calvin Johnson, a man who is six foot five and runs a 4.35 40. I spent most of the week leading up to that game in the film room, watching him catch balls over like five guys, thinking, It's just gonna be me out there … with HIM!?
I was so nervous.
My performance that day was definitely a little shaky at times — I had a couple of penalties, including a P.I. — but I settled in, and when it was all over, I held Calvin to four catches for 37 yards, no touchdowns.
I learned a lot from that first game. Like I said, I was nervous. Uncomfortable. And I remember that feeling so well — being unsure that my best was going to be good enough, thinking that this guy was gonna get the best of me. But once I overcame that, I knew I wanted every receiver I faced moving forward to have that feeling. That I never want to show weakness. I want them to fear me. I want to make them uncomfortable, take them out of their game.
That's why every chance I get, I'm pressing. I'm trying to get in the receiver's face and let him know: It's me and you. We goin' at it all day. You give me your best, I'mma give you mine. And we'll see who comes out on top.
I live for situations like that. There's no better feeling than going toe-to-toe with Antonio Brown and holding him to five catches for 62 yards, or Odell Beckham to only three catches, or Julio Jones and A.J. Green to two catches each, or keeping Mike Evans out of the end zone for a whole game.
Don't get me wrong, I get beat sometimes. Everybody does. These guys are pros — some of the best in the game. They're gonna get theirs.
But I'll get mine, too.
Hannah Foslien/Getty Images
(3) Harrison Smith, S, Minnesota Vikings
I have a huge amount of respect for Harrison Smith. He's the heart and soul of our defense, and he's one of the best safeties in the game. I think Harry, Eric Berry and Earl Thomas are in a class above everybody else.
And if I had to pick one, I'm taking Harry.
He's everywhere on the field. He'll be playing safety one moment, then linebacker the next. He knows every position on the defense, and he knows the opposing offenses inside and out.
I'll never forget the playoff game against the Seahawks a couple of years ago — partly because it was one of the coldest games ever at like minus-6 degrees — because of some of the things Harry did in that game that illustrate how intelligent he is.
There was one play where we were in Cover 3 and Harry was supposed to have the deep third. But he saw something in the offensive formation, and he called it out right away: "Run! Run! They're running right!" So he just called an audible for himself, slid up into a linebacker position and blitzed. And as soon as the running back took the handoff … boom!
You can see him call it before it happens. He knew the whole play. I went up to him after he made the hit and was like, "How in the world did you know the play?"
"I saw it on film, bro."
I'm thinking, I watched the same film and I didn't see that….
And on top of his ability to recognize the play, for him to abandon his assignment — because he's that confident in what he's seeing — is crazy. He has no fear. He trusts his instincts, and he trusts his preparation.
I always tell him he's gonna be a coach when he's done, because I've never seen somebody understand both defenses and offenses like Harry. I mean, he'll look at an offensive lineman's hand position, and if it's different on a certain play, Harry will call it out, because it's an indication to him of what's coming. He pays attention to every little detail. He knows everything.
He's truly a student of the game.
(2) Matthew Stafford, QB, Detroit Lions
Matt Stafford, the fourth-quarter kid.
He could be down and out for three quarters, then in the fourth, he flips the switch. His ball gets more accurate. His touch gets lighter. His calls get better. I don't know what it is, man. He's just a different animal when it matters most.
He's fearless. He'll make risky throws into tight windows. There have been some times when we've played against him on Thanksgiving Day the last couple of years where he'd squeeze a ball into tight coverage, and I'll look over to the sideline and the coaches just shrug, like, Hey, you played great coverage … that was just an unbelievable throw.
He's the total package, man. He's great at avoiding the rush, he can break long runs and he isn't afraid to step up in the pocket and take a hit.
And he has a cannon for an arm.
I think people used to talk about Stafford early in his career like he was just O.K. because he had Calvin Johnson — like whenever he got into trouble, he just threw it up to Calvin. But now that Calvin has been gone for a little bit, Stafford is out there trying to show everybody that he was a part of Calvin's success, too, and now he's continuing that success with Golden Tate and Marvin Jones and the other guys they got over there. He's definitely making a name for himself.
Tim Fuller/USA TODAY Sports
Dylan Buell/Getty Images
(1) Aaron Rodgers, QB, Green Bay Packers
You ever seen that movie Wanted?
The one where they shoot a gun and the bullet curves?
Well, there was this play against the Packers — it was early in my rookie season, the first time I played against Aaron Rodgers. Jordy Nelson was in the back of the end zone. I wasn't on him, though. Josh Robinson was. I was underneath. When Rodgers threw it to Jordy, it went right over my head. But right when Rodgers let it go, I knew Jordy wasn't gonna catch it. The trajectory of the ball was off to the right.
Then, as the pass went over my head, I turned around just in time to watch — and, man, I promise you, the ball bent back to the left, barely missed Josh's helmet, and dropped right into Jordy's hands.
I was immediately like, It's over. If THIS is what the NFL is like, I'm never getting any picks!
A lot of guys had told me that Aaron Rodgers was a different breed, but now I'd had a front-row seat for it. This guy was out there throwing curveballs.
It was great coverage. There was nothing Josh could do. Nothing nobody could do. When we got back to the sideline, it was like those Thanksgiving Day games against Stafford. Our coaches weren't even mad. They saw the replay on the jumbotron, and our DB coach just shrugged his shoulders and was like, "I don't know what to tell you."
It was one of those moments that you can't coach.
Rodgers just has it.
And he can do it from the pocket, outside the pocket, running left, running right, while he's getting tackled … this guy has no weakness. He doesn't get frazzled. He's so accurate, always on the money. And the worst part?
He knows it.
His demeanor — his swagger — he's so confident in his game that it actually bothers you. And you can't even talk trash about him. You have to respect him, because he's one of the best to ever play the game.
---
---
I bet some of you might be wondering where Stefon Diggs is in my rankings.
Well, let me tell you something about Stefon.
What I see in him is a kid who was drafted pretty high, but not as high as he thinks he should have been. So he's worked his butt off to become one of the top receivers in the league. His work ethic is unbelievable, and it's paid off. He just got a big contract. So now he's trying to up his game even more and become a leader on this team.
His game speaks for itself — the boy can play. But I think he'll grow to be a more vocal leader on the offense this year. He could definitely be on this list right now, but I want to see that out of him — that growth, that leadership. I think he has it in him to be the undisputed leader of our offense.
He just might have to thumb-wrestle Kirk for it.