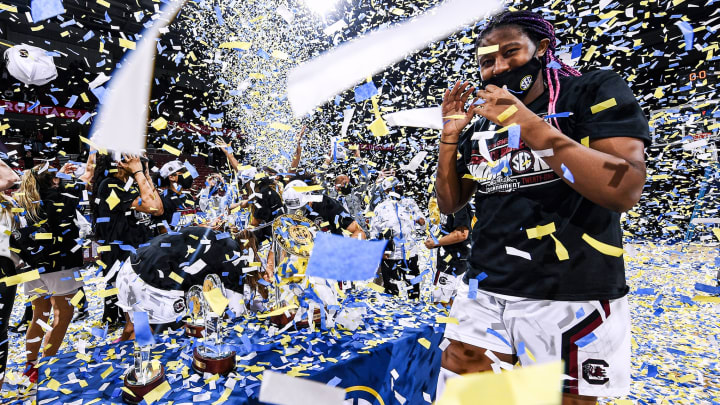 The Train Keeps Moving
| South Carolina Athletics
We were destined to win the whole thing last year.
We really, really were.
32–1, undefeated in conference, undisputed No. 1 ranking. It was all set up for us. We knew we could do it. We were ready to do it, playing our best basketball and gelling at the right time and….
You know what? Let me stop myself right there.
Because to tell you the truth, as I'm sitting here writing this — in my head, I can actually hear Coach Staley's voice repeating, over and over again: "That was last year! It's in the past. The train keeps on moving!"
That's her thing. That last line, especially. She loves saying that.
"The train keeps moving, ladies!"
Coach is always looking forward, so one of the big things she drilled into our heads from the very beginning this season was that this 2020–21 team, our team, is a different squad from the one that was about to win it all. We needed to move on.
"You have to form your own identity."
"Make your own history!"
And I'm all in with that, I swear. 
So, Coach … Coach, I got you. I'm not going to get into how special that team was or how we were about to go down in history as one of the best college basketball teams ever. None of that. I promise. I'm going to focus on this year, and this NCAA tournament run we're about to start up.
Because, as you tell us every day….
We — this team, us right now — WE can absolutely be special.
Sean Rayford/AP Photo
And that's the goal, for sure.
We're looking to run the table. We're not looking to lose. And me?
Maaaaan….
You better believe I'm trying to win it all. I despise losing to an extent that I actually have no problem admitting is extreme. Let me break it down for you. 
In short: I just want to win so bad.
I really, really, really want to win. Every game. Every possession. Every moment.
That's the short version of it.
The train keeps moving, ladies!

- Dawn Staley
The long version? Well, that really calls for some examples. Maybe the best way to get it across is to look back at that UConn game earlier this year. Huge game, obviously. Everyone tuned in. Two powerhouses going back and forth, throwing punches, taking each other's best shots.
Then it gets down to the end of regulation and I have the chance to win the game on an easy putback and.…  
I blow it.
There's no other way for me to put it.
I just flat out blow it. And then we lose in OT.
I thought there was less time on the clock than there was, and I rushed an easy shot. A shot I usually make 100 out of 100 times. And still, to this day, I can't completely get that moment out of my head. It's like….
If you'd just taken another split second, you would've won it for your team.
David Butler II/USA TODAY Sports
It was especially bad those next few days after the game. I kept thinking about that putback, but also just all the other possessions where I could've been better. I started blaming myself. I was unrelenting. To the point where my teammates were all like, "Aliyah ... please stop."
And I actually had to be like ... "I can't."
Like I seriously could not stop thinking about what I did wrong — and analyzing it all in detail, over and over again. For me, nothing goes away when it comes to basketball. It's like my brain is just sort of wired to … like you know how some people can remember phone numbers or addresses or movie lines or whatever … I'm like that with our games and where I could've been better.
Because I just never want us to lose.
I seriously could not stop thinking about what I did wrong — and analyzing it all in detail, over and over again.

- Aliyah Boston
I even remember bad games going all the way back to last year. Like if you go back and look at the film from our game against Temple last season, guess what you'll see?
Aliyah missing every single layup, that's what.
I'll be 60 at some point, and you could come up to me and ask me about Temple, and I guarantee you that I'll remember all those missed layups.
I can be pretty tough on myself.
I just love this team so much that I want to do literally everything I can to help us win games and make sure everyone is happy. I know we have everything we need to do something special as a team, and I just want to help us make that happen.
I know we can get there, too.
Now it's just a matter of us following Coach Staley's lead and working together to bring it home. We just need to make sure we always play smart and, more than anything else, play as a team. Because we have all the pieces to the puzzle.
Rogelio V. Solis/AP Photo
Our starting five is no joke, and then you have a bunch of players who really could be starting on most teams in the country. LeLe can come in off the bench and handle when she needs to. Destiny comes in and can do her thing. Eniya's a big guard who puts in work. And LA, she's another big post player, who's also a sniper. There are just so many different pieces to the puzzle, and I think it's really hard for teams to match up with that.
At this point, I'm just mainly excited to see how it all plays out. And beyond that, I don't really know what else there is to say here.
Actually … wait! Hold up.
Before I get out of here, let me go back on a promise I made up above and add one more thing in ... even though it actually doesn't have to do with this season's team directly. But please, just allow me a second to shout out my girls Ty and Kiki real quick before I go.
Tyasha Harris and Mikiah Herbert Harrigan.
Two S.C. Legends. Two WNBA first-round draft picks. But also, two amazing former teammates who missed out on their chance to win it all last year because … the whole entire NCAA tournament got canceled.
"Ty and Kiki are gone," Coach would always say to us early on this year. "We don't have them anymore. We need to turn the page. The train keeps moving!"
But, like … stiiiill.
I can't possibly write up something about this tournament, and the journey we're about to go on, without giving a hat tip to two of the best leaders and mentors I've ever been around. Those two, they were the heart and soul of our team from the time I arrived on campus. And I just really want Ty and Kiki to know that everything our team does, everything we've accomplished up to this point, and everything we do in this tournament … you both had a big hand in making it all happen.
So that's gonna be my outro. Basically just: WE LOVE YOU TY AND KIKI!!!!!!
And now we're looking to do our very best during this tournament to make you guys proud.