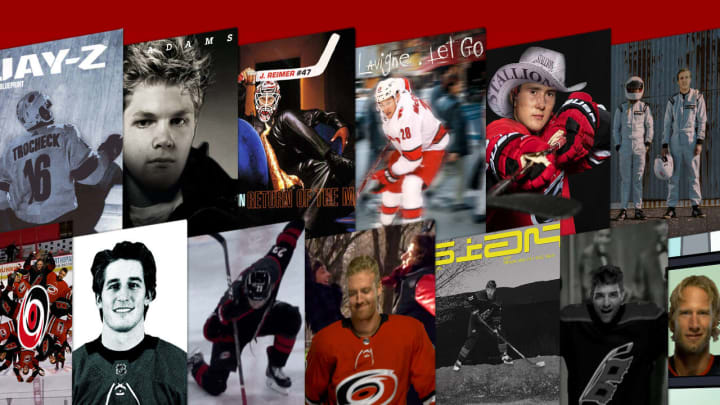 Hurricanes 2021 Playoffs Playlist
One of the great things about having teammates from all over the world is that, when any one of them gets handed the aux cord ... you never know what you're going to get. Actually, I'm not sure I'd classify that as a "great thing," — but it is a thing. So without further ado, these are my teammates and the songs they like to play — for better or for worse — after a big win.
Prepare yourself for a musical journey unlike any other.
---
---
1.

Carolina Hurricanes Team Song: 'Levitating' by Dua Lipa
2.

Vincent Trocheck: 'Renegade' by Jay-Z feat. Eminem
3.

Jaccob Slavin: 'Coming In Hot' by Andy Mineo & Lecrae
4.

Martin Nečas: 'Body' by Megan Thee Stallion
5.

Brock McGinn: 'Don't Stop Me Now' by Queen
6.

James Reimer: 'Return of the Mack' by Mark Morrison
7.

Dougie Hamilton: 'I Just Had Sex' by The Lonely Island feat. Akon
8.

Warren Foegele: 'Summer of '69' by Bryan Adams
9.

Petr Mrazek: 'All Around The World (La La La)' by R3HAB feat. A Touch Of Class
10.

Andrei Svenchnikov: 'Post Malone' Sam Feldt ft. RANI
11.

Max McCormick: 'Sk8er Boi' by Avril Lavigne
12.

Jordan Martinook: 'Shout' by The Isley Brothers
13.

Jordan Staal: 'Baianá' by Bakermat
14.

Brady Skjei : 'Peta' by Roddy Ricch feat. Meek Mill
15.

Teuvo Teravainen: 'Frisbee' by JVG
16.

Nino Niederreiter: 'Giant' by Calvin Harris feat. Rag'n'Bone Man
17.

Jake Gardiner: 'Hum With Me' by John De Sohn
18.

Sebastian Aho: 'Wake Me Up' by Avicii
19.

Steven Lorentz: 'Baby Got Back' by Sir Mix-A-Lot
20.

Brett Pesce: 'I'm Too Sexy' by Right Said Fred
21.

Morgan Geekie: 'Tyler Herro' by Jack Harlow
22.

Jake Bean: 'Happy Hour' by Cole Bradley
23.

Joakim Ryan: 'The Humpty Dance' by Digital Underground
24.

Alex Nedeljkovic: 'Get Low' by Lil Jon & The East Side Boyz feat. Ying Yang Twins
25.

Cedric Paquette: 'C'est La Vie' by Khaled
---
---