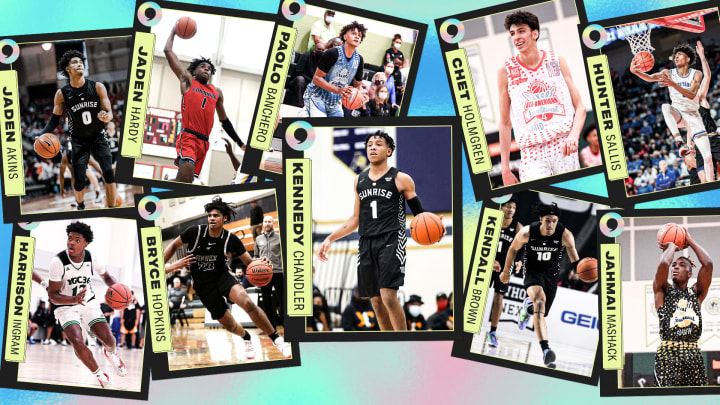 These Guys Got Next: An Extra-Rare Preview of the 2021 Class
As a high school basketball player, I know for a fact that seeing your name on the ESPN100, or SI99, or something like that is a dope experience. 
But I need to let y'all in on a little secret.
It matters ... but it also doesn't, if that makes sense. Like, if you make it on there, cool. But on the other hand, if you don't get ranked as high as you'd want, you can't let it faze you, because really good players get overlooked on those things all the time.
Hey, this my first Players' Tribune, so I'm just trying to be real with y'all.
All that being said, I made my own list. It's got some guys you probably already know, but it's also got some sleepers who I feel could use a little more respect. Let's call it the Kennedy Chandler 100. JK. I'm only going to do nine, so this will be quick. The KC9.
And I can already hear the questions. Why not 10, Kennedy? Because I have to finish my homework and can't be writing this all night. That's why.
Alright. Nine guys to watch out for, Class of '21. (No specific order).
Let's go. 
---
---
Jaden Hardy
NBA Comparison: I like to compare him to Bradley Beal because he can shoot so deep, and he's so crafty.
Mark J. Rebilas/USA TODAY Sports; Patrick McDermott/Getty Images
Jayden is probably the best scorer and three-point shooter in our class, honestly. He can shoot the cover off the ball. Not many players can score 50 in a game, 40 in a game. He's one of the players who can. 
I've played with him, and I've played against him, and the thing with Jaden is: You just can't leave him open. You've got to get all over him. You can't give him too much space. 
In terms of his all-around skillset, he can also run PG. But I think he'd rather catch it off the wing and be able to score it, instead of bringing it up. He'd rather play the two just because of the type of scorer he is. (Catch and shoot, or off the dribble).
Kendall Brown
NBA Comparison: I think Kendall plays like Brandon Clarke for the Grizzlies. He's athletic, and he shoot a little bit too. He's like Clarke, or maybe even a Shawn Marion.
Alex Driehaus/Naples Daily News/USA TODAY Sports; Greg Nelson/Sports Illustrated/Getty Images
Kendall, he my bro. He's on my Sunrise team, and he's also my roommate, so we just had a great feel for each other on the court. The most impressive thing about Kendall is how athletic he is. I throw lobs to him all the time because he's just reliably going to catch it and finish, without having to exert that much energy. 
For most people, you gotta throw the ball to a certain spot for them. But what sets Kendall apart is that I know I can just throw it up, and he'll go get it. That's what I mean when I'm talking about athleticism. That's his God-given talent — an ability to explode off of two feet and finish around the rim. 
He has great passing ability, and his body type — the way he's so tall and lanky — makes him a threat on defense as well.
He pretty cold at Call of Duty, too, but I don't know if we're scouting for that lol.
Paolo Banchero
NBA Comparison: Maaaaybe Blake Griffin. They're built the same. But Paolo might have a better jumper?
Brian Rothmuller/Icon Sportswire/Getty Images; Jonathan Bachman/Getty Images
There are actually very few comparisons out there to Paolo because his abilities are so unique. He defends, shoots, brings the ball up ... I don't know that there's a better all-around player on this list.
He typically plays at three or four, but he can play either one. He's a big dude who can post up and also a power forward or a shooting guard that can handle the ball, and as I said, bring it up the court. You don't see many power forwards really doing that. He could be a point guard if he wanted to. Honestly. So he's a great player to play with.
I met him at the USA camp, and he's been one of my closest friends ever since. I remember playing with him for the first time and just thinking, I really like this kid. Our families are pretty close, and I actually tried to team up with him at Tennessee, but unfortunately, couldn't make it happen. He'll have a great career at Duke, though. He's definitely one to watch.
Chet Holmgren
NBA Comparison: Anthony Davis
Brian Rothmuller/Icon Sportswire/Getty Images; Meg Oliphant/Getty Images
There's a reason Chet's been at the top of a lot of these rankings. He's a seven-footer who averages like eight blocks a game. Most people talk about his defense, which, with his wingspan, is amazing. He can also dribble and bring the ball up the court as well. Plus, he can shoot it. But when you're averaging almost a triple double with blocks, people are gonna talk about your defense.
What Chet has in his bag that makes him special is, he'll get that block, snatch it down, and bring it up the court himself. You don't usually see that from a seven-foot big. They're more likely to pass it to a guard. I don't think last year's class had as many power forwards and centers that could bring the ball up the court as Class of '21 has, and that's like a direct product of us growing up watching the NBA and how the game's evolving. It's just normal now to see positions 1–4 bringing the ball courtside and bigs working on the outside game, shooting the outside three.
Paolo is probably a more physical and stronger guy, and I think he handles the ball a bit better than Chet. But Chet is the better defender and has that supernatural ability to block shots that I mentioned. They both shoot well, but as far as their differences, I'd say it's just that physicality that Paolo brings. 
I know Chet's been in the weight room, though, so that's something that he'll continue to develop in college. 
He's probably in the weight room right now.
Jaden Akins
NBA Comparison: I could see CJ McCollum, a great skill guy that can make double moves and score it.
Brad Higgins; Ezra Shaw/Getty Images
Let me tell you a quick story about Jaden Akins. He's another teammate of mine.
So we're up against Wasatch, and Jaden's having kind of an off game. It happens. Well, at one point, he gets the ball and has this pretty athletic kid guarding him. 
When I say outta nowhere…. 
Man….
Literally out of NOWHERE, Jaden takes off from like the foul line, elevates, and just hammers that thing down on this dude.
The whole bench went crazy. It was just so unexpected.
Everybody thought he was going up for a layup and dude caught a body lol.
That's the thing about Jaden. He can just switch it on and go from not having a great game to being the most athletic guy on the court. He's just a no-joke hooper. He has that mentality, you know? He'll work for it, and he's a winner.
But yeah, the way he finishes around the rim is just really impressive. 
I don't see a lot of guys doing a between-the-legs dunk off the side of the backboard.
Hunter Sallis
NBA Comparison: O.K., this is a little bit of a cheat because he's not quite in the NBA yet, but I think Hunter's comparison is Jalen Suggs.
Jeff Zimmerly; William Mancebo/Getty Images
Hunter Sallis is a scoring machine.
I hate that I missed seeing him play in Nebraska because I was hurt at the time when my team played them, but I've been watching his game, and Hunter's another great point guard to watch out for. He's like a combo guard, to me. Tall, lanky, athletic.
What sets him apart is the way he finishes, and his general ability to score — he can get you 20 points a game. As everybody's coach has said at some point, how you practice is how you play. And you can just tell with Hunter that he spends a lot of time on his game in the gym because of how effortless everything looks at game speed.
He can break down defenses and get around folks, but he's also got a nice pull-up game. I think he's really creative in the different ways that he's able to get his shot off in difficult situations, which will get him more looks at the next level.
Jahmai Mashack
NBA Comparison: Marcus Smart
Brian Rothmuller/Icon Sportswire; Abbie Parr/Getty Images
Remember when I said there would be people on this list who haven't gotten as many looks in the media, but will still go on to have great careers?
Jahmai is the perfect example of that. 
He'll be with me at Tennessee, and once he gets there and starts killing, I think he'll start getting the recognition he deserves. He's gonna show what he can do — the way he defends and how aggressively he plays. If you watch his highlights, you can see that he always matches up with the best player on every team, and he's an amazing defender.
When I watch him, I'm looking at how efficiently he uses his body. He's got great body control. And he's strong as hell. He's not a weak guy. He plays hard on every possession, never taking plays off. And he's got a good defensive game that usually gets him going on the offensive end. He'll make any team better. I can't wait to team up with him at Tennessee and let everybody know what we can do.
Bryce Hopkins
NBA Comparison: Talen Horton-Tucker
Courtesy of Fenwick High School; Sean M. Haffey/Getty Images
I first met Bryce when I played for my summer AAU team, Mokan. He was on 16U, which was my age group, but I was playing a grade up, so we didn't get the chance to play together. I just remember how he was killing 16U. He was the best player on his team. So, I've been watching him ever since.
I've had a chance since then to play him at a camp, and the thing about Bryce is, he a funny dude, man. A real character. He's got a big personality, and that also translates on the court. He's very slept on in terms of his craftiness, and his ability to create and make tough shots.
He's a big dude, so he can get really physical when he wants to, like when he gets down in the post or has a tough match-up. He moves right into defenders, and if he's in the rare situation when he can't get past somebody, he can dish the ball around pretty well, too.
Bryce another one that's been left off some important lists, wrongly I think. But he'll be at Kentucky next year, which is obviously a bigger stage, so I don't think he'll be getting slept on anymore.
Harrison Ingram
NBA Comparison: Kyle Anderson. (Can you tell I like the Grizzlies? ?)
AAron Ontiveroz/The Denver Post via Getty Images
I know you don't wanna hear me say, "He's a great scorer," again, so I'll put it to you this way: You'll watch Harrison's highlights and won't even realize 'til you see his stats that he put up 30 that game. 
He's just doing so much on both ends of the court — the type of player that can easily get a double-double. He's a great defender, gets on the glass.
I like to say, he has a very old-school game. He doesn't move slow, but he's never in a rush. He can take his time, move at his own pace, and get you a bucket. In the new school, everybody's fast and athletic. People just come down and chuck threes. 
But Harrison doesn't rush anything. He finds his own pace and finds his own shot, which makes him unique in the new school.
---
---
And that's it. Those are my dudes. 
Great players, solid people who are gonna have great careers on and off the court.
It's not every day, though, that a high school basketball player gets to write in The Players' Tribune, so before I go, I wanna say one more thing. 
As you probably know, I committed to Tennessee, and next year I'll be starting a whole new chapter of my life as a Tennessee Vol. But after the past year in Kansas, and everything that this school has given me, it wouldn't be right if I left without saying goodbye to my Sunrise family.
They didn't know who Sunrise was last year. Now people are starting to recognize who Sunrise is.
I know I'm still young, but I feel lucky to have been able to grow up how I did, where I did, with the people that I did it with. I definitely have a lot of memories I'll be taking with me to college and beyond. 
So, thank you for everything, Sunrise. It's been real.
And Tennessee, I'll be seeing you soon.