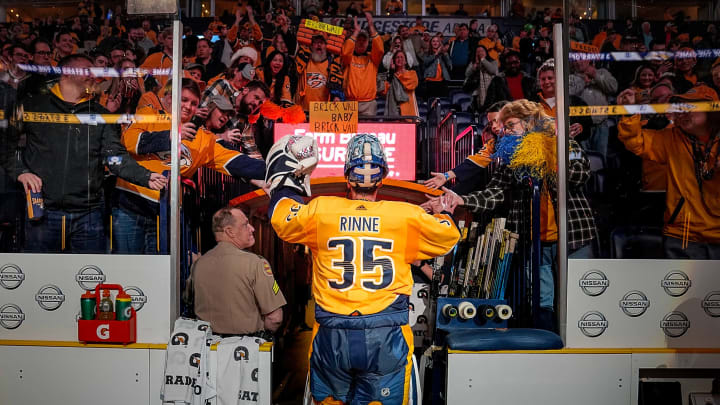 Thank You, Nashville
John Russell/NHLI via Getty Images
Somewhere in Sunrise, Florida, way back in 1996, there was a mailman. 
And in his sack of mail, along with hundreds and hundreds of envelopes, there was a letter — from me. 
It was addressed to my favorite goalie in the world: John Vanbiesbrouck. I was pretty much obsessed with him when I was 13 years old. I'd send him letters and cards and pictures and all sorts of stuff. And he'd always return them with his autograph. So to me, a tall, skinny street hockey goalie from Kempele, Finland ... man, it was just about the coolest thing in the world. 
Even from 5,000 miles away, every time I got a letter back, I'd feel like I was a small part of that Panthers' Cup run. I'd mimic John's saves in the driveway with my friends, I'd count down the hours until Sunday morning when the 30-minute NHL highlight show came on. And I'd let myself dream that maybe, maybe, one day I'd play for the Stanley Cup like John.
That, in a way, was the start.
It was the start of an incredible, life-changing journey that has taken me to more places than I could have ever imagined, and given me more than I could ever hope to give back.
But today … today is the end.
I'm retiring from the game of hockey.
This decision wasn't easy. I spent the summer in Nashville with my fiancée, Erika, and our six-month-old son, Paulus. My body still feels like it could compete at the highest level … but my decision was about a lot more than that. Every time I looked at my son, at Erika — I just felt like a different person, almost, if that makes sense. My priorities had changed, and my mind knew that, even if my body didn't. And when I really thought about what it would mean to not come back to the rink at the end of the summer, it just felt like the right choice, and the right time.
I still feel that now. It's the right time.
But I can't leave without at least trying to put into words what these past 17 years in the Predators organization have meant to me.
So Nashville, if you'll ride with me one more time, I want to share some stories, say some thanks, and say goodbye.
Taylor Baucom/The Players' Tribune
"Big goalie, moves like a cat, gets beat blocker-side"
I read a scouting report the other day from before the 2004 draft that described me like that. And to be honest … it's pretty accurate. When I was growing up, I played hockey like I was still on the street with my friends. If you've played road hockey you know what those goalies are like: lunging at everything, throwing their bodies all over the place without the ability to slide post-to-post in a smooth way. It's a … wild style of goaltending.
For a long time, that's the goalie I was. Nobody ever taught me a more "traditional" style. Before I moved to Oulu to play for Kärpät when I was 17, I played on a team called Laser Hockey. Yes, Laser. They were just a group of guys who played baseball in the summers and hockey in the winters. And I think, in any story about my past, Laser Hockey matters because that's where I found my joy and my love for the game. I've kept that with me ever since. Even when I went to Kärpät, and we practiced two times a day and I wanted to quit, I made sure to remind myself that I love this game.
There were two coaches in Oulu who played a huge part in my development: Erno Moilanen and Ari Hilli. They helped me learn what it really means to be a pro, and Ari is still a great friend of mine to this day.
It's hard to prepare a young man for what hockey might be like on the other side of the world, but those guys, and everyone at Kärpät made me into something I never really thought was possible: An NHL-caliber goalie.
"Pekka … do you have something else to wear?"
Everyone at Kärpät did a great job of preparing me for hockey in North America, yes, 100%. But what nobody really prepared me for was that my Finnish sense of style was not … let's say, universal.
In the summer of '05, when I signed my deal and went to report to Milwaukee for my first AHL season, I had to wait for my visa to be approved. So the team flew to Toronto for a few days for some paperwork stuff, I think, and there I met with one of Nashville's scouts, Nick Beverley. Nick was like the nicest guy in the world. An absolute gentleman and he helped me a lot those first few months.
So I'm in a hotel in Toronto, and he calls and says that he and his wife, Karen, want to take me for dinner. And, you have to understand that, at the time in 2005, the style in Finland was like tight, ripped jeans, white shoes, skin-tight T-shirts with logos and bright colors. So I come down to the hotel lobby to meet Nick, and I'm wearing a pink shirt, jeans with holes all over and ridiculous shoes. I'm sure if you could have seen a photo of me from that night, you'd have smelled the cologne through the picture.
I walk out of the elevator, Nick is standing there in chinos and a dress shirt, and he takes one look at me and his eyebrows go so far up his forehead I think they're going to disappear.
"Pekka … do you have … something else to wear?"
I said, "No … What's wrong with it?" Looking down at myself, feeling like the peak of fashion. 
I think Nick took me to a GAP, or something, and we went and had a nice dinner. 
The Predators organization is one big family
That night in Toronto is still one of my favorite stories to tell, not just because of how funny it was — but because it kind of summed up what this Nashville team is all about: family. Nick didn't know me that well. I wasn't some superstar prospect or big-name free agent. But he and his wife were there to take care of me. I never forgot that. Even before I got to North America, I met Mitch Korn, the Predators' goalie coach, in Oulu when he came to see me play. I was so shocked he'd come all this way to see an over-age, potential late-round pick. But he was kind, thoughtful and just left a great mark on me.
Then once I got over to Nashville for my first camp in '05, I met with David Poile, Ray Shero, and Janne Kekäläinen, who was the Preds' European scout. They had been watching me for a few years before the draft and they told me how impressed they were with how my game had developed. They laid out the plan for me going forward, and just their belief, man, that's what I remember. They knew I was going to be an important member of the team going forward.
John Russell/NHLI via Getty Images
And looking back, they watched me, believed in me and helped me for what? Fifteen years before it all came together and we made our run to the Cup? It's crazy, man. Crazy. And when I think about it like that, it makes me realize how hard it is to get it right in the NHL — how much effort it takes and how long it can take for the pieces to come together. There's so much more to it than trades and picks and signings. It's about building a family. And that's what's happened here in Nashville.
I really believe that.
We had great captains
I've been lucky to have some of the best teammates in the world. Seriously. We've had some really talented players come through Nashville, but one of the things that really helped us grow into a playoff contender was our captaincies over the years. From my time with the Preds, we've had Jason Arnott, Shea Weber, Mike Fisher and Roman Josi.
Jason was a guy I immediately looked up to. When I was rookie I just tried to keep my mouth shut and learn as much as I could about the league. And Jason was one of the hardest working guys I've ever seen. You can still see his impact on our team today.
Shea, man, what can I say. He's as good as they come. We started our pro careers together in Milwaukee. And let me just say this about everyone in the Admirals organization: You guys are the best. I'm so thankful to all of you and the city of Milwaukee for the role you played in my life. And I know Shea feels the same way.
When he got to Nashville, he just elevated this club to a whole other level. When he had that success in the Olympics, he just brought that pedigree here. He was always in the All-Star game and he just gave us all a lot of confidence in the room. When things weren't going well it was always like, Yeah, well tomorrow night we'll have Shea Weber and they won't, so let's see how it goes. He was there when we started playing our best hockey, and he was a huge reason why.
Shea's impact in the community will live on forever, as well. We partnered together in 2014 to help create the 365 Pediatric Cancer Fund to raise money for the Preds' annual donation to the Monroe Carell Jr. Children's Hospital at Vanderbilt.
The impact the Predators organization helped us make in the community…. It means as much to me as any banner hanging in the rafters at Bridgestone. 
Another guy who really understood Nashville? Mike Fisher. And I can't talk about Mike without talking about 2017.
So the thing about that year is like, you need some context to understand it. There's this feeling around Nashville that you don't really get unless you've lived here for a while. When people talk about the great great American cities, nobody really mentions Nashville. But I've been to some places in my life and let me tell you: This city deserves to be mentioned. It truly does.
And so we're going up against the Hawks, and it's like… Chicago is CHICAGO, you know?? And they're this storied franchise with all these stars and history and all that — and it's almost like, to the hockey world, Nashville is one of those teams, one of those cities, that you just beat on your way to the Cup. We're just a footnote. And everyone had already written us off. I think seven out of 10 analyst predictions had us getting swept or something like that.
But man, if there was somebody in our room who embodied that chip-on-the-shoulder mentality that we had? That Nashville had? It was Mike. He just got this city. We followed his lead. When we won the first two games in Chicago nobody overreacted, nobody took a second to think about the next round. Because when you're a city like this, a team like this…. You have to earn everything. And so we did.
Yeah, somebody got swept.
Wasn't us, though.
That, at least to me, will always be a series that says a lot about Nashville.
It's almost like, to the hockey world, Nashville is one of those teams, one of those cities, that you just beat on your way to the Cup.

- Pekka Rinne
That whole run was such a blur, man, it was so much fun. I remember driving to the rink during the finals against Pittsburgh and seeing the thousands and thousands of fans in the street. It just made me so proud to be a part of this team. And look, it didn't go our way at the end. But when I think about that series, and how close we were…. I don't have any regrets. Does it still hurt? Do I still think about it often? Yeah. I'm human. But I know I gave everything — we gave everything.
You have to remember, the franchise had waited 19 years for a Stanley Cup Final. 
I had been in the net for 12 of those years. 
I knew what that series meant to all of us.
We didn't raise the Cup.
But we turned Nashville into a hockey town.
The future
And I know this team will get back there. It'll happen because I know the Predators are in good hands. When Mike retired, Josi took over as captain. He's been a great friend since he got to Nashville, and to see his development from a scrawny Swiss kid who had an insane amount of talent but didn't quite know the ropes — to one of the best defensemen in the world.… It's just been awesome. Shea specifically really took Josi under his wing and helped him a lot. I remember seeing a lot of gym sessions where Shea was walking him through a bunch of exercises, or late on-ice drills with Shea watching over him.
I think that comes through now in the way Josi leads this team. And he's going to keep doing great things in Nashville.
I thought of their relationship when I met Juuse Saros for the first time.
I also realized the end was near when he told me he had posters of me on his wall back in Finland, and that he watched me a lot on YouTube. (Tip for other athletes: When the guy trying to take your spot says that to you, it might be time to retire). Seriously though, most people know it now — Juuse is the real deal. I knew it right when I met him. He's got that special knack that great goalies have of just being able to track the puck at an elite level. He's pushed me from the moment he got here, and I truly believe I wouldn't have won the Vezina in 2018 without having him on the team. He's already a world-class goalie, and he's an even better person.
I'm going to miss being between the pipes for you guys at Bridgestone Arena, but when I watch some games next year and I see Juuse in net, I'll know it's being protected by the right guy.
There are a lot of great players and people on this team. I know the best is yet to come. This city is going to have a Stanley Cup parade one day, and I guarantee I'll be down there with you all. 
The end
Erika and Paulus were at my last game, in May. I was able to wave to him behind the glass during warmup, and he got to see me in all my gear.
That meant more to me than both of us will probably ever understand. 
John Russell/NHLI via Getty Images
The whole pregame, I'm not going to lie, it was hard not to get emotional. I didn't know for sure if that night was the end, but I knew it was a possibility. And to have a shutout, in front of the fans again in Nashville…. It felt like a movie, you know? At the end of the game, I sort of gave a wave to the crowd and went to head for the locker room ... but I saw all the guys on the bench, all the guys from the taxi squad who had come down — they were pointing to center ice, asking me to take my moment in the spotlight. And I'm so glad they did that. Because on the ice … skating around and hearing the fans' cheers for me … it just meant everything to me.
Even now, thinking about it gets me emotional.
Nashville, I will remember that feeling for the rest of my life.
And out there, I thought of all the moments we spent together in that arena. I thought of all the other arenas I'd spent hours in, dreaming of a moment like this. I was just … I was just thankful. Thankful for my parents Jukka and Helena, my sisters Anna and Päivi. For Erika, who is the best mom in the world. For my youth coaches back in Finland. For my three head coaches I've had in Nashville: Trotz, Peter and John. You guys are truly some of the best in the world and it was a privilege to play for you all. Thankful for my two goalie coaches I've had over here, Mitch Korn and Ben Vanderklok. For David Poile, and our great ownership group. My agent, Jay Grossman, for his guidance all these years. For all the staff at Bridgestone Arena, who truly made it feel like home from the moment I got there. Our Predators training staff — who are the best in the league and made me feel like a superhero every night.
Taylor Baucom/The Players' Tribune
And for my teammates throughout the years. There's more than I could ever thank, but I've made friends with so many of you, and I'll cherish that forever.
But most of all, as I skated around Bridgestone Arena for a final time, I was thankful for the people of Nashville. I hope that after all these years, you could see from the stands that all I ever wanted was to be a great teammate, and a player who gave everything for the city he loved.
That's it.
And you helped me grow into the man, the father and the person I am today.
All I can say is thank you, and I'll see you again.
—Pekka