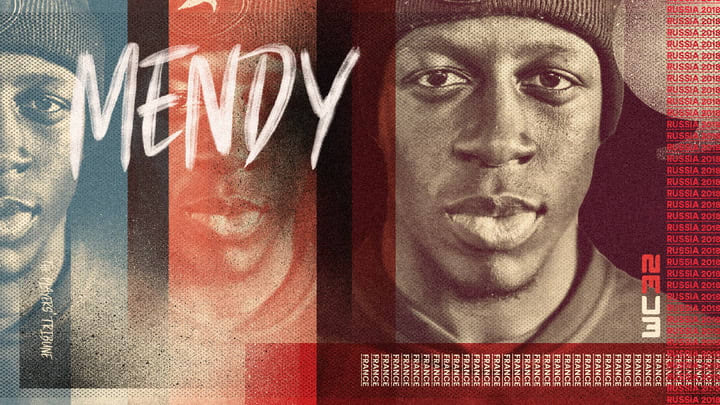 Do you want a Pep story? I know you do.
After I signed with Manchester City last summer, I met up with him in Los Angeles during our preseason tour. I was expecting him to say hello and immediately start talking to me about tactics or something. He's the genius, you know? So intense. So professional.
But this is how he greeted me: He walked up to me with a big smile, he reached out and took my head in his hands … and he kissed me on my forehead.
Bissou.
That is Pep.
I remember thinking to myself later that day, How is this my life? When you grow up in the suburbs of Paris, every child dreams of football. My dream won't surprise you. There are many sidewalks and streets in Palaiseau, the suburb of Paris where I am from, and I have dribbled a football on every one of them.
I never went outside without my football. When I was small, I would follow my older brother and his friends around town. If they were playing, I wanted to play. And sometimes I would get knocked over because I was little. But everyone knew me as the younger brother. The kid dribbling the football.
But I wasn't Benjamin Mendy. Not in my mind. At ages seven or eight or nine, I was not Benjamin.
Benjamin Mendy
I was Ribéry.
I was Zidane.
I was Henry.
In my imagination, I would go to the Stade de France. I could see the flags in the crowd. I could hear "La Marseillaise." I was wearing the national team kit.
My imagination could get me into trouble. My mum always said that about me. One day I was dribbling my football down the sidewalk, as I always did, when I came to an intersection where people were waiting for the signal to walk. I wasn't paying attention and I pushed the ball a little too far ahead of me. I ran into the street to get it and I got hit by a car. Well, actually, that sounds dramatic. In reality, the car was not going fast, but it was going fast enough to knock me over. I was fine! No hospital, no scars. But my parents, of course, were very worried.
At home, my dad, said, "Now is the time to stop football and focus on your studies."
My mum put it another way. She said, "Your head is in the clouds."
I disagreed. The solution was more football, not less. With better ball control and vision, I could've avoided the car.
The next day, I was outside — dribbling again.
---
---
To play in the World Cup is an honor. To play for France, the country where I've spent most of my football career, is a dream. At every stage of my journey, people offered their guidance. When I turned pro at age 13, with Le Havre, I thought everything about my career was going very well. I thought it would be easy to leave my parents and my home. I thought everything would keep going the same way.
I was naive about my maturity, in life and in football.
I entered Le Havre in 2007 thinking I was a striker, wanting to score goals, like every kid does. When the coaches suggested that my natural position was on the other side of the ball, I was not happy. I tried to tell him that I was a striker. But they were right.
I also learned that talent alone is not enough. Speed and strength are not enough. As many older players have told me in one way or another, anybody who has had success in football has cried, fought and stole for it.
Le Havre was the beginning of my journey — where I became a man. Marseilles was where I learned to think about football. Technique, strategy — all of the knowledge I had accumulated was tested when I went to Marseilles in 2013. And I am fortunate it was.
In Marseilles, before my second year, Marcelo Bielsa became our manager.
Bielsa was the man they called "El Loco."
From the day he arrived in Marseilles, I learned why they called him El Loco. He was very professional, very serious. When he addressed the players the first time, he didn't smile once. But when he talked about strategy, you could see the madness coming out. You could see his passion. You could see that he lived for football, for every detail. After the meeting, a teammate looked at me and said, "He is not normal, this one!" He was right. Bielsa is not normal. Who wants normal?
I learned a lot from him by focusing on what others might say is "boring." That is how Bielsa thinks about football: What if boring is where you gain the most advantage?
When he arrived, I was lazy about watching video. I didn't take it seriously. I would fall asleep during video sessions. When I would open my eyes, Bielsa was still there, with the same serious look on his face, and he would say something like, "I am waiting for you to be interested." With his help, I learned how to watch video for the details. I became very interested in video and tactics. That was his effect on me. I always tell people: Bielsa woke me up.
And if you ask Marseille supporters, I think they would say that he woke them up, too. They are people who respect what is simple — working hard and doing your best. They are not arrogant or flashy. Bielsa was a famous man but he could walk the streets without being bothered. Everybody felt like he was part of the Marseilles family.
Dirk Bruniecki/The Players' Tribune
Leaving Marseilles … it was hard. I had a strong connection to Bielsa, to my teammates and to the city. Many people expected me to go to England. When my agent called and said Monaco was interested, I knew my decision. I chose to stay closer to home, to stay in Ligue 1. I had always told myself that when I leave Ligue 1, I will leave with pride. I will leave with a title. I was not satisfied yet.
We found a title in Monaco. When we won Ligue 1 in 2017, my first season, and made the Champions League semifinals, it was a surprise to everybody. But not to us. The most important part of that that season was how our young team became a family. It began with Jardim. Jardim was not like Bielsa. He showed us that even as a coach, there are many different paths to success. "El Táctico" was the nickname we gave him during the season, because he would constantly reevaluate our strategy from match to match. Táctico.
We were young. We had played together only a short time. Everything that we accomplished started with the connection we made as teammates: Silva, Dirar, Germain, Lemar, Sidibé, Bakayoko, Mbappé, mes frères. The way our team worked together and learned from from our mistakes in such a short time? It was special. Before the Champions League, we renamed the team's WhatsApp group Champion 2017.
When the season ended, we didn't know if everybody would return. We promised we would tell each other before anything showed up in the papers. One day, without saying hello or anything, Bernardo sent me a picture. He was wearing a Man City jacket. I called him on FaceTime and was like, "Are you in a shop or what?" With his Portuguese accent, he told me, "I am going to join Manchester City." I called Timo and he said, "I am talking with Chelsea." I called Kylian and he said, "I don't know, but I see that everybody is leaving. Maybe I will think about it." Soon after, I sent Bernardo a picture of me wearing a Man City jacket.
We were not sad to leave Monaco. Everybody was proud of what we had accomplished. I smile now to think about those memories. I smile about our Champions group chat. It reminds me of the feeling of being at the top.
---
---
My life has been shaped by managers. Maybe you've noticed. I think this is true for most footballers — for good and bad. For me, I have just been lucky to have played under some of the best. And there is nobody better than Pep.
Of course, Pep is the kind of manager players always dream of playing for. But what I've learned about life from Pep has been more important than anything I've learned about football.
When I was considering signing with Man City last year, Pep and I started to message each other on WhatsApp. I was not only chatting with Pep, but also with his wife — because she was helping him with his French. With Pep, it felt like I was talking to family, not to a coach.
When I got injured in November, I didn't expect Pep to stay in communication with me. But he never forgot about me, and it meant a lot. It motivated me to want to be the best teammate I could be from the sideline. Maybe I took it too far sometimes. In November, when I ran on the field to celebrate Raheem's goal against Southampton, after I'd been forbidden from running. I should have been resting.
Was it a risk? Maybe, maybe not. But after the match, I think I saw Pep smiling about it.
The old guys are right — anybody who has had success in football has cried, fought and stolen for it. And I think anybody who makes it to a World Cup does not make it alone.
Dirk Bruniecki/The Players' Tribune
Going to my first World Cup in Russia … how can I describe it? Not with words, but with a feeling.
It's the same feeling I had when I was 12, watching the 2006 World Cup. In the round of 16, France drew Spain. Everyone in Palaiseau was outdoors in the square — hundreds of people watching on a TV. David Villa scored first, on a penalty. It did not look promising for us. The mood was anxious. Then Vieira collected the ball at midfield. It was nearly halftime. Ribéry made a run. Vieira's touch was perfect, and Ribéry dribbled around the keeper to score. We went crazy. Everyone was hugging and jumping up and down. You could hear the screaming coming from inside buildings. Later Vieira scored and then Zidane made it 3–1. But Ribéry's goal was everything.
After the match, I had the strongest feeling in the world. I wanted to go outside and play football right away. There was nothing else as important. My friends and I played in the street until late. All of our dreams seemed possible.
It is the feeling I will carry with me every time I wear the French kit.