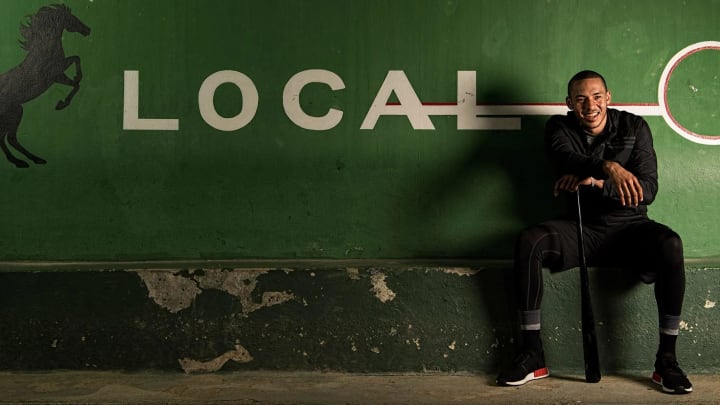 Where I'm From: Puerto Rico
Puerto Rico means a lot to me. I love Puerto Rico. I love playing for these guys out here. When I came back, everybody told me, "Every time you hit a home run we scream at home and we go crazy!"
For me to be able to create that impact means everything. At the end of the day, it is a sport, and they love watching it, but it really does have an impact. For me, that's really gratifying — something really special.
This offseason, everything changed. I thought it was going to be the same as when I left, but I talked to my mom right before I flew into Puerto Rico, and she told me I had to be ready. People were going to be all over me. The fans were going to go crazy.
I was like, "No. mom, I don't think so. I don't think it'll be different …"
But as soon as I got home, I could tell. It was different. People were noticing me everywhere. At the airport. At the mall. At restaurants. People ask me for autographs or pictures everywhere I go. But I enjoy it. I have fun doing it. These fans have supported me since I was a little kid. To be able to be back home with my people and to share these moments with them?
That means the world to me.
Puerto Rico is home for me, but it's a tropical, beautiful kind of place, with a lot of nice beaches, great people, great food. It's a small island wi
---
---
I kayak probably once a week, for fun. I love to be on the ocean.
---
---
My draft year, we knew it was a pretty good draft class, we knew a lot of these players were going to make it to the big leagues, and there's still a
---
---
For me, it's really important to take time for the fans, especially the kids, because they look up to me as a role model. I don't take that lightly. I
---
---
There are a lot of great young Puerto Rican players coming up that will bring a lot of happiness to the fans here. We are all looking forward to the World Baseball Classic next year, where we can play together and represent Puerto Rico.

- Carlos Correa
I see my family pretty much every afternoon and night, but in the morning, I wake up early and go straight to the gym.
---
---
Most nights, I train at the Estadio Municipal Luis Guillermo Moreno in my hometown of Santa Isabel, Puerto Rico.
---
---
I eat ice cream during the season, but in the offseason, I get a frozen yogurt after my workout most days. I try to be smart and disciplined about wha
---
---
Family plays a big role in my life. My dad showed me how to have a great work ethic every single day. He would wake up at 4 a.m. and work construction all the way until 6 p.m., and then he would go to the ballpark with me. He made so many sacrifices so that I could succeed.

- Carlos Correa
I miss my mom cooking during the season all of the time, but you've gotta adjust in every single way to be able to preform on the field in this game.
---
---
Most days, we all eat together. And then at night when I go to the ballpark, we all go together. We're very close. I'm a family guy. I love spending t
---
---
We have a great time together and we all love baseball. They come to every game that they can. I'm excited because when my brother graduates from high
---
---
My little brother works out with me at the ballpark almost every day. He's a good player, too, and he has a great work ethic. He's not going to be lik
---
---
This year, we asked the manager here to please let us practice at his stadium. He said, "Okay, but you have to let the kids watch you while you practice." I love that stuff. I love to be able to show the kids how work gets done and how I work every day to get better.

- Carlos Correa
A lot of people come out to watch me play. I don't big-league anybody out here. I treat everybody like I want to be treated, so it is all respect. I w
---
---
It's really fun when the kids are out there watching me and they see how it's done and how hard you need to work every single day to become a better p
---
---
For me, it is not only about being a good baseball player. It is about being a good citizen as well.
---
---
It is not about myself. It's about helping others and being able to do things for others — to create an impact on other people's lives.
---
---
That is what I want to focus on throughout my career, to be able to be a great player and help my organization win multiple championships. But I also
---
---
I enjoy every single moment because this is something that isn't going to last forever. So while it lasts, I will have fun doing it, and I embrace it
---
---