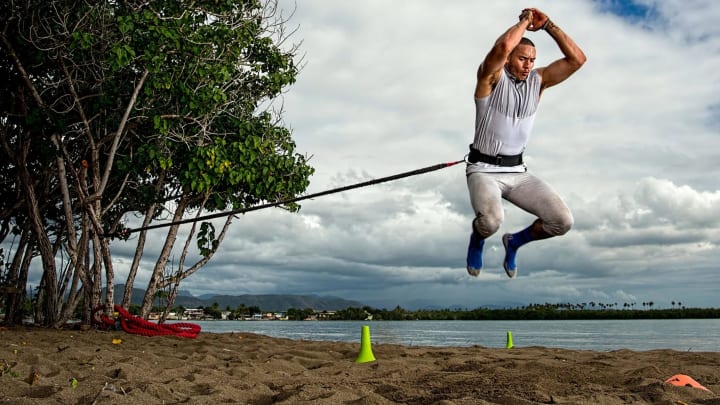 Every Single Day
People ask me if I put pressure on myself. Honestly, I don't. To me, pressure creates distractions and there is no time for distractions in baseball. To play this game you need to be as focused as possible. When you work hard every single day and you prepare yourself the right way, there should be no doubt in your mind you are going to perform out there.



That's what I'm focused on, during the season and during the offseason. My goal is just to get better every single day so I can make my team better — improve my skills so I can help our team compete for a ring.



If the season started today, I'd be ready.



I'm good to go.



Photographs by Andrew Hancock/The Players' Tribune Several times a week I start with a morning workout on the beach in Santa Isabel where I grew up. I've been coming here since I was five years old. On the beach I concentrate on speed, agility, reaction time and plyometrics. I come here to strengthen my legs. This is my favorite workout. Whenever I felt like I needed to gain more speed I would come to this beach to train. It made my legs stronger. It made me faster. It's been working f I got my work ethic from my dad. He worked construction when I was growing up.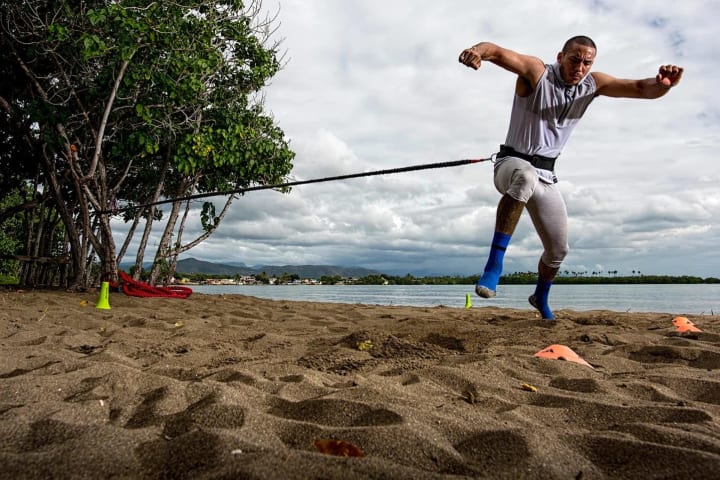 My dad inspired me to work out really hard every single day. The focus I have, I work towards a goal. I have a goal every year — I have big goals for Kayaking is a great workout because it's the best of all worlds. It's fun, it's exercise and it's spending time with the family. I always love to mix
I always have goals that make me jump out of bed every morning. That's how I focus and look forward to something. Most days I wake up at 9 a.m. and head straight to the gym. I'll work out for two full hours before going home for a meal and to rest. I'm the weight I want to be. I'm 221 right now, which is a good weight for a shortstop of my size (6′ 4″). / I'm the weight I want to be. I'm 221 rig I don't want to get too big. I want to be able to play shortstop for most of my career, so I need to stay lean, quick, fast, agile, strong and explosi This season my mentality is different because I know I have a spot on the big league roster. Last year I was coming off an injury, so I knew I'd be st
I always pictured myself getting to the big leagues, but I didn't visualize it happening so quickly. Now it's about building on last year and staying focused on what's ahead. Last season was amazing. I always pictured myself getting to the big leagues, but I didn't visualize it happening so quickly. Now it's about building There are so many things in the game that you can't control. You can be in great shape. You can be hitting the ball hard every time, but hitting it ri Most nights I head to a nearby stadium to practice hitting and fielding. My brother comes and works out with me. My whole family is there, and fans co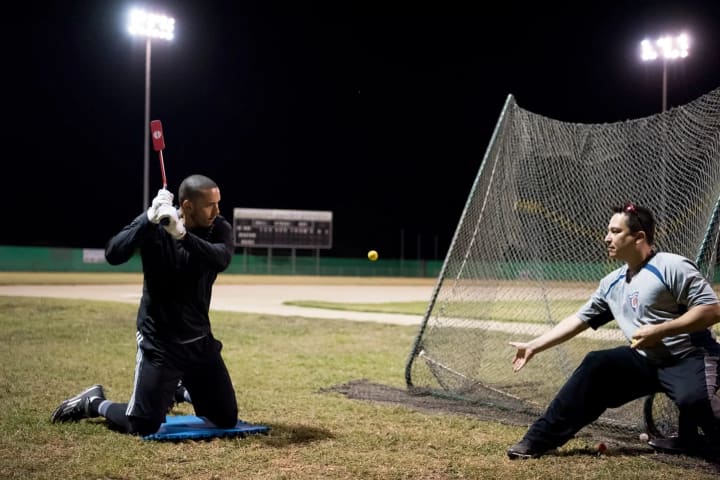 Heading into the off-season I wanted to improve on every single aspect of my game: get faster, get stronger, improve on defense, improve on offense, i I love playing this game, so for me to be able to be a role model playing this beautiful game and be able to have kids at my practices watching me do