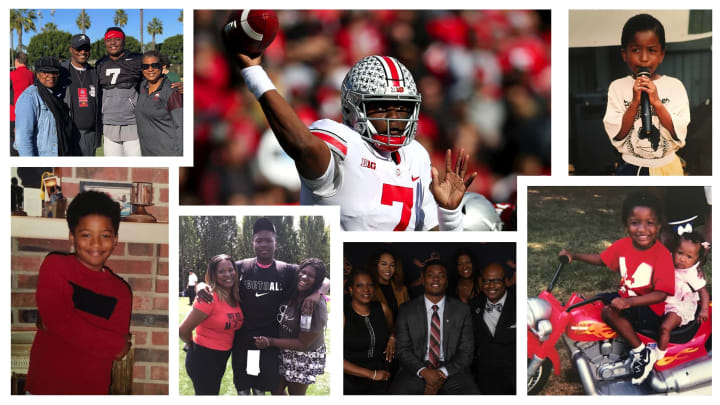 Thanks, Mom
I remember the first time my mom disciplined me.
Like, really disciplined me.
I don't remember how old I was. I just remember I was young and it was back in the day when Diddy had the two cuts in his eyebrow. He was hot back then. So I went into the bathroom and I cut my eyebrows up, thinking I was hot, too. I walked downstairs, strutting, thinking I look good … but playing it cool, like nothing had happened.
I didn't even make it off the stairs before my mom snapped her head around and was like, "What'd you do to your face."
It wasn't even a question, you know? It was like one of those things where … we both knew the answer. And she said it with that tone — that mom tone that let you know that something was about to go down.
I don't think I've ever been so scared in my LIFE.
I was like, "Uhhhh … nothing?"
And I'm telling you, she came after me. I booked it back up the stairs, and she was right on me like, "Come here! Why would you do that!?"
But she couldn't catch me! I kept ducking her. I was so scared.
Then she finally cornered me in my bedroom, and it was over.
I got an education that day. But it was mostly from the conversation we had. Because my mom didn't just yell and scream at me. She talked to me. She let me know that it wasn't just about the two cuts. It was about how I presented myself. About not trying so hard to be like other people. About talking to her and my dad about things, and making educated decisions.
And she let me know that if I didn't, it would be my be-hind.
Dwayne Haskins
She was always teaching me. When I was in elementary school, we had this thing in my class called the Mad Minute, where we had to solve 16 multiplication and division problems in 60 seconds. I was really into math, I just wasn't very good at it. So the first couple of times I did the Mad Minute, I only got like eight or 10 right. When I came home and told my mom, she wasn't having it. She was like, "Oh, this is not good enough. You can do better than this!"
So she started quizzing me left and right. She'd scare me with it sometimes. I'd be at home on a Saturday just chilling, having lunch, and she'd come out the woodwork like, "What's five times four?" Or I'd be in the shower before school and I'd hear from outside the door, "What's nine divided by three!"
She even printed out worksheets so I could do them at home.
She never stopped.
And within like two weeks, I was doing the Mad Minute in 30 seconds. I had so much time left over that I was turning the paper over and writing extra multiplication problems on the back.
All credit to Mom for that.
I also learned a lot just by watching her. Just seeing how she conducted herself. How she treated other people. The sacrifices she made.
I remember when we moved from New Jersey to Maryland. I was 15, and we were moving for a lot of different reasons, but one was so that I could have better opportunities on the football field and in the classroom. So it was a big sacrifice for my parents.
But when it came time to actually move, it was a difficult transition. My mom had gotten a job at an accounting firm down in Virginia, near the Maryland border where we were going to live. She moved down first, while my sister, Tamia, and I stayed with my dad in New Jersey to finish the semester at school. So for like two months, my mom was by herself down in Virginia while the rest of us were back home in Jersey.
Look, I love my dad. But that man can not cook. We were living off Egg Beaters. Steak-umms. Bubba Burgers. Ramen noodles.

- Dwayne Haskins
I always appreciated my mom. But in those two months without her — without that motherly presence in our house — I truly realized that she was the glue holding everything together. Because without her, it was crazy. I had to learn how to do my own laundry. How to fold my own clothes and put them away. I had to do my own dishes. I know that's all basic stuff, nothing crazy. It's just that … I had never realized the little things that she did for us on a daily basis, and how she was really working three jobs at all times — she was a full-time CPA, a full-time mom and a full-time wife.
I honestly don't know how she did it.
Without her there, my dad had to cook every night, and … look, I love my dad. But that man can not cook. (I'm sorry, Dad. I'm just being real!) We were living off Egg Beaters. Steak-umms. Bubba Burgers. Ramen noodles.
Don't get me wrong. My dad did a great job. He handled his business. He took care of us.
But we definitely felt the void of my mom not being there.
And I know it was tough on her to be away from us. I talked to her every day on the phone and she would drive back up on the weekends and see us. But being away from us was a huge sacrifice for her.
I learned a lot from that experience, just watching her act selflessly and do what she had to do for our family. That level of sacrifice is something that still sticks with me.
Dwayne Haskins
So with Mother's Day coming up, I just wanted to say….
Thank you, Mom.
Thank you for always teaching me, guiding me and sacrificing for me, Tamia, and our entire family. Thank you for being the backbone. For holding everything together.
Thank you for letting me make my own decisions.
Thank you for being the backbone. For holding everything together.

- Dwayne Haskins
Like when I had committed to play at Maryland out of high school, and then the coaching staff got fired, so I didn't know what to do. We went and met with the new coaches, and even though they were great, I wasn't sure if it was the right fit for me anymore. I was stressing. I had a big decision to make. I was also looking at Florida State, Notre Dame, Penn State and, of course, Ohio State. It was a really tough choice.
I asked you what I should do.
And instead of telling me what to do, you asked about what I wanted. We talked about the pros and cons of each school. We talked about Ohio State, and how when I was younger and I went to their football camps, I had always said that one day I wanted to be a Buckeye.
You told me that if that's what I wanted, then that's what I should do. You told me to believe in myself — to bet on myself — and to follow my heart and go to my dream school.
And it was the best decision I have ever made.
Thank you. Without you, I wouldn't have been a Buckeye. I wouldn't be a Washington Redskin. I wouldn't be the man I am today. Without you guiding me, teaching me, holding me accountable, loving me, and supporting me, I don't know where I would be. I'm a mama's boy, through and through.
You always say that, as a parent, you know you're doing a good job when your kids do better than you.
Thank you for setting that bar so high.
Happy Mother's Day.