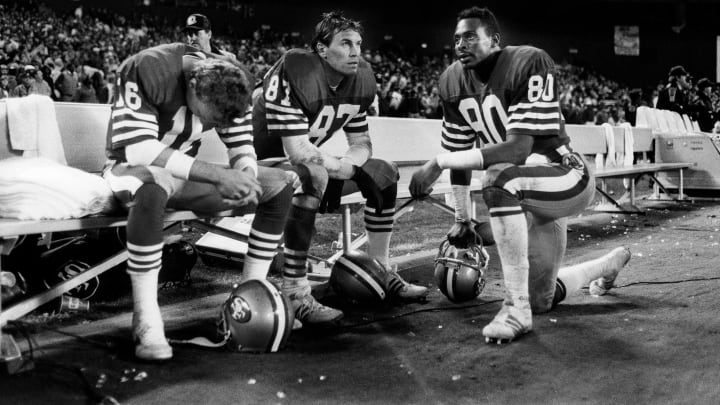 Letters to 87
MICHAEL ZAGARIS
Football fans will always remember "the Catch" as the moment a dynasty was born. When Dwight Clark pulled down the touchdown pass that sent the 49ers to their first Super Bowl in 1982, an indelible moment was etched into the history of the NFL. More than three decades later, as Clark battled ALS, he and sportswriter Matt Maiocco put out a call to friends and fans, asking them to share their memories of the moment. The letters that Clark and Maiocco received tell the story of how the man who wore number 87 brought together a city and a franchise through his sincerity, his loyalty, and his spirit for life and the game. The letters, along with essays by Edward J. DeBartolo Jr., Ronnie Lott, Joe Montana, Brian Murphy and Kelly Clark, and rare photos from legendary photographers Michael Zagaris, Brad Mangin, and John Storey, are collected in the upcoming book, Letters to 87, from Cameron + Company publishing. Below is a glimpse into this incredible tribute to the 49er great.



Photographs by Michael Zagaris
---
---
---
---
We came to the 49ers together in the 1979 draft. Dwight was an easy guy to like. We spent a lot of time working together before and after practice. The bond kept building that way as we laughed and joked with each other.



We lived together in the beginning and ended up getting a place in Hayward on C Street. It was the only place we could afford. We drove back and forth every day across the Bay to practice in Redwood City. After practice our car automatically went straight to Wendy's. We ate together and did everything together.



To a certain degree, we built chemistry on the field. But he was the kind of receiver that was perfect for any quarterback. —Joe Montana
---
---
---
---
You jumped into the sky at Candlestick on January 10, 1982, to launch the phenomenon known as the Niner dynasty. It will always mean everything to my family and me. So many times I re-created that very play in my front yard. I love you with all my heart, brother. My first superhero. —Jim Meehan (Fan); Elk Grove, California
---
---
---
---
Once you met Dwight Clark, you just knew he gave every ounce of effort at all times. He knew that the challenge of making it on to the 49ers roster was like climbing Mt. Everest. The moment he got off the plane from North Carolina, every ounce of his energy was displayed with constant effort.



Dwight believed that he had to earn his way in this world, whether it be on the football field, with his various business involvements, or in the front office. There were constant challenges to fit in, to overcome, and to get around obstacles. Dwights's consistent effort helped him win those challenges with grace, humility, and substance. —Ronnie Lott

---
---
---
---
At the time of your diagnosis, I was undergoing discovery of a brain tumor. I did not know how to handle the situation. It was foreign; it was frightening. I wanted to hide under a rock. But as I watched how you handled your terrifying diagnosis, I realized you were modeling bravery and your actions were inspiring. You loved others and included the entire world in your battle. Your courage fueled my courage; your fearlessness fueled my fearlessness. —Jeannie Liao (Fan); Fresno, California
---
---
---
---
Dwight had every gift but enough years on this earth. When he was diagnosed with amyotrophic lateral sclerosis (ALS), he knew it was a battle he could never win. But he fought like hell. He cherished every single moment, every single day. In the end, no matter how tired he was, Dwight rallied. He loved the Tuesday lunches with his teammates in the Bay Area, Dwight Clark Day at Levi's Stadium, and the gathering we had in April 2018 with our 49ers family in Montana. Weakened by this horrible disease, Dwight didn't want to waste one moment. He gutted it out. —Edward DeBartolo Jr.
---
---
---
---
Watching Dwight every day in practice, trying to cover him going back and forth, herking and jerking, running a double-shake route, running the post, running a fade — and best of all  running for touchdowns! I never saw Dwight not believe. What I saw was a strong belief in self that made us all feel like believing too. Dwight, you will always be that person who believed and achieved and exhausted every moment of your life! I love you, man. —Ronnie Lott
---
---
---
---
For more about Letters to 87, and to buy the book, click here. All royalties from Letters to 87 will be donated to the Golden Heart Fund, which provides funding support and relief for former 49ers players in times of physical, emotional and financial need.