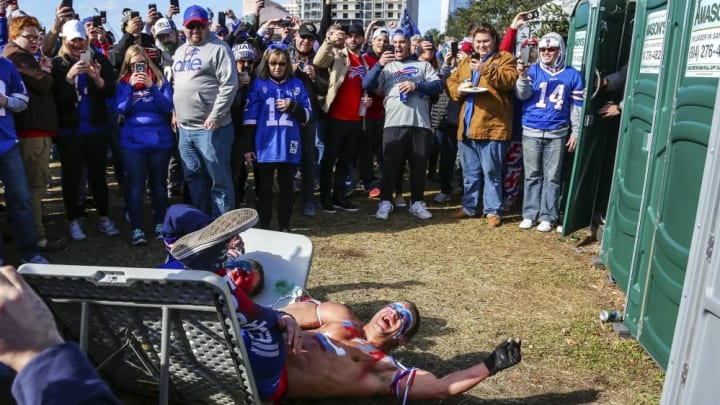 Bills Mafia: We're Gonna Need More of This
Look, I spent six years in Philly. And for the longest time, I thought there was nothing like Eagles fans.
Until I got to Buffalo.
I've been telling people this a lot lately: I've never been around fans like these. That's not a knock on Eagles fans. I got love for my Philly people. Those fans are about as crazy as you'll find anywhere.
It's just that when I got to Buffalo, everything I had seen before … these fans just topped it.
If you need proof, just scroll back up and check out that little video at the top of the page again. Because that's not just one random, crazy group of people. That's how the whole Bills Mafia rolls, man. That's how they do it, whether we're winning or losing.
But when we're winning, they're even crazier.
They start drinking early, and it shows.
I remember when we started the season off hot in 2016 and people in Buffalo were going bananas. I was leaving practice one day — it was a Friday — and as I was pulling out of the complex, and I saw all these RVs kind of grouped together in the parking lot. I was like, What the hell is this?
It was Bills fans.
Tailgating.
Two freakin' days before the game.
Now, that's at home, outside New Era. On the road? Well, we all saw this season what happens when you get Bills fans traveling in big groups. They're taking over parking lots, lighting bonfires, jumping off cars, smashing folding tables — just acting like a bunch of crazy people.
I don't know anyplace else where you'll find all that.
David Rosenblum/Icon Sportswire
I also don't know anyplace else where thousands of fans will wait at the airport tarmac in the snow … at one o'clock in the morning … on New Year's Day … in 2° weather … just to welcome their team home after it clinched a playoff berth.
That's what happened after we beat the Dolphins in Miami in Week 17.
Being here for three years, I kind of already knew that the Bills meant a lot to the people in Buffalo. But when we were getting off that plane, and those fans were all chanting, "Let's go, Buffalo!" and singing the "Shout" song?
Man … I think that's when I finally understood that the Bills don't just mean something to this city.
They mean everything.
When you come to play in a place like Buffalo, you kind of … inherit the baggage, you know? The whole thing — the Super Bowl losses, the small-market underdog role … and especially the playoff drought. It just got talked about so much. You couldn't avoid it. So when I got here, even though I had been to the playoffs before back in Philly, the Bills' history kind of became my history. And I wanted to end the drought so bad — it was like I had suffered through all 17 years of it.
So when I hurt my ankle and had to leave the game early in the third quarter against the Dolphins in Week 17, I'm not gonna lie: I was pissed.
I was sitting on the training table in the locker room with my ankle swollen up to the size of a softball, and I had two TVs on — one with our game, and one with the Ravens game.
There were a few different scenarios that could have gotten us into the playoffs, but the simplest one was that if the Ravens lost and we won, we were in. And for some reason, that whole week, I was having these dreams — like, these visions — of the Ravens losing. I could see it so clear in my mind.
I was so sure that the Ravens were gonna lose that my mentality going into that final regular-season game was, Win and we're in.
Our game ended first. We took care of business. The guys came back in the locker room, and that's usually when Sean McDermott talks to us for a little bit.
But that day, he cut the speech short and we all gathered around the TVs to watch the end of the Ravens-Bengals game.
And when Andy Dalton hit Tyler Boyd for that touchdown, man … the whole locker room erupted. Everybody went crazy.
You had Kyle Williams, who's been here for 12 years and been to all these Pro Bowls, finally going to the playoffs — and getting to celebrate it in the locker room with his kids.
You had Tyrod Taylor, who got benched this season and handled it like a true professional — and came back with even more respect from the guys in that locker room than ever before — getting love from everybody.
You had Coach McDermott, who brought a winning culture to Buffalo, just taking it all in.
You even had the trainers and the equipment guys going crazy — they were part of the drought, too.
Everybody was celebrating.
Except me.
It wasn't just because I was injured and couldn't really move. It was also because, like I said … I had been to the playoffs before back in Philly. I knew this feeling.
But I had still never won a playoff game.
And that was the feeling I wanted.
Because I know that getting to the playoffs is one thing.
Proving you belong there is something totally different.
I finally understood that the Bills don't just mean something to this city. They mean everything.
We expected to win in Jacksonville.
I know a lot of people might not be used to that — the Bills having a winning mentality. But that's what Sean McDermott has brought to this franchise. Winning habits. A Winning attitude.
But at the end of the day, even though we put ourselves in position to beat the Jaguars, we just didn't get it done. We didn't execute. The Jaguars made more plays, and they deserved to win.
We deserved to go home.
Nobody made any big speeches or anything like that in the locker room after the game. I think most of us were just kind of replaying it in our minds, thinking about the one or two plays that each of us could have made — should have made — and didn't.
But also — and I think I can definitely speak for the entire organization when I say this….
We felt like we let Bills fans down.
David Rosenblum/Icon Sportswire
The whole week leading up that playoff game, I didn't even know if I was going to be able to play. My ankle was in rough shape.
But man … the first playoff game in 17 years?
They would have had to cut my damn foot off to keep me from playing.
I had to take some medication just to be able to play in that game. By halftime, the meds were wearing off. But I fought through it. And even though I wasn't myself, I'm happy I did. I'm glad I left it all on the field.
I just wish I could have done more.
By the time we got on the plane to go home, my medication had worn off and my ankle had swollen back up. And I remember looking around the plane and thinking how much of a difference a week can make. Seven days earlier everybody was celebrating because it was New Year's Eve and we had just made the playoffs.
But that night, everything was different.
It was just … quiet.
We were scheduled to land in Buffalo around 1 a.m., the same time we had the the week before. And I remember thinking, Damn, if we would have won, I bet it would be the same as last week with all the fans there to meet us.
If only we would have won….
After the plane touched down and we were rolling down the tarmac, I looked out the window. And that's when I saw it.
The Bills Mafia.
Everywhere.
Thousands of you.
We all felt so bad that we had disappointed you. And yeah, maybe you were disappointed.
But you were also proud.
And you all showed up to let us know that.
To show your support.
To show love.
That's why I say: There's nothing like Bills fans.
Whether we're winning or losing, you always have our backs.
So thank you — for dealing with all the ups and downs … for being right there with us through all the adversity … for always sticking with us.
That hasn't gone unnoticed.
Tom Szczerbowski/Getty Images
When next season begins, I'll be 30 years old. And you know what some people say about 30-year-old running backs….
That 30 is when they start to decline.
That it's the beginning of the end.
Well … not for me.
This 30-year-old is still gonna be one bad boy. I guarantee you that. I'm trying to leave a legacy, man. I'm trying to get a gold jacket someday. That's my mindset.
But on top of that, there's one goal we all share.
Which is why I have a promise to make:
To you, the Bills Mafia.
From me, LeSean McCoy.
I promise that I will give you everything I have to help us reach our ultimate goal of winning a Super Bowl. Because making the playoffs isn't the goal anymore. It's the expectation. And I know that when we come back next season, for us to achieve our goal, you guys are gonna need me at my absolute best.
So I will be.
And in return, I'm gonna need something from you.
I'll need you to be at your absolute craziest.
I know you will be, too.