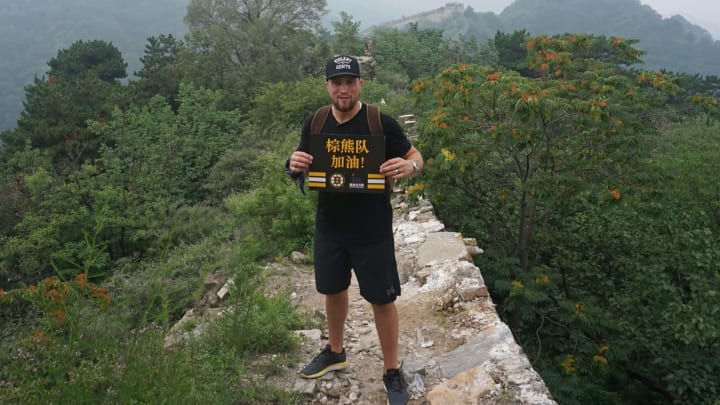 The NHLer's Guide to China
Want to hear a joke? A guy from Southern Ontario goes to China to teach ice hockey.

That's it. That's the joke. Except that's exactly what happened to me.

First things first, I knew very little about China before I went.

O.K., nothing. I knew nothing about it.

China? Man, I'm from Barrie, Ont. I mean, my only connection was Chinese food — which is way different in China, by the way. (But more on that later.)

So when Bruins p.r. director Eric Tosi approached my teammate David Pastrnak and me, as well as former Boston goalie Andrew Raycroft, about heading over this summer, it caught me a bit off guard

"You want us to go to China to represent the Bruins?" I said.

"Yes."

"To teach kids hockey?"

"Yes."

"For free?"

I've always been a spontaneous guy. What the heck — why not? I just had one last condition.

"Can my wife come? She's always wanted to see China."

"Yes."

(Man, I love the Bruins.)

Wheels up. Bring it, China.
When we touched down in Beijing I think I could feel the humidity through the plane doors before we even reached the gate. You think you've felt humidity before? Unless you've been to China in the summer, you haven't.

Once we got off the plane, we found out that our bags hadn't made it. A direct flight from LAX to Beijing and the bags are missing? Of course. No biggie, except that I had a suit in one of them and my wife had a few dresses for an event for the next day. We were coming from Luca Sbisa's wedding in California so we hadn't traveled with too much on us. Now we only had the clothes on our back, which were drenched in sweat because of the humidity. Tough start.

And all the while I'm thinking, And they play hockey here?

The first couple of days were hectic. I needed to go buy a suit and get it tailored … in Beijing. Have you ever tried to shop for tailored clothes without using words? It's definitely an experience. I wanted a traditional Chinese look, so decided to go with a Zhongshan suit (Think Mao Zedong). Certainly not a style you see in NHL rinks that often, but once I wear it around, who knows? It may catch on. I liked the look and have definitely seen worse suits in our dressing room, that's for sure….

We opened the trip with a press conference at the National Stadium (also known as the Bird's Nest), the site of the opening ceremonies of the 2008 Summer Olympics. We talked about the partnership between the Bruins and O.R.G. Packaging (our hosts) and the reasons for the visit. The Bruins and O.R.G. joined forces because they both share the goal of growing the sport.
The event was quite the spectacle. Picture a game show — there was a host, music, strobe lights, set changes, models and even an intermission where a children's choir performed a few songs in English. The choir was great and the event itself was too … and I even received a few compliments on my stylish new suit.

This was also our first encounter with NHL fans in China. Obviously, the league isn't televised or marketed very much in Asia, and hockey is really just starting to gain traction, so while the fans can name a handful of teams and the really big stars, I don't think they knew exactly who we were. At one point, right after we finished talking with the media and got a chance to mingle with fans, I looked back and saw some kids taking pictures with some members of the Bruins' staff. I'm pretty sure the kids had mistaken them for hockey players.

I wasn't expecting much going into our first clinic. Hockey is still very new to the country so I was prepared for there to be some barriers. Still, when we arrived at the rink, one thing was for sure: They know how to build an athletic facility.

Wow. This place is nice.

Two ice surfaces, a dry-land training area, a baseball complex, two indoor soccer fields and a cafeteria. If I were still a kid, I would have loved this place. Scratch that — as a grown man I did love it.
Before we get to the on-ice action, let me tell you about the cafeteria.

Unlike every single arena in Canada, this place didn't serve hot dogs and fries. There was no concession-style fast food. It had authentic Chinese food: Peking duck, xiao long bao (steamed buns), dim sum noodles and even some kung pao chicken. We ate lunch there every day. It was so good.

On the ice, we were having a great time with the kids. The best part about teaching hockey anywhere in the world is that you don't need to speak with one another. Hockey has its own international language, and the kids knew it. We'd show them a move, they'd copy it. They didn't speak English that well, but could understand your point, which is way more than I can say for my Chinese-speaking abilities.

The kids all had a few questions prepared to ask us. One question in particular was more popular than the rest …

"How tall is Zdeno Chara?"

Almost every kid wanted to know that.

"Too tall," I'd say.

They also had some unique approaches to the mental side of the game. Not many of them were interested in the "process" of getting to the NHL — which is a common question from kids in the States or in Canada. The Chinese kids would ask about what task they need to accomplish to reach the pros. They want to know, step-by-step, what tests have to be passed in order to get to the NHL. The approach of kids in North America is more about dreaming from a young age, working hard and hoping for the best. It's not that they weren't hard workers in China, but it's a much more defined idea of development. They want to know the specific task, pass it, and move on. It's not about the journey as much, it's about the destination. They were a very goal-oriented group of boys and girls.
In our downtime off the ice in Beijing, we went to the Summer Palace, a maze of lakes and gardens that used to serve as a resort for emperors. We don't have anything like that in Southern Ontario, I thought. As beautiful as it was, it was tough to appreciate when you're sweating just standing still. I'm not even exaggerating, it was nearly 120°F. So yeah, China in the summer? Go, but bring some water.

The man behind the whole trip was Zhou Yunjie, the founder O.R.G. Packaging. He is a huge hockey fan, and he and his staff were amazing hosts. After taking us all over Beijing, "Mr. Zhou" (as we called him) had something a bit more fun in mind: A pickup game, on-ice, with him and his friends, who were all big fans of the NHL. Mr. Zhou played in net. I wasn't sure what to expect out of him, but he could stack 'em all right and I was pretty impressed with his ability overall. It wasn't the most technically sound game of hockey I've ever been a part of, but we all enjoyed it that's for sure.

From Beijing, we travelled south to Shanghai, a city of 24 million people. Yes, you read that correctly: 24 million.

Our first clinic in Shanghai was scheduled to take place at a mall downtown, which seemed a little weird. When we arrived they told us the rink was on the seventh floor. Seventh floor? This should be interesting. I'm not sure how they kept the ice cold up there, because it was hot just coaching. The one guy who seemingly wasn't fazed by the heat was David Pastrnak, or Pasta, as we call him.
Pasta is just a big kid, and the young players we worked with loved him. He'd skate circles around them, his smile almost as big as the one's on the kids. He'd toe-drag, then rip one off the crossbar and in. You'd hear the kids go "Ooh … whoa." He'd wheel off and the kids would all line up and try their best to emulate him.

I stood and watched. A Canadian and a Czech, representing an American team, teaching hockey in China, I laughed to myself.

A few days later we traveled to a city called Zhouzhuang, which is known as the "Venice of the East." It's a city that's over 1,000 years old, with arching brick bridges stretching over canals that double as streets. Tiny houses, draped with red paper lanterns made it seem out of a movie. It was a breathtaking place, and it's where we ate one of the best meals I've ever had.

We entered this small building, walked up a set of cement stairs that had indents on each step, as if a million people had come before us. Upstairs we found an old restaurant, full of character. I think something people don't know about China is how much they love their food — it's like Italy in that way. The first thing I learned is that lunch is supposed to be long. You're supposed to sit with friends and family, and eat slowly, enjoying every moment. Our waiters brought out dish after dish. I'd be lying if I said I knew everything we were eating, but it was all outstanding. One dish in particular — pork leg wrapped in a leaf — was out-of-this-world delicious. (You are not supposed to eat the leaf by the way.) You could tell from the way each dish was prepared that their food was made the way they liked it, how they wanted it. If you didn't like it, well — too bad.

I loved it.
It wasn't just the food, or the people — it was also the culture. I wanted to know more and more about it, so I would bug our friends from O.R.G with questions at every stop. During one of our chats I discovered that the year I was born in 1988, was the Year of the Dragon according to the Chinese zodiac. Dragons are an important part of Chinese culture, and unlike in the West, where they are regarded as villainous, they are considered benevolent creatures in China, and represent prosperity, power, strength and nobility. The more I learned about the dragon, the more the symbol resonated with me. At the time I was in the market for a new tattoo — what better way to commemorate an incredible trip? Sure enough, the next day I was in a traditional Chinese tattoo studio in Shanghai going over designs with one of the artists. Three hours and a bit of wincing later, I had a dragon tattoo on my chest. I loved how it came out and so did my wife. My mom and grandmother, though? The jury is still out, but they'll come around. So if you're looking for some new ink in Shanghai, I know a place.

On one of our last nights in Shanghai, Andrew Raycroft and I went to a rooftop patio for some dinner after a long day. We talked about the development of the game in China — how we thought they could have a pretty decent team down the road. We could see the passion for the game in the kids, the same way basketball captured their hearts many years ago. Hockey is starting to take root in Chinese culture, and I'd like to think that our group of Bruins had something to do with that.

Andrew and I looked out over the Shanghai skyline — it's a spectacular view. Lights everywhere, flashing and buzzing across the city.

Hockey town, I thought.

Maybe one day.