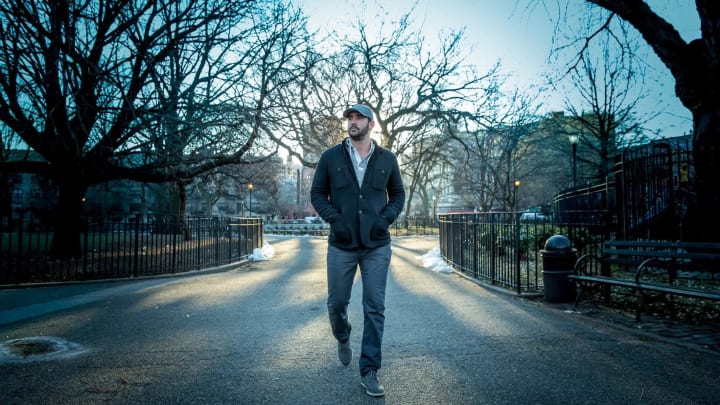 My Gap Year
The sun had gone down in Laos by the time I finished dinner, and I realized I was lost.
Not completely lost, but definitely more than a little turned around. Which way had I walked from my hotel? I looked down a few streets. Tuk tuks were everywhere. The lights on each street looked the same. Vendors were selling everything from chicken liver to snake to types of fish I didn't recognize. The smells and the streets all seemed to blend together. I didn't speak the language and my phone didn't have service.
So I did what I'm used to doing back home in New York City: I started walking. I must have walked twice as far as I had on the way to dinner earlier, but I found my way back.
When I was a kid, I lived near New York and I was fascinated by the city. You could go anywhere by foot. The city seemed neverending and I wanted to explore every part. Later in life when I moved there, I would walk everywhere I could. If it was less than 20 blocks away, I was walking. No brainer.
I had gone to Laos to disappear for a little while. I told my friends and family it was "just a vacation," but it was more than that. A lot of Major Leaguers take a vacation in the off-season, but for me this off-season was different.
Just two months before, I was lying on an operating table under bright lights as a surgeon operated on my throwing arm — Tommy John surgery. A pitcher can throw late into his 30s if he stays healthy. I was only 25. My pro career was just getting going, and I was worried.
Everyone, starting with my surgeon, reminded me that Tommy John has a high success rate. Countless pitchers have bounced back stronger than before — John Smoltz, Adam Wainwright, Jordan Zimmerman, Stephen Strasburg, A.J. Burnett, and the list goes on. But that didn't mean it wasn't a big setback. I had never had an injury. Never missed a game. It was going to be the first time in my adult life that I wasn't able to throw a baseball for four straight months.
Truth is, it wasn't just traveling to a foreign country that made me feel far away. From the moment I decided to go through with the surgery, I felt far away from the Mets. One day I was the starting pitcher, part of a hopeful new era of Mets baseball. The next day I was facing a one year break from the sport I had played my whole life.
Up to that point, I had worked so hard for the Mets. Now I had to just wait. As an athlete, being on the sidelines makes you feel useless. I felt helpless because I wanted to contribute. An injury makes you invisible.
On my trip to Laos, my right arm was still in a brace and a bending sling. What do you do when you're a pitcher who is used to throwing a baseball every day of your life? I had to get used to a new schedule. Not a pitching schedule, but a rehab schedule.
Every morning for the first few weeks after surgery, all I could do were arm curls with five-pound weights. It was an eye-opening experience — realizing that one year you can pitch in an All-Star Game in front of your home crowd and then a few months later all you can do is curl five-pounders.
But being away was good for me. It gave me time to do some soul searching. Just like in New York, I walked around a lot to clear my head. Being alone in a country and not speaking the language turned out to be a good temporary escape. For the first time in a long time, I was in a place where nobody recognized me. In New York, occasionally people will say hello to me on the street. (Other times, even hometown fans have a hard time recognizing me, like I had fun showing in this video I did for Jimmy Fallon.) In Laos, I was invisible and that was fine. I remember talking to a street vendor and having a funny "conversation" — we had to use hand gestures — but when I asked to take a photo with her, she refused. To her, I was just an American weirdo with one arm in a sling and the other arm making crazy hand signals. I couldn't blame her. We waved goodbye and I went on my way.
Everywhere I went, I saw monks walking around. Monks in Laos live a life of poverty but they command a lot of respect, so it's a custom for people to offer them food in the mornings. After doing my arm curls, I would leave my hotel and join other people on the street to offer the monks food. (I had to scoop the rice with my left hand.) It was a little gesture that felt big to me because it put my injury in perspective.
Because of the language barrier, I didn't interact much with the monks, but they communicated how thankful they were. It made me feel grateful for my health, even despite my surgery. And it reminded me of how much I missed the connection and camaraderie that tight-knit groups have. I missed the clubhouse.
I knew I had a job to do back home.
I got back to New York and the 2014 season was approaching. The first practice I was allowed to throw, I tossed 20 strikes in a row. My arm felt great. The surgeon said he didn't expect to ever hear from me again. My arm was as strong as the day before my surgery, he told me. I had to take it slow and stick to a strict throwing regimen, but there was light at the end of the tunnel. At the 10 month mark, I was back to throwing 95.
I still had to sit out the entire season, and that killed me. You don't make it in the Majors if you're not a competitor, and I wanted to be out on the field so bad. But to be honest, the worst part about my injury was feeling like I was letting my teammates down. My team is my second family. That's how I've always felt about the game of baseball. It's the same on the Mets as it was at UNC, where I played college ball for three years. Whether you're winning or losing, when you're sidelined, you miss out on the energy that makes a team a team.
I would go to all the home games, but I didn't travel with the team. There were a lot of times I couldn't watch our games on TV because it just made me feel too distant from the team. I was back in the U.S., but sometimes I still felt like a visitor.
A pitcher has to learn to be isolated. Pitching is a solitary thing. It's you and the batter. I crave that isolation because it forces you to focus on the task at hand. But people forget that even if you're alone on the mound, you have your team behind you, backing you up. You have your catcher backing you up. That's why I love to pitch. You know they've got your back.
In the end, maybe my surgery and my trip were the best things to happen to me. I had to embrace being alone, like a pitcher on the mound. I had to go through rehab to prove to myself that there's nothing I'd rather do than be a pitcher.
Spring training is right around the corner. Pitchers and catchers have to report on February 19. But actually, I'm already down at the training facility in Florida. I wanted to get here early.
Photographs by USA TODAY Sports