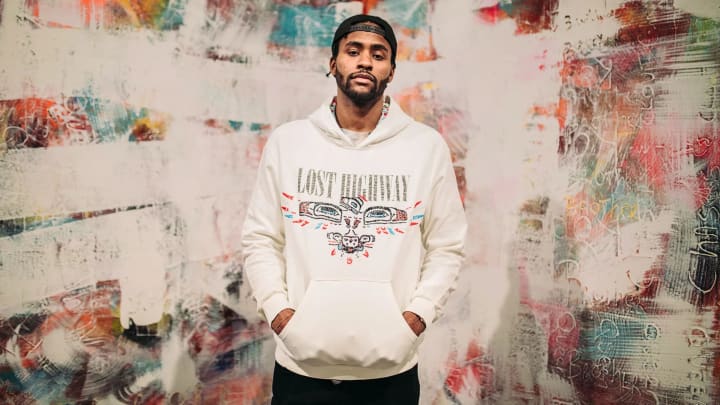 NYC 3.5.20
SAM MALLER/THE PLAYERS' TRIBUNE
Before the pandemic, my life was a whirlwind. In February, I got traded from the Clippers to the Knicks — right as I was getting used to being in L.A. I understood it, though. Basketball is a business. And there was a definite upside: I got traded back home.

Transitioning to a new team is always a bit of a process. It takes time to learn how everyone does their thing. Honestly, off the court, it was going great. I grew up in Queens, I went to St. John's, so being back feels familiar. I feel like no matter where this game takes me, NYC will always be a part of me. When I'm here, I walk around, I ride the subway, I watch St. John's play at the Garden. Might even eat a hot dog or a pretzel when I'm hungry. That's just how it is.

Most of my family is in Orlando now, and I was thinking about going to wait this out with them. But as the news came in about the season being suspended, the decision was kind of made for me. My grandma's older, and we had just played Utah recently, before a couple of their players tested positive for the virus. I didn't want to risk exposing my family if I was carrying the virus without symptoms.

So, with the NBA postponed, I've been lying low in L.A., just reflecting on my life up until now. This quarantine time is weird, but it's also been like a pause button for society, and to be honest … I don't think that's the worst thing in the world. Our lives move so fast, and I think everybody kind of needed to take a deep breath, to just reconnect with their family and friends.

The first weekend in March was Art Week in NYC. I've been trying to learn more about art these last couple of years. I don't know enough about it yet, but the creativity, the color, the expression, I just love it. I saw this as a perfect opportunity to expand my knowledge and talk to people who could help me understand what I'm looking at when I go to galleries or art shows.

I was planning on hitting about a dozen shows, but that virus had to come and mess up all of our plans. But before that, the Scope Art Show, Independent Art Fair and The Armory Show were gracious enough to let me come and learn.

It wouldn't feel right to have this platform and these opportunities and keep all this to myself. So here's some of my reflections on art and a look at how I spent some of my last days as a New Yorker before the world pressed pause.
---
---
---
---
These days, I've been working out, playing video games, trying to teach myself piano — and still trying to immerse myself in art. You may have seen by now, but a lot of museums around the world have put up virtual exhibits. Here are some that I've been spending time in.
I know this is a super uncertain moment, but, if you can take this time at home to explore just one thing you're interested in, I promise it'll start to feel a little less scary.