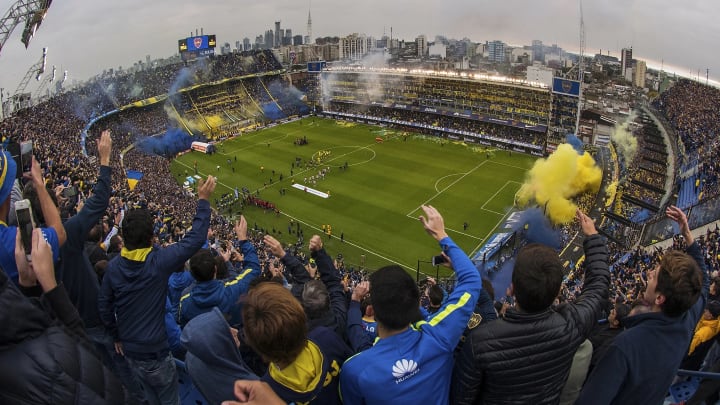 My Beloved Chocolate Box
EITAN ABRAMOVICH/AFP/GETTY IMAGES

PARA LEER EN ESPAÑOL, HAZ CLICK AQUI

I'm going to tell you a love story. But it's going to be a different kind of love story. It's about a football stadium. And you know what, it's the most special stadium in the world: La Bombonera. You will find many people from all over the world saying that, and believe me, in my opinion, they are right. The Boca Juniors stadium is just … different.
Like many of you, I was one of those tourists that went to Buenos Aires to visit La Bombonera, you know? I was 13. I still remember the first time I saw it. It was the old Bombonera, before the renovations, and it was completely empty, yet I instantly felt the myth of Boca.
It was my first time in the Argentine capital.
See, I was born in a very small town in the province of Córdoba, Altos de Chipión. It's the perfect town for being a kid. You have 1,500 inhabitants, everyone knows everyone, and the town life is restricted to a square kilometer: Everything literally happens within a 10-block radius.
In the inner country, families are usually fans of the big clubs, more than the local clubs. My family has always supported Boca Juniors. To me, Boca was more than a club. It was the club I supported. To play for them was a dream I could not even dare to think of.
Boca is the biggest club in Argentina but don't think that made everything easy back then, please. The '80s, my childhoold, were rough years for Boca. The club did not win titles, and there were lots of problems. I remember my first Boca jersey: It was the one they wore when they were the champions of the Supercopa 1989, the first title I experienced. I cherished it. It was a gift from my dad. That jersey was the first of many. I also had the one from 1992, the one from 1994….
I wanted to be a center midfielder, a number 5. Every kid in Argentina dreamed of being like Fernando Redondo, but I also followed two Boca players, Claudio Marangoni and Blas Giunta. The real myth was El Diego —Maradona — although another player I admired was El Cabezón Ruggeri. But my real idol, my No. 1 hero, was Burdisso. Enio Burdisso.
---
---
My dad, Enio, was a footballer. A tough center back, he played one year for the first team of Instituto and moved to different clubs first as a player, then as a coach. I would follow him, sneak onto the bench and in the dressing room. I loved football. Every part of it. And I was also playing, and doing well, in the local tournaments.
Nicolás Burdisso
The life of a kid in a town like that is perfect. You only have to play football. There are no dangers, nothing to worry about. But then something happened. Something that happens in the lives of many kids in Argentina. When you are 13 or 14, you need to make a decision.
Are you going to pursue a career in football? If the answer is a yes, then you need to leave. Leave the perfect town. Leave your family. I say 14 because that's when I left. I talked to my dad. He did everything in his power to get me a chance, and I got the opportunity to go on a trial with Newell's Old Boys. In the '90s, that meant a lot. It was almost a four-hour drive from home, but it still sounded like the right place to be.  
In the first year, the feeling of loneliness was unbearable. You are alone, living with many other kids, and at the same time you are thinking the things that you are missing, the things your friends are doing, the things a normal 14-year-old should be doing. There was one particular thought that tortured me: I would never live with my parents again.
The incentives of playing football crash against reality. I was sent to Newell's third-team selection, playing in a local league, but I didn't get to play at all. Not even in the third team. It's the turning point for many kids: You are alone, you are suffering, would you want to go back home?
No.
Absolutely not.
I was not going to let my dream go away so easily. Not even after they released me on a free transfer because they needed to downsize the squads.
Confused, I reflected and set some goals. I've always been good at doing that. I said to myself: There are two ways to play in the First Division. One is for the naturally gifted ones, the ones that will make it at 17, 18 or 19 years old. The other one, the slower one, the road that I would have to take, was one of perseverance, sacrifice, constancy. Love for football. I figured it would eventually pay off at 22, 23. But I was going to play in Primera somewhere, that was for sure.  
Then a man that knew me told me that we would be going for a trial in Buenos Aires. I thought it was going to be for a small club, and as we were driving to Buenos Aires, he said the magic word: Boca. My club.
I first thought he was crazy. "Isn't it too much to start? They have won the tournament three years in a row," I asked him.
"They are looking for a center back for your division. Everything will be O.K."
He went on driving. My heart was suddenly beating faster.
My dad, oh, let me tell you his first reaction when I broke the news. "Look, if they sign you, I will trade the car for a new one," he told me. The only minor thing is that he didn't have a car. Imagine the confidence that he had in me! He was joking, as if this would never happen. But it was the right approach, you know. Boca was giant, and I had to keep my feet on the ground.
The first training sessions I attended were not at La Bombonera. The academy was still waiting to get new pitches, and we trained in Parque Sarmiento, a private park. I think I performed well, until the real trial took place — newcomers against the Boca players. And this trial went horribly … well. Yes, that's right. We got hammered 11–0, but to my surprise, I was told to come back and make a second trial with the Boca players.
Do you know why they told me to come back? It's a funny story that I only found out years after. "That day, you were all a disaster," Jorge Griffa, the head coach of the academy, later told me. But he noticed that every time we suffered a goal, I would go and pick the ball from the bottom of the net, fuming in rage, but trying to encourage my teammates. Once. Twice. Over and over. Even after losing 11–0. "That pibe (kid), we need to keep looking at him," Griffa told his assistants. And I was invited to go back, play with them, not against them, and suddenly the dream came true. After the second trial, I was asked to come back again, and then, finally, invited to stay.
---
---
Suddenly I was living inside Boca Juniors, right next to La Bombonera. Next to my bed, there were family pictures with something that I wrote. "Playing football is a gift from God. Being away from my parents is part of the game." I missed them every day, but that was the life of a footballer.
Mind you, I was completely wrong about my goal of playing top-flight football at 22 or 23.… I signed for Boca at 16, and when I was 18 I was making my debut for the first team. And it was because I changed my mentality.
At Newell's, the feeling was more of being in a football school. They would teach you how to stand properly to receive the ball, how to start playing from the back.
Boca was different.
Nicolás Burdisso
At Boca, you need to be practical. You need to condense all that you have acquired for the benefit of the team. It was not my way of playing, or that is what I thought, until I said: O.K. They want me to play like this. I will play like this. And I embraced that way, which is the way that I've played in my entire career since.
In football nothing comes entirely by surprise. Everything is a process. And my process was going well.
Burdisso. Call the club's secretary immediately.
That was the Post-it that I found in the doorway of the Boca lodge one night after I returned from a friendly session for the Argentina U20. I called, without a clue. I was asked to go to train with the professionals the next day.
When I arrived —  along with two other newcomers — Boca was about to win its first tournament in six years. The pressure was huge. Still, the manager, Carlos Bianchi, saw the three of us sitting in a corner before our first training session and came to talk to us. He asked about my family. He asked about my style. He wished me luck.
The next day, I rushed to the newsagents to buy all the newspapers. My name was there. I was really a Boca player.
When I was first summoned to go to the bench, I remember that I returned to my room, sat down and reflected about those four years away from my family. I knew it was a closure. Two weeks later, with my dad and my mom in the stands, I thought I was going to the bench again when a door opened close to the tunnel. It was Bianchi. "Nicolás, you'll be starting today," he told me. I instantly felt a heat surrounding my body. But at the same time, I felt that there was an opportunity, that life was putting a unique chance on the table. It was up to me if I wanted to take it.
The feelings of being a Boca player are indescribable. La Bombonera is a unique stadium. It inspires fear. And it's not easy to play there until you get used to it.
As a defender, a defender that likes to talk, I've never been in a stadium in which I couldn't hear the defender playing right next to me. You can yell, and he still won't get the message.
It is really that loud.
Marcelo Endelli/Getty Images
As a Boca player, you get used to this, but for visiting players, it's another story. That's why La Bombonera inspires fear. It's intimidating. And believe me, some won't say it out loud, but they will tell you in confidence.
You're not just playing there, you are also playing with the picture that you've made in your mind for many years. And the stadium is above you. Not around you. That's where the name comes from. It's like being in a huge chocolate box.
In Europe, I've found many teammates that were curious about Boca and La Bombonera. The first day Edgar Davids approached me at Inter was to to tell me that he would love to play for Boca. Daniele De Rossi is a big Boca fan, and his dream, he always tells me, is to play one game there. Tomás Rincón, Salvatore Sirigu, they all dream of being Boca players. And you realise you are a club ambassador, an ambassador of La Bombonera.
The first time I saw it as a player was for a training session. And what you see is a sleeping giant, waiting. Then I played my first game in the Reserves, with real fans, and you can't imagine how magical that is.
You get prepared for the ritual of La Bombonera as the team bus is entering the neighborhood of La Boca, with all those tiny houses where Italian immigrants used to live, and the drums, and the people waving and singing.
One of the most special moments is when you're heading from the dressing room towards the pitch. In the tunnel you reach this point at which you see stairs.
These are not normal stairs. They are tiny, super steep stairs.
You need to climb them alone, one by one. There is not enough space to go side-by-side. The only thing that you see, when you are getting ready to climb them, is a tiny fraction of the sky and a flag that a guy is waving to let the fans know that the players are coming. And the singing and the jumping becomes louder as you enter the arena, the Colosseum, the place where the battle will take place.
I call it the portal. One minute you are there, in the tunnel, making the last team-talks, and in the next minute you will be in a completely different place. The secrets of the Boca myths are there, in that passage.
The fans are singing the same song that they have sung for 100 years, louder and louder, because they know that you're coming, and you feel the vibrations, the walls moving.
It beats, they say. La Bombonera is like a beating heart. It's all very special.
Daniel P. Derella/AP Photo
I haven't experienced this anywhere else. It's incredible. Unique. There is never going to be a stadium like this in Europe. It's difficult to explain. We are two, three metres away, and we can't hear each other. In that moment, it's about the fans even more than the players.
And the biggest game for a Boca player is against River Plate. It was my first-ever game wearing the Boca jersey, still in the academy: River Plate, away. We drew 1–1. I did not sleep the night before, and I kept playing that game in my mind several months afterwards.
But a few years later, when we faced River in the Copa Libertadores, in 2000 and 2004, my anxiety was completely different. As a player, you learn to ignore the pressure. All of us had played with kids that were better than us but didn't make it in football. If you don't learn how to remove that backpack of pressure, you will never reach the highest levels
Sometimes, the pressure is good. But for crucial games, you need to avoid thinking about the consequences, to isolate. Even during the games, it is all play by play. If you were dribbled, that doesn't mean that in the next action, it will happen again. Take it as a warning and start over. If you think about the consequences of losing, or what can happen if you don't win, you're dead.
Ali Burafi/AFP/Getty Images
Still, as a Boca fan, the other day I found myself watching the first leg of the Copa Libertadores final with some nerves that I had not experienced for years. Trying to talk to the players, putting myself in their shoes. If I could tell them something, it would be to think that life is handing you that beautiful chance across the table. It's up to you to take it. That motivation, not pressure, can make you do something you have never done, to give something that you've never given, to play as you have never played before.
---
---
But remember that I told you this was a love story? Well, that's true. Not many people know this, but La Bombonera is also the place where I met María Belén, my wife. Right there, in a corridor, is where I first saw her. She had no idea about football, and of course, she didn't know that I was a footballer. I can still pinpoint the precise location, as if I were a GPS, of where we first met. And it's funny to think now that it was all thanks to an interview.
See, we had strong personalities in the dressing room. The veterans didn't like the young players talking to the press. "Oh, you're giving interviews now?" they would tell you. You could feel the pressure. It was like a lesson on staying low-key, of first talking on the pitch and then, eventually, talking to the journalists. Boca is a huge club and some youngsters believe that they've made it when they're just starting. So our more experienced players always kept us in line.
But after coming back from the Intercontinental Cup in Japan, when we beat Real Madrid, I received an invitation to go to a Boca radio show. I hesitated. The invitation involved visiting the studio, which was in an apartment building, and also a dinner. Tenedor libre. All you can eat. "You can bring your friends from the academy." So I went with with five friends, and we had this amazing dinner. I will never forget the name of the journalist that invited me: Emerson Voltaire.
And a few weeks later, after a game with Cobreloa, I see him. Normally, I wouldn't have dared to stop. Remember what I told you about giving interviews?
But I knew the guy; he was the one that had taken me to dinner.
Next to him was a group of students that wanted something for their university. María Belén, who studied social communications, was with them, even if she had not watched the game. She couldn't care less about football. It was her first time at a stadium. She was waiting in the corridor. One of these students asked me if I could answer a couple of questions. I had seen her, so I stopped.
That's how we met. If you think about it, it was all thanks to an interview in a small radio studio, an all-you-cat-eat buffet, and, of course, to La Bombonera.
And now I'm realising that this is the first time I'm telling this story. This is what I can say that Boca, my jersey, gave me everything I could possible ask for.
In that special place I dreamed of, all the dots from my personal and professional life are connected. The kid that had the Supercopa jersey. The boy that was mesmerised in his first visit. The teenager that left everything to fulfil a dream and lived there. The professional career, the titles, the teammates, the dressing-room talks. The Superclásicos in Libertadores. And also, my wife, my kids — Angelina, Facundo, Emilia — the beautiful family that I have. For me it's all there, in that mysterious, magical place.
The stairs of that tunnel not only symbolize my career, but also my life. I'm walking through those stairs every day. And I'm loving it.