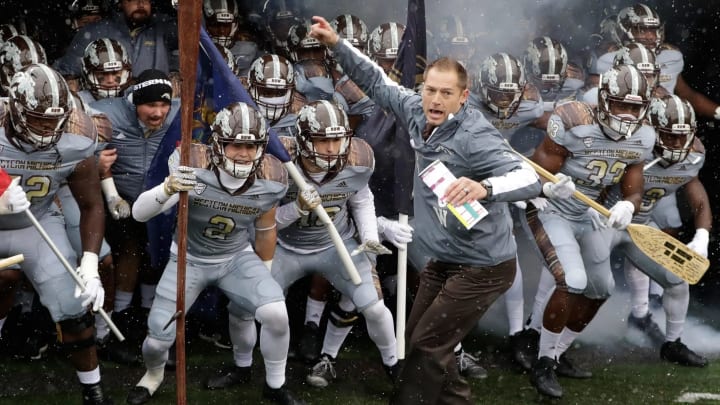 Keep Rowing
A little more than two years ago, I was pretty fed up.
We were playing on the road against Ball State, and the Cardinals had absolutely handed it to us in the first half. We came into the locker room down 31–14 against a team that had a 1–4 record. At the time, we were coming off a 1–11 season and were on a two game losing streak ourselves. It was looking like that streak was about to reach three.
I've always been a big believer in motivational speeches. I write a pregame speech for my guys every single week before we take the field. When I'm writing it, I start by trying to envision how the game will play out, and then I'll reflect back on what the theme of the week was — how we practiced, and was there a particular experience that I can draw from to bring us together? I pull all that stuff together, and the result is what I'll use to motivate my players before we take the field.
I usually don't focus on winning and losing because that's often counterproductive. But this game was different. We just weren't playing like the team that I knew we were.
I remember walking into the locker room at the half and being steamed. As I looked around at the guys, I could tell the energy was very negative, which is the opposite of what our program is about. Everyone's head was down. Everyone looked defeated.
I paused for a moment to take in the scene, and then delivered what I think might be the most effective speech I've given since I arrived at Western Michigan.
It was 10 words.
"When are you going to be tired of being average?"
Then I walked out.
I didn't say it was the best speech I've given at Western Michigan. But yes, it was effective.
We came back to win that game, and then five straight after that. Fast-forward to today and we're undefeated and in the midst of the best season in school history. I think the reason why that speech stands out now is because it's a great example of why we are successful. We didn't turn it around because of any individual coach or player. We became elite because we decided that we were going to be elite.
It's funny, since our team has started winning I've had a lot of people ask me, "Coach, what's the secret?"
They're always disappointed when I tell them that there is no secret. It's very simple: Just treat people the right way. If you start there, a lot of other stuff will fall into place.
You see, I don't ask my players for their very best only on game day. I push them to hold themselves to that standard every single day.
That's how you row the boat.
Junfu Han/Kalamazoo Gazette/AP Images
On February 9, 2011, I lost my second son, Colt, to a heart condition not long after he was born.
Without question, it was the most difficult thing I've ever experienced. When you lose a child it changes you forever. It tests your faith and it also makes you reflect on your purpose in life.
After a lot of prayer, what I realized was that my life wasn't about me. It was about honoring my son. And what I came to understand was that when I was able to touch another person's life, it made me feel closer to him. And that was the greatest feeling of all.
So with my son in mind, I invented this phrase you might have heard: Row the boat.
It has nothing to do with football, or sports really. It's just a mindset.
Rowing the boat means doing things the right way, and accepting the results that come. It's about being dedicated to the process of winning — winning every single day by being the very best version of you. It's about not ignoring the past, but instead always trying to learn from it in order to get better. And more than anything, it's about creating a community that has a positive aura, with each individual contributing. Together, through love and trust, you all push forward together.
The process of rowing the boat is broken down into three parts.
First there's the oar. That's the energy you bring to your life — what propels you forward. It's the only thing that can move a boat. Positive energy breeds love. Love breeds success.
Secondly, there's the boat. The boat is made from sacrifice. It's the thing you're willing to give up in order to achieve something you've never had. The more that each individual sacrifices — the more of themselves they're willing to give to others — the bigger the boat gets. When you have a big boat full of people willing to sacrifice for each other, you can brave any storm that comes your way.
Finally, there's the compass, which symbolizes the positive direction you choose to follow. Ultimately, your compass is determined by who you surround yourself with. If you surround yourself with the wrong people, you're going to do the wrong things. If you surround yourself with elite people, you're probably going to do elite things. Simple as that.
Let me give you an example of what it actually means to row the boat.
When I first got here, I had about three weeks to secure our first recruiting class. It was a mad scramble.
That isn't to say I was panicked. I couldn't have been more fired up about the opportunity to turn our program around. But enacting change is really, really hard work because it requires what my staff calls "truthful listening." You have to look inward and challenge yourself to change your best — to truly go beyond the limits of what you think you're capable of — every day, and not just when it comes to football, but also academics, your social life and your spiritual life. That's a big load for anybody, but it's an especially heavy burden for an 18- or 19-year-old.
But those are the kids I needed to find.
With that in mind, the first call I made as a recruiter for Western Michigan was to Ron Muhitch, the coach at Wheaton-Warrenville South High in Illinois, which is a powerhouse program in the state. It's a good place to start if you're looking for a player. I have a great relationship with Ron, and I take his read on his players very seriously. And that's why our conversation left a very big impression on me.
"P.J., even if you never listen to me again, please listen to me this time: You need to offer Corey Davis."
I'd had plenty of conversations with Ron, but I couldn't recall ever hearing him speak so passionately about a player.
"I know he's had some academic issues, but this kid is willing to do whatever it takes to turn it around. Give him a chance and thank me later, because this kid is one of the best players I've ever coached."
Well, who's going to say no to that?
Corey had had a pretty tough upbringing, and as a result he really struggled academically for most of his life. But as a junior in high school, he had moved in with his friends' family and started turning things around. He realized that it was on him to make a change. Not long after getting to know Corey, we fully believed in him.
Four years later, he's done everything you have to do in order to row the boat.
For Corey to get admitted to Western Michigan, he had to push himself academically in ways he never had before. He didn't know if he could do it because he had never tried to before. But he made it.
Since he arrived on campus, Corey has served as an example for every single player on the team. When I tell people to change their best every day, I point to Corey. Last Friday, in our victory over Toledo, he became the all-time leader in receiving yards in NCAA history. As a former wide receiver, I can't tell you how proud that makes me. But more impressive than the record is what he's done off the field. Corey has molded himself into a young man with a GPA above 3.0 and an extremely bright future in whatever he chooses to pursue after he's finished with the NFL.
That's what rowing the boat is all about.
Bryan Bennett/Kalamazoo Gazette/AP Image
One of the things I get asked a lot is if I've been enjoying the ride this season.
My first thought when I hear that is, How am I supposed to be enjoying the ride when I'm in charge of running it?
I'm the dude at the fair who has to press the green button and make sure the roller coast runs smoothly. Green Button Guy doesn't get to relax while the ride is running. He needs to be engaged so that the whole thing doesn't come off the tracks — because it can and it will.
But at the same time, of course I understand how special this season is. The memories our team is making right now are going to stay with us forever. But right now we're rowing so that the people surrounding us can enjoy the moment. We're playing for our student body, our university and the city of Kalamazoo. We can't enjoy the ride until after it's over. We've got work to do.
Coaching has taken me all over the country, from coast to coast. But of everywhere I've ever lived, I can say with certainty that Kalamazoo is my favorite.
This is a serving, giving community where people really support each other. There's a population of 150,000 people in a five-mile radius, so there's a lot going on in a small area. And even in the short time I've been here, I've gotten to watch it grow and change so much.
This is a place where people work hard and treat others well, which is a big part of how our program has been built.
This may not be reflected in some rankings, but I think this team can go toe to toe with any program in the country. And I know for a fact that my players believe that. They believe in themselves and each other.
As a team, we're very charismatic, very detailed and extremely confident. But acknowledging and learning from our past has also made us humble. We understand that any team is capable of beating us if we don't play our very best. That's happened before.
At the same time, we know that if we do play our very best, we can beat any team in the country. Any team. That's not coach talk, that's real talk.
And even though we have an undefeated record and just hosted College GameDay for the first time in school history, we still have a lot of goals left to accomplish. There are opportunities we have in front of us that nobody here probably thought possible just a few years ago. But with this team and this community, nothing really seems out of reach.
So the question might be, How are we going to get there?
Do you really need to ask?