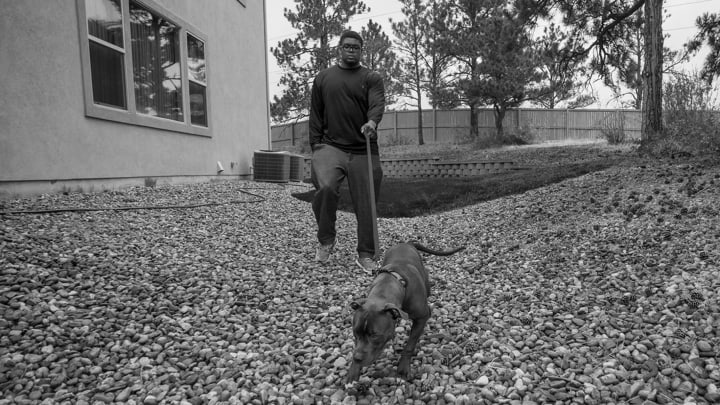 London
I just kind of liked the name London. It sounded like a pretty solid dog name. So when my girlfriend and I got our blue-nose pitbull back in July, I just rolled with it.
London.
Growing up, I had an all-black German Shephard named Morgan. She was the only dog I'd ever had. I had never had a dog of my own as an adult, and truthfully, I was opposed to getting one. The NFL travel schedule is crazy, and I thought that it would be more of a hassle than anything — finding people to watch him or take him out when I was on the road or late with meetings.
But since I tore my ACL this year and am out for the entire 2015 season, I'm spending a lot more time at home — so my girlfriend talked me into it.
Rehab is boring. Football is such a team sport, and you're always around the other guys. But when you're rehabbing, it's mostly just you and the trainers. It's a pretty individual thing. You lose a lot of that camaraderie.
Sundays are a little different for me these days, too. When the Broncos are at home, I'm still with the team and I go to the games. But when they're on the road, I do what most Americans do on Sundays: I sit on the couch and watch football.
Me and London.
He's eight months old and about 70 pounds. It's nice having him around the house to hang out with, either when my girlfriend isn't home or I'm watching football on Sundays. I know I'll get the actual game footage on my iPad later to study — so I'm not breaking things down when I'm watching it live. I just chill, enjoy the game for what it is, and switch back and forth between games.
It's somewhat bittersweet, watching the Broncos start off 7-1 and get in position to make another Super Bowl run. I missed the Super Bowl run back in 2013 with a foot injury. And here I am again, watching my guys out there doing their thing. It's tough to watch sometimes, knowing I should be out there as well. But I'm happy for them, and I'm still riding with my Broncos every Sunday — even when I'm stuck at home.
We don't have a fence yet, so I still take London out on a leash when we go out in the backyard. I have to keep him reined in. Hopefully we can get a fence put up soon, though, and he can do what he was born to do instead of staying cooped up inside on a Sunday. Then I can just let him go out there, and run around and do his thing, without anything holding him back.