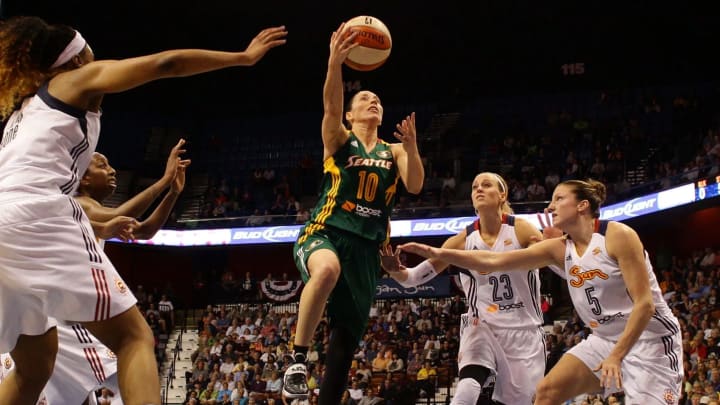 Analyze This
"Who do you think led the NBA in charges drawn last season?"
Diana Taurasi, or Dee, was asking the kind of question you start to ask when you're as familiar as siblings, and about a month into an unforgiving Russian winter.
Grant Hill? No — Derek Fisher. Wait. Ginobili?
It's about five years ago, and we're at dinner with Todd Troxel, an assistant coach for the Phoenix Mercury, playing out a scene we do almost every night in every WNBA offseason. Dee and I are on the same Russian team — Spartak Moscow Region, one of the best. We only have two games a week, with practices punctuated throughout. There's a lot of free time. When you're half a world away from family and friends, and you don't speak the local language, and when the number of days you haven't seen the sun far outnumbers those you have, time is fluid. It could be any day because most days are the same. In Russia, there's not a lot to do but eat, drink and debate.
Dee's great at all three.
t's gotta be DeMarcus Cousins.
We all think we're right. How many elite competitors do you know who ever think they're wrong? Dee and Todd grab their phones and start Googling. "It's Grant Hill. 65 charges over 80 games and 2,409 minutes."
Figures it'd be a Duke guy.
Dee's already on to the next one: "Who do you think led the WNBA in charges drawn last season?" We throw out names over one another.
It's someone who wouldn't chase the block. Tamika Catchings? Nah, Candace Parker.
We grab our phones again. The best part about barroom debates isn't just the debate — it's the settlement. We all want a finite answer to specific question. I Google: "wnba leader charges drawn."
"Did you mean 'charges drawn nba'?" I read back to myself. I didn't. I could see Dee and Todd's thumbs syncopated in a search of their own.
Nothing.
A search for NBA stats, however, yields sources cross-referenced with sources, cited by sources. If you want to find it, there it is — jump-ball win percentages, loose-ball fouls, shooting fouls drawn, defensive efficiency. Any argument we could have as fans can be solved. As much as I want to look across the table at Dee and say I was right, I also just wanted to know.
We still don't know who won that debate.
*
The disparity between NBA data — even data across all male sports — and WNBA data is glaring. Data for the WNBA is relegated to basic information: points, rebounds, steals, assists, turnovers, blocks. While worthy of being noted, those are the most rudimentary numbers in our game.
Data helps drive conversations, strategy, decision making. But data on its own isn't terribly interesting. It needs context. It needs a storyteller. Data helps tell the story of a player, a team, an entire career.
There's a need to value data in the WNBA because there's a need to value the stories of our league. Think about baseball, for example, or men's basketball. Fans, players, executives and media value stats and information because it helps to tell a story that many are already invested in. And if they're not already invested, then it gives them a reason to be. It helps GMs make decisions. It informs contract negotiations. It enables player development.
It sparks barroom debates to last a frigid and barren Russia winter.
Analytics, generally, is still very male-centric. Men's sports garner more revenue, which means that they have greater resources for generating and gathering information. Analytics is one of the prime investments of those resources. Data and research cost money, manpower and time. For example, the NBA utilizes SportVU, a technology that tracks player movements. Think of it as "super"-data and advanced scouting reports. It's been an incredible asset for the league and its teams. But it's expensive. A lot of WNBA arenas aren't equipped for the camera technology required.
Because it's resource intensive, the supply has to meet the demand. There's a great demand around information in men's sports, in part because those sports are popular and ever-visible. So it's not just about the WNBA investing in information — it's about growing our game overall. The more people who are interested in the WNBA as a product, the more dissatisfied they will be with its information shortage.
And I think there is also some subtext to the lack of data in women's sports. Is the WNBA, for example, not worthy of a deep dive? Do women, as fans — who account for about 70 percent of our fanbase in arenas across the league — have less of a mind, or less of an interest in numbers, than their male counterparts?
Last season, Elena Delle Donne had a record-setting season — one of the highest PER's ever among the WNBA and NBA. It was one of the best seasons ever by a female athlete. But few sports fans outside of the WNBA even knew it was happening … until it had already happened.
Part of the fun of a historic season is keeping track of it as it goes along. When Steph Curry is close to achieving a new record, you know about it within 30 shots. Media leads with the story. Fans are talking about it in real time — in their homes, at bars, at games, online. It's at the tip of everyone's tongues: Did you see Steph? But when Elena makes history, there's almost none of that echo throughout the sports landscape. Her achievements come with less visibility — and a silent asterisk: Steph Curry plays against LeBron James. Who does Elena play against?
It's an old refrain. In 2011, when UConn women's basketball went on their incredible winning streak and broke John Wooden's consecutive wins record (with 90 wins to UCLA men's 88), the coverage came with that same, familiar asterisk: That's a women's record. Those wins came against women.
It suggests the women's game is lesser than — and, therefore, not worth discussing at the same level of detail as — the men's game.
And so the stories around us, as players, rarely get to become about numbers or stats or performances. Is that because the information isn't available? Is it because those numbers aren't logged? If they were logged, would the conversations change? How can we talk and write about the best players if we don't have raw data that gives context to all of the anecdotal information? What does it mean — what does it really mean — for a little girl to want to play like Dee, or Maya, or even myself?
From a league perspective, information is increasingly important to strategy and competitive advantage. We have fewer teams, which means fewer players, which means the talent in the league and the balance among the teams is not as diluted. Every game is important. For the most part, the worst team in the league could beat the best team on any given night. So when you're a GM, for example, and you're putting a team together — trying to fit the right pieces — data is critical. It informs on-court strategy. Look at Draymond Green and the effect he's had on the Warriors this season. His stats are the story — and not just his triple doubles. It's the advanced stats that really tell you the story of the impact he's having this year. You can actually see the quantitative impact he has on the court. Those stats have driven wins, which have driven a story, which has driven fans.

There are always the Steph Curry's — the face of a franchise or of a league. But then there are also the Draymond Green's. Players who might not win MVP — but, if you to pulled them out of the equation, something critical would be missing.

The WNBA has players like this, too. On my 2010 Seattle Storm team, we had this player who only played for one year — Jana Vesela, a 6'5" guard from the Czech Republic. When she would come into the game, everything would change in these subtle ways. We could switch off screens. She could hit outside shots. She could post up. She could do all of these "little" things that gave other teams problems. She made teams adjust. That was Vesela. And yet it seemed like no one knew her value. Where's her story?
For most of my career, analytics weren't popular — it just wasn't a part of the women's basketball consciousness. But it also wasn't accessible. Few of us players knew much about it. The only stat line I really paid any mind to was my assist-to-turnover ratio. But my own awareness and interest was piqued with the Storm head coach Jenny Boucek. She's always had an analytical mind, and uses data to enhance game strategy. She's the first person in my basketball world who really brought analytics to my attention — percentages going left versus those going right, shooting ranges, even steps. She does the same for the team as a whole. Our defense is informed by analytics, our pick and rolls, what we're willing to give up.

It's hard not to recognize how important numbers are to the sports conversation, especially modern-day sports fandom. Look at fantasy sports. Fantasy brings fans into the game — it's participatory. By caring about stats and performance, you learn about individual players. Caring about the players themselves grows fan investment into the sport itself. There's not a WNBA Fantasy league. Not only can our hardcore fans not participate in the game the way other sports fans can for other leagues, but neither can casual sports fans who might have a greater interest in the WNBA if they had some sort of personal investment.

I have a really good friend who is obsessed with fantasy everything. It's an important part of his life. About 10 years ago, he, along with some of my other friends, made their own WNBA Fantasy league. They drafted teams, partly just for kicks, but mostly to expand their fantasy gaming. But it worked: Suddenly they were talking about Elena Baranova (like, what?), and about how Becky Hammon needed to play better on a particular night. By playing WNBA Fantasy, they were learning about players they never knew — or at least didn't follow closely. Now, they cared. They conversed. They were competitive with each other about the WNBA.
Fantasy and gaming are a godsend to sports and player recognition. Think about all the fans that get into soccer because of FIFA, or how football players — who are largely anonymous if they aren't superstars — become household names due to fantasy or Madden. These are big-money and big-growth opportunities. But it's just not happening in women's sports.

And it's not for lack of demand. Take this year's edition of FIFA. The USWNT, coming off of their World Cup victory, was added to FIFA 2016. This meant that, for the first time ever, USWNT fans — and soccer fans in general — could choose to play as Abby Wambach, or Alex Morgan, or Megan Rapinoe. It was added as a "cool extra." What if some WNBA players were added to NBA2K in the future?

*

All of that said, the WNBA is still a relatively young league, embarking on its 20th season. We're just now entering a generation of women who've played for 13, 14, 15 years — long enough to accumulate some data and context. What is data if there's nothing to compare it to? Which means that now may be the perfect time to embrace more advanced analytics and accessibility. And that's because now is when the stories and numbers get more interesting, and more compelling. There are stories to tell with some historical context.
*

All of that said, the WNBA is still a relatively young league, embarking on its 20th season. We're just now entering a generation of women who've played for 13, 14, 15 years — long enough to accumulate some data and context. What is data if there's nothing to compare it to? Which means that now may be the perfect time to embrace more advanced analytics and accessibility. And that's because now is when the stories and numbers get more interesting, and more compelling. There are stories to tell with some historical context.
And if the media won't tell those stories, the league can. I follow the NBA on Twitter and Instagram, and each time an individual record is about to be set, I know about it. They create events out of those moments. We should push our own stories in the same way — and now is the time.

When Ray Allen broke the record for total career three-pointers made in a regular season, with 2,973, we all followed along in real time. He was honored for that achievement. There was an entire generation of little boys who, maybe, suddenly wanted to be Ray Allen. Not even Michael Jordan. Ray Allen. And he deserved it.

But Dee deserves it, too. And so does Maya. And so does Elena. We all do, and so does this league.
One day, I won't even have to tell my niece about how great Diana Taurasi was.

The numbers will speak for themselves.