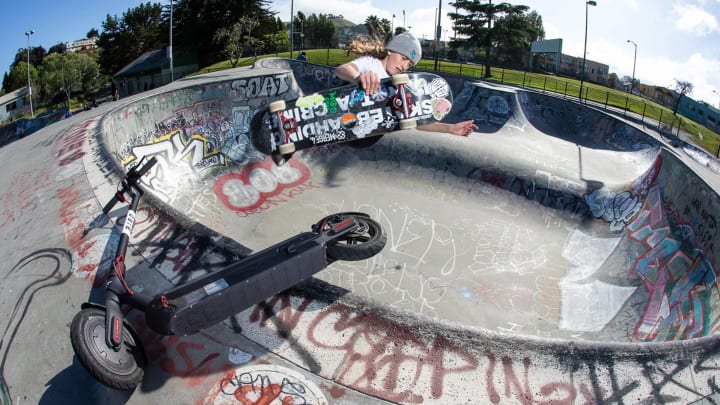 The Iso: Minna Stess
BRYCE KANIGHTS

The Players' Tribune is introducing a new series called The Iso. With so many of us keeping our distance from each other in a variety of ways, we decided to ask some of our favorite athletes to share how they've been dealing with life in the Covid-19 world, and how they're spending their time away from their sport.
---
---
One of my friends came back from coaching in China, and that's when I first heard about the virus. But that was before it was super bad in the States. I was kind of nervous about it because I didn't know how bad it could be.

My family lives in the Bay Area, a little north of San Francisco, so we got locked down before a lot of other places. That's when I started to realize how big a deal this was going to be.

I feel pretty safe here. I'm pretty calm about everything, since I'm staying home and following the rules.

It's me, my parents, my brother, my grandma — she lives downstairs in her own little unit — and my dog. We play UNO a lot (my dad always tries to change "the rules") and do schoolwork. I skate in my backyard, play with the dog — kind of just all the same stuff. And I usually play some video games before I go to sleep.

I play a lot of random stuff like Overwatch and Valorant. Just anything I can play with my friends who also have nothing to do at home after they're done with (online) school. We've just been playing a bunch of random stuff. My family also has board game nights — we gotta get some more games out of the closet.

My grandma gets super bored sometimes, so I go down to see her a lot. She is a three-time cancer survivor and is immunocompromised. The latest update from Grandma? She says, "I'm going crazy!" She keeps talking about how she wants to go to the store, and I'm like, "You're not going to the store!" Had to have a Grandma intervention. (I'm sure you all can relate.)
My mom has been doing all the grocery shopping alone. She wears gloves and a mask, and I can't touch anything she brings back. We're extra cautious because of my grandma, especially. We really don't want to risk bringing the virus home.

I go to an independent studies school because of the travel and demands of skateboarding. Usually, I go to school once a week to meet with my teachers, and then I do the work at home. But since the quarantine began, I've been going to school completely online. The flow is not that different for me. I just have to call my teachers now, instead of seeing them in person. So it's kind of the same for me, but I know it's different for a lot of other people, like my 17-year-old brother.

I have a skate park in my backyard, so thankfully, I can still skate. But my backyard isn't huge, so I can't practice a lot of the bigger tricks. Deep-end tricks. Like nine-foot ramp tricks or 10-foot. I've been trying to do some 540s, but I can't practice them at home. It's kind of like a spin. I was trying it. But there's just a lot of different tricks I can't do right now on my five-foot ramp. But I have somewhere to skate. Even if it's just a little bit, I can still feel the board under me. I know what it feels like, still.
I'm also doing some workouts online with the USA Skateboarding trainer, Jessika Alexander. She runs an online workout series for Team USA Skateboarding that I've started doing. I also run on the treadmill, and now that it's allowed in my area, occasionally outside too. We have a Reformer machine, which is great for bodyweight workouts.

It's a bummer that the Olympics were postponed, but that's just the way it has to be right now. It was the right thing to do for everyone's safety. Also, the extra time is kind of a good thing for some of the athletes because we have more time to prepare.

I was actually supposed to go to Peru for one of the Olympic qualifiers in mid-April. And then that got canceled. Then, there was a qualifier in China, the Dew Tour, and the world championships — all of them got canceled. I can't go to SoCal either. I usually go down there to train, see my coach, and catch up with a lot of my skater friends. Plus, our whole family was planning on going down there for spring break.
Every other week, me and my mom would drive down to Southern California. It's almost 500 miles, so it takes like eight to 10 hours, depending on traffic. Before the quarantine, I was going down to SoCal a lot, so I've barely been home. This is probably the longest I've been home in a while.

I got really great news recently. At the end of March, while in quarantine, I had my final followup with the surgeon who worked on my elbow after my injury last year. She checked my arm, and I am able to straighten it 100% now. This rehab process has really taught me that injury is just a minor setback. It sounds simple, but just keep going, and it will get better.

With this break right now, it's kind of similar. When we're able to come back, we'll all be that much more grateful for all of the things that we took for granted. We'll all come back stronger and better, if we're just patient.

I think, in some ways, this situation we're all dealing with is like being in recovery. It's like a reset. Like you press the button, and you just start it over.