What's Your Definition of Hockey Hair?
Becca Estrella/The Players' Tribune
Hockey hair is a big deal.
The lettuce. The flow. Whatever you want to call it, there's just something iconic and even majestic about the hairstyles that have become synonymous with hockey. I remember, when I was growing up, seeing Guy Lafleur skating down the ice, his hair billowing in the wind. I remember watching legends like Wayne Gretzky and Jaromír Jágr go full business-in-the-front, party-in-the-back in their mullet eras. Even during my time in the league, when Joe Thornton got drafted by the Bruins, I remember this big gangly kid who had these huge blonde curly locks flowing out of his helmet. Anyone who saw young Jumbo Joe must have been thinking the same thing: "That guy's got pretty sweet flow."
But what if you play hockey and your hair is different from nearly everyone else's in the league? What if you're Black? What if your hockey hair just so happens to be … dreadlocks?
Well, in that case, the answer is: It's complicated. 
I found that out firsthand back in 1997. 
During my second season with the Bruins, I wanted to change up my look. So I spent two hours one game day afternoon at a salon in Dorchester having a loctician separate each section of my hair into locs, applying beeswax to help it lock up fast and tight.     
I didn't think it'd be a big deal at the time, or that there might be a negative response. But I didn't tell any of my coaches or teammates about it, so I actually remember that I tried sneaking into our locker room that night before anyone could notice. Of course, it was just my luck that I arrived at the exact same moment as our head coach, Pat Burns. 
To this day, I can still see the look he gave me — big eyes, like a real-life emoji. Then came his reaction: "Oh, you're definitely starting tonight." 
Becca Estrella/The Players' Tribune
When I got out on the ice for the national anthem – with my helmet in my hand and 17,000 fans staring at me — I remember finding a spot on the blue line as close to our bench as possible. It was my way of trying to blend in. I looked over at Burnsie and our assistant coach, Jacques Laperrière, who were both getting a kick out of the attempt. It may not have been successful, but after I made it through that game, I never looked back. From there, that was my hair in pro hockey for the next 10 seasons.     
And I swear, at the time, my brain was just looking at it as a new style. Nothing more. For most of my life, I've been my own barber — I even used to cut other kids' hair in the neighborhood, calling myself "Cut Carter." In my freshman year at Michigan State University, I went with a high-top fade, because I was really into Kid 'n Play (… that's a whole other story). Then, when Michael Jordan was at the peak of his excellence, I wanted to emulate MJ. So I shaved off my hair to match his. That phase lasted through my first season with Boston. At one point that year, my teammates ended up betting me $10,000 that I wouldn't grow an afro … which is how my afro phase started. Easy money. And then, about a year into the afro era, my sister, Michelle, casually dropped a suggestion: "Why don't you twist your hair? You know, lock it up and see what happens?"
It really was as simple as that.
Except it couldn't be that simple, right? Because most things about being a Black hockey player aren't. And no matter where you look in society, it's hard to ignore the reality that Black hair is often seen as political.      
Maybe it's not always stated outright, but the subliminal messages are there: If you want to be respected, or taken seriously, or seen as "professional," traditional Black hairstyles and natural hair aren't the way to go. Not to mention the added assumptions specifically for dreadlocks. You've heard them — the idea that if someone has locs, they're probably a criminal, or a bad person, or not very clean. Or that they must smoke a ton of weed. These are stereotypes in everyday society. But when you put them in the context of hockey culture, where players are conditioned to fit in at all costs? My hair was definitely breaking the rules by standing out. 
Becca Estrella/The Players' Tribune
So, yeah, during my career I found out that, unfortunately, there were people in the hockey world who thought locs couldn't be — or shouldn't be — an option for players in the National Hockey League.  
Here's an example: In the second half of my NHL career, when my locs grew very long, a high-level member of the front office for my team at the time told me point-blank: "Carter, you should cut your hair. It doesn't look good."
Now, I'm all for different opinions when it comes to style — everyone's entitled to their perspective, and guys on the ice were definitely chirping me about my hair at that time. But in this circumstance, let's unpack what good really seemed to mean in that context.
This was not an executive who had a reputation for telling players to keep their hair short. This wasn't a situation like with the New Jersey Devils when they had a team rule against hair going past your shoulders. And there were tons of players — white players — who grew their hair long and had classic flow while playing for this team. 
So I'll tell you how I interpreted good: It was code for "how hockey players are supposed to look." And I wasn't with that. At all. So it was advice that I had no problem ignoring … because I never once forgot who I was — a Black man playing the game of hockey. I had no doubt that a hockey player could look like a Black man with a Black hairstyle. 
It wasn't something I was trying to promote or defend or make a show of. Just a fact. And I guess some people around the game still needed to learn it. Or, even beyond that, I feel like maybe some people needed to think a bit more broadly about whether we should really be trying to define and regulate what a hockey player is "supposed to look like." About whether we should be judging people based on their appearance.  
Becca Estrella/The Players' Tribune
I remember this one fan interaction in Edmonton, while I was still playing for the Bruins, when I was checking out the stores and cafés in the city's main shopping area. I was walking down the street and saw a group of people heading in my direction who were just … looking at me. Three of them. Not saying anything. But paying enough attention that it came off as odd. 
As I got closer, they crossed the street. So then I was trying to rationalize it in my head — maybe they were looking for a specific store? Not quite. They waited until I walked a little farther ahead, and then they crossed back over again.
It was pretty clear at that point: They'd crossed the street to get away from the Black guy with locs, based on whatever stereotypes they attached to people who look like me.  
The funny thing is, within seconds, I heard a different group yelling from across the street: "Carter! Carter! Ace! Can we get a picture?" These other guys were walking toward me. They were NHL fans who recognized who I was. And suddenly, the group that originally tried to walk away wanted to pull up, too.   
Our conversation went like this:
Me: "Oh hey, what's going on? I saw you cross the street."
Them: "Well, we didn't know who you were. Can we get a picture, too?"
Me: "Nope!"
And I kept it moving. 
I didn't fall in line, but I also didn't let it get to me. And it was always the same whenever my hair got a negative reaction, too: Keep it moving. Because for every "negative" interaction, there were always a thousand positive ones — inspiring moments, or instances when a fan or a young kid showed me love and support. (The irony of the Edmonton story is that I was traded there shortly afterward, and the fans were amazing and treated me with so much respect.) Those uplifting moments, they always matter a million times more than the negative stuff — it's a humbling feeling to meet a Black hockey fan and learn that your hair helped them feel seen in a sport that hasn't always had their back. It's an indescribable honor when you hear a Black parent say, "We bought some of your old action figures, where your locs are showing, so our kids would feel comfortable growing their hair out." 
And over the years it's been very cool to see some of the other Black players who have embraced cultural hairstyles, in whatever form feels right to them.
I'm thinking of my buddy Georges Laraque, who started growing his locs around the same time I grew mine. (After he made fun of me for it! You still owe me for that, Big Georges.) I'm also thinking of times when P.K. Subban let his afro grow out, when JT Brown got braids, and when Ryan Reaves showed off his fade. Mathieu Joseph, now on the Senators, has rocked all these hairstyles. And K'Andre Miller, part of the Rangers' young core, has embraced his natural texture for years.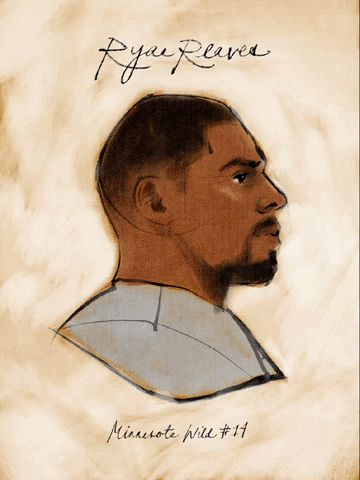 Whether they realize it or not, these guys have inspired a new generation of Black kids to bring their authenticity to the game. I've seen the fruits of that inspiration up close in my adopted hometown of Atlanta, where there are diverse boys and girls trying hockey for the first time, coming to practice with their hair braided up under their helmet. 
Atlanta became home for me right after my playing career. And, sure, if there's one thing I learned very quickly about the city, it's that it's way too hot for a heavy head full of locs. So I said goodbye to them and shaved my hair for good. But I've also learned some more important things about this place — like how Atlanta is a hub for driving culture forward, with authenticity and representation at the forefront of a highly diverse metro area. It's why I recently became a minority owner of the ECHL Atlanta Gladiators. There's such a great opportunity to embrace and amplify diversity in professional hockey by building on the culture of the city. And the more we wrap our arms around fans who haven't traditionally felt connected to hockey, the more we can help to create a new era of inclusion in the game. It'll take everyone to make that era happen — from minor pro leagues to the NHL itself. But anyone who's followed hockey during the past few years can tell you that things are shifting. It really feels like the foundation for a new era is here — built by executives, fans, and players, including the ones I'm proud to collaborate with in the NHL Player Inclusion Coalition, a group of current and former NHL players and women pros who work to advance equality on and off the ice. 
At the end of the day, equality is really what this hair conversation is about. Black players, and other players of color, can only have an equal experience if they don't feel like they have to erase or censor part of their culture to fit in. And hair is a big part of our culture — part of every culture's traditions, personality, identity and expression. So when we think about what hairstyles are expected — and respected — under a hockey helmet … let's not limit ourselves. Let's keep broadening our perception of what representation looks like in this game. 
The locs I had may not be for everyone. You can like them or hate them.
But don't for a second try to convince me that they don't belong in our game, or that those who choose to wear them are somehow not what a hockey player is supposed to look like.
Because for 10 of my 11 seasons in the NHL I played with dreadlocks flowing behind me, unapologetically, whenever I hit the ice. And I was proud to give everything I had to this game.
So if anyone's still wondering….
Yeah, I'd say that makes it hockey hair.