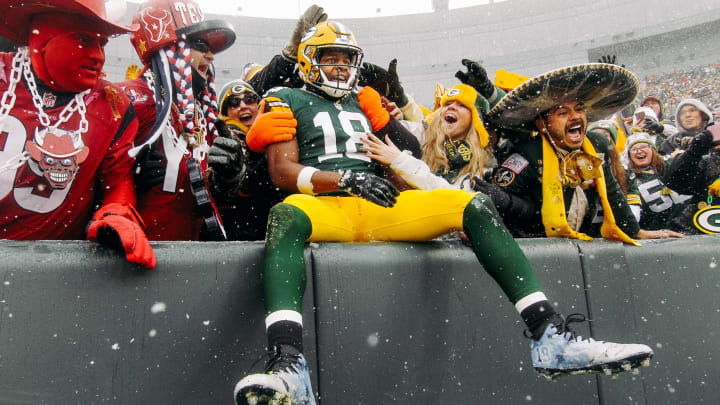 Man It Feels Good to Be a Packer
Dylan Buell/Getty Images
Lil Wayne has this song from a few years back, called "Let It All Work Out."
It's from Tha Carter V — the last track on that record. And it's about some of the experiences with self-doubt that Wayne has been through over the years: from struggling as a young kid, to growing up under the spotlight, to even now, as a legendary artist, just dealing with the stresses that come with life. The verses on that song are pretty heavy.
But then there's the chorus. It goes, "Let it all work out…. let it all work out…." And it's almost like a voice watching over Wayne, saying that to him. It's like a reminder: Don't let life get you down too bad. Stay patient. Let it all work out.
That chorus really speaks to me.
And I listened to it a lot, back in 2018, during my last season in Green Bay.
That was a tough time, I won't lie. The Packers were the only franchise I'd ever known. They're the franchise that drafted me and developed me. I grew into a playoff captain and a Pro Bowl player with them — and I was extremely proud of that. I was also proud of the strengths I brought to the table that maybe didn't show up on a stat sheet: being a leader, playing through injuries, coming up big in big moments. Things like that.
And more than anything? I just love wearing that G. I love being a Packer. 
So when I started seeing the writing on the wall, that the front office probably didn't want me back…. it definitely stung. I was dealing with a bad hamstring issue that last season, and then a concussion on top of it, and I just couldn't stay on the field — it was incredibly frustrating. Demoralizing, to be honest. I felt like I still had a lot left in the tank, a lot of high-level football left to give. But the Packers were ready to move on.
Jennifer Stewart/Getty Images
Then free agency rolled around in 2019, and a few days passed with no phone calls. I started to ask myself those tough questions: Am I just not good enough anymore?? Is this really how it works?? Is it over??
But right around then, that's when my wife, Aiyda, she started to play that Wayne song all the time. She'd put it on in the car — and when the chorus hit, she'd turn to me and say, "Hey…. everything's going to be alright. Everything's going to be fine." Let it all work out.
That offseason, I signed with Dallas — and I think my year with the Cowboys really reignited my passion for the game. Football was fun again. Then in 2020, the Texans came calling. And from there……
Man — I don't even know what to say. How do you put into words what happened this summer?? It's like out of a movie or something.
One minute I'm taking a nap….. then the next minute I'm getting woken up by a phone call from a reporter, asking me to comment on "the Trey Wingo tweet." I'm like, Sorry — what? The Trey Wingo tweet??
You have to understand: Aaron's one of my closest friends. We've always been on a similar wavelength. Back in our first run as teammates, we would go out to dinner together every Friday night. He was in my wedding, you know what I'm saying? He's a confidant. He's a brother. So of course I was paying attention to his situation with the Packers during the offseason…. especially when things came to a head publicly. And of course we had our private conversations, like any best friends would.
But as far as what was being reported on — where we're this package deal? It's flattering, for sure. We hoped to play together again at some point in our careers. But this isn't the NBA. Players don't really get to make moves like that. In my eyes, the Packers ship had sailed a long time ago. 
Those next couple of days..... they were definitely strange. First off, I was still on the Texans officially, and I had already reported for training camp. So I was still going into NRG Stadium like normal. And at this point the guys are joking with me about it in the locker room, giving me a hard time — What's THIS guy doing here?? Shouldn't you be with that other team?? (It's all love.) My wife, she's an attorney who's a very rational person, very numbers oriented, so that's how she's processing these rumors. She's asking me every chance she gets, you know, "What's the percentage chance of something happening??" "Okay, what's the percentage now??" "What about now??" "What about now??"
And meanwhile I'm just trying to not get my hopes up. I know my heart's in Green Bay. I know I have all this unfinished business there. But I'm still thinking, like, There's no way this actually HAPPENS, right?? It seemed too good to be true.
A day later, I'm at the Texans facility preparing for an 11:00 a.m. conditioning test — and I get a call from Brent, our security guy, at like 10:56. He's saying to come up to Nick's office. If you've ever watched Hard Knocks, you probably know how this next scene goes. I walk in….. and that's it. That's when they let me know.
I'm getting traded.
I'm going back to the Packers.
So now I'm rushing home to pack a bag. I'm hugging Caspian and Cade, my two boys, goodbye. I'm getting in the car with Aiyda, and she's about to take me to the airport. But right before we back out of the driveway….. she puts on that Wayne song.
And that's when it hits me.
Sitting there in the car, me and my wife — and I'm seriously on my way to Packers training camp. I'm on my way home. It's crazy!!! We just sit there for a minute, letting that song play. And then we look at each other….. and we both start crying. It's like these tears of joy, these tears of understanding. Let it all work out.
AP Photo/Roger Steinman
And then as soon as I get back to Green Bay?? Man, I'm telling you: It's like I had never left.
Same diehard fans (my IG followers immediately went up like 50k — thanks, y'all). Same sense of community (we immediately had family friends offering to help child-proof our house). Same iconic franchise. Same chills as you walk in the building. It felt like I'd been gone for two hours, not two years.
But for all those things that are the same, there's a lot of new here, too…. and I like that. Coach LaFleur and I have had some great conversations already. He's an impressive guy. I love the way he thinks about football — and I think there's a mutual respect there between us.
As for the receivers room, I've said this before and I'll say it again: This is Davante's room. I've enjoyed watching Tae take command, and witnessing his growth as a leader. Tae is THE top receiver in the world right now. And it's an honor to be one of his running mates again, and to be a veteran in the building who can help him set the tone.
A role like this, for me, it's just a dream come true. My vets in Green Bay, when I was coming up as a young receiver, they were everything: Donald Driver, Greg Jennings, Jordy Nelson, James Jones. There's a lineage there. And to be honest, I feel like that's what you lose when you let your vets go too soon — whether it's been me, or Jordy, or Clay, or C Wood, or Hawk, or whoever. You lose those voices who can show the next group the way. And that's part of why I'm excited to be back: so I can help guys like MVS and Allen and Amari reach their full potential. So I can do for them what my OGs did for me.
Ben Liebenberg via AP
Also — we have a pretty decent quarterback, from what I can see.
No, in all seriousness, The MVP (x3) is one of the greatest football players ever. And I know that his only goal for this season is to win another Super Bowl. So for a guy like that to believe I can help him achieve a goal like that….. it gives you all the confidence you will ever need.
And I'll tell you one other thing about Aaron: My guy is even better than I remember.
Like, I spent the last two seasons playing with two of the most elite quarterbacks in the league. Two guys who can flat-out sling it. I take nothing away from either of them, ever. But let me put it to you like this: Coming back to Aaron, after those couple of seasons away….. it was an adjustment. Because even compared to two of the most elite quarterbacks in the league — it's still a shock, for real, those first few reps you have with #12. It's still a shock when you remember that, no matter how much precision and how much zip you've gotten used to there being on the ball?? With Aaron…... you better get your head around!!!
He's the best there is, man. And he's locked in.
We're all locked in.  
Anyway — I think that's about all I've got, for now. I appreciate you guys for reading. I definitely needed to get a few things off my chest. These last few years have been a roller coaster….. and this summer has been eventful, to say the least. But I don't take anything about this moment for granted.
Because the truth is, for as much as I love that Wayne song….. in the NFL, it doesn't always work out. Most careers don't play out like a movie. There aren't a lot of football players who actually get to come home. I know that — and I know how lucky I am.
I know what a special opportunity we have in front of us this season.
I know how good it feels to be a Green Bay Packer again.