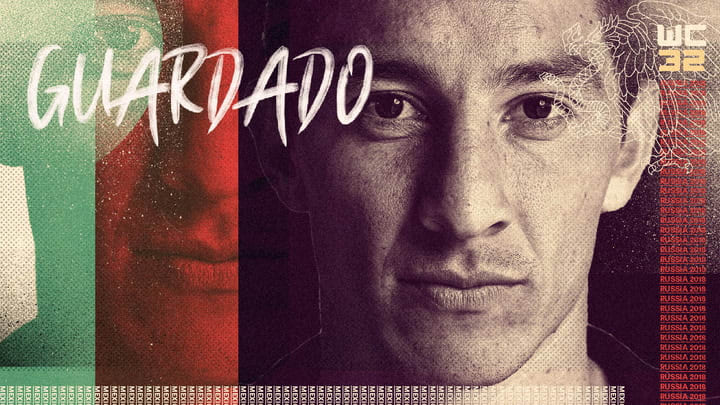 PARA LEER EN ESPAÑOL, HAZCLICK AQUÍ
My father has a funny way of congratulating me when I achieve something big: He pretends it never happened.
I remember when I first got called up to play for Mexico. I was 19 years old. Can you imagine my pride at making the senior squad? I was in heaven. Of course, I had to tell someone. So I called my father.
Dad, I'm gonna play for the national team.
Nah, he said. Don't come here and make stuff up.
And here's the thing: he's always been like that. Always! He's never changed! I don't know if it was his way of motivating me or if he really didn't believe it or what. But I'd be thinking, What's the deal? Isn't he happy? Of course, many times he's told me he's proud of me — but his first reaction has always been like that one.
"Nah. Why would they call on you?"
To be honest, I can see where he was coming from. I mean, some parts of my story really have been almost too crazy to be true.
via Andrés Guardado
Take this part: Three years before playing in the World Cup for Mexico? I wasn't even playing football at all.
I had quit my team and was playing tennis.
No, really. Let me tell you how it started. As a kid, I was in love with football. Where I grew up in Guadalajara, I played with my two brothers and our friends on this closed street. We'd finish school, eat, then invent all kinds of games. But then when I was seven or eight years old, my family moved — and that's when things really opened up for me. It was this huge street, and we found this whole new group of incredible neighbors.
We were all different, our ages ranging from eight to 18, but we still became great friends and looked after each other. And we all had one big thing in common: We loved to play football.
We didn't have goalposts, so we'd paint them right on the pavement. And I'm telling you, it was no joke; the guy who did the painting, he would even add brand logos to the goals. Being kids, of course, we'd argue about it.  
Who's going to sponsor this goal?
This brand.
No, this brand.
We took that kind of stuff very seriously. To us, that street was like the Azteca Stadium ?
I also started playing for one of the Atlas youth teams. The club picked me from one of their football schools when I was just seven years old. They didn't even have a category for my age, so I'd play with kids who were older. I was lucky, because Atlas has a great academy, and they teach kids good values. Believe me, it's no coincidence that so many of Mexico's captains have come from there.
Yet I still had no idea I'd be one of them — or that I'd even become a footballer.
You see, when I was 15 or 16 years old, there was a period where my coach didn't play me — at all. I mean, I would just sit there. It was awful. And meanwhile, my friends who didn't play football were all out there partying and meeting girls. And I thought, O.K., I'm making all these sacrifices … but for what? Not playing?
It didn't make sense.
So I quit.
My father wasn't happy. He told me to work harder and to show that I deserved to play. But I was a bit of a rebel, so I told him I didn't care.
O.K., he said. I'll let you quit — but only if you take up another sport. You're not gonna stay here doing nothing and spending your time partying. He didn't want me falling into these traps.
I liked tennis, so I started playing … and pretty soon I was taking it pretty seriously.
But maybe this is how the football gods work, you know?
Only a few months after I started getting serious about my tennis, a coach from Atlas told my father that I should return to the club. My former coach, the coach who had decided not to play me, had moved on, he said — which meant I would get more opportunities.
And so back I went.
Andrés Guardado
From there, my progress at Atlas was strange: I was getting ahead … because all the other players were better than me. What I mean by that is, slowly but surely, the best players on our club started going off to play for the U-17 national team. And then on top of that, there was also a rule that all teams in the top three divisions had to play at least two youngsters. So — not because of anything special that I was doing on the pitch, really, but rather because of these two technicalities — Atlas kept promoting me. I'll take it, right?
And it only got stranger from there.
Picture this: I'm on the bench during this reserve game when, all of a sudden, our first team's left winger gets injured. That's my position. So I start warming up, just for fun.
"I'm gonna go in," I tell my teammates. Not being serious, of course — it's a joke.
But then the coach, Sergio Bueno, spots me. And he says, "Oh, O.K., Andrés. So you wanna play?"
I say, "Umm … well … umm … yeah!"
"Well, let's see it, then. Go in."
Andy Mead/WireImage
And that's how I began training with the first team. The next season, the famous 20/11 rule appears, which forces clubs to give debuts to two players who are younger than 20. That practically hands me my debut.
Then a few months later, I get called up to the national team.
Pretty mad, right? I mean, I haven't even played a single youth game for Mexico!! People were like, Wait a minute, this kid didn't go to the U-17 World Cup … but now he is on the senior squad?
Then comes the 2006 World Cup. I still haven't played an official game for Mexico … and now I'm named in the final squad. Suddenly I'm over in Germany, in training camp with players I had seen on TV, like Claudio Suárez and Rafa Márquez.
They are my heroes, you know? I admired them so much. And now they are teammates — how do you believe that?
And it's even more mad, because many of the players had played with my older brother, Alejandro, at Atlas — so they had actually been around as his friends when I was a kid. Like, I had seen Rafa Márquez come to our house and stuff … and now he is playing for Barcelona. But I still didn't really know Rafa, and I was too shy to say hi. I mean, he had just become the first Mexican player to win the Champions League! He was playing with Ronaldinho! Hell, we're talking about one of the greatest players in Mexican history here. And I'm just a kid.
What am I supposed to tell a guy like that?
I decided it was best to avoid him. But one night, we have to bring our bags downstairs because we're leaving the next day. And as I leave my room, I bump into someone in the hallway.
F—k. It's Rafa.
I try to tilt my head down … but this guy, he's such an imposing figure, you know? We get into the elevator. The door closes.
"Hey, what's up?" he says. "How are you? How's my Atlas doing?"
"Good," I say. "Good, we're doing O.K."
The elevator opens. I'm already getting tense, so I jump out.
"Eh, eh, eh!" Rafa says.
I turn around. He's staring at me, dead serious.
"Take my bag."
Ah! Of course. Of course, Rafa. Now it's an awkward silence.
That's when he starts cracking up. "No way!" he laughs. "No, no, no. I'll take it."
I have to confess something: After all these years, Rafa still intimidates me. Sure, I'm the captain of Mexico and so on, but he's still the boss.
We're good friends now. But I have to confess something: After all these years, Rafa still intimidates me. Sure, I'm the captain of Mexico and so on, but he's still the boss.
So back to the World Cup in Germany — I had no hope of playing. I mean … right? I was there to learn. I was practically going as a fan. No way I play.
That's what I thought, anyway.
But I wasn't counting on the fact that I had a coach who was crazy.
Ricardo La Volpe hadn't told me anything. Not a hint in training. Not a word. Nothing. I hadn't played in any of the group games. But then, before our last 16 match against Argentina, we were listening to him as he named the lineup. Well, I was barely listening, to be honest — I was mostly leaning back, looking into the air, letting my mind drift.
Daniel Garcia/AFP/Getty Images
And then suddenly I heard it.
Guardado.
I sat back up. I'm sorry what? Maybe there had been a misunderstanding. What was that?
I wanted to ask the guy next to me if he had really said my name — I didn't believe it. But … he had said it. I was really in the lineup. On the team bus, I called my dad. Man, I was almost whispering.
"Dad, Dad, Dad … I'm gonna play."
"Nah, stop it. There's no way you're gonna play!"
Classic. My father and my brother had even gone to the World Cup — only they had left after the group stage! That was how much they believed I wouldn't play.
"You're not gonna play," he said. "If you didn't play in the group, you're not gonna play."
Dad, I swear….
To be honest, even as we took the pitch I struggled to fully believe it, too. I remember warming up, and on the other side I saw Juan Román Riquelme … Javier Saviola … Hernán Crespo. On the bench, Lionel Messi. As the national anthems rung out, I looked up into the stands. Who was there singing? Diego Maradona.
Are you kidding me?
As a teenager, it was hard to know how to handle this. Like, what's going on here? Where am I? What have I gotten myself into? I felt like I had been teleported into a video game. Or like I was living in my own dream.
But you know what? It's funny: Thinking I wasn't going to play — it actually helped me play better because I had no time to get nervous. And although we lost, we played well — and I enjoyed it tremendously. Come on. It's the World Cup!
Things didn't go as well for me at the 2010 World Cup. South Africa itself was great — but I only started two games and was taken off early in both. I had thought it would be my World Cup, you know? That with four more years under my belt, I was going to be important. But even when I felt I was playing well … our coach, Javier Aguirre, took me off without explanation. This was very tough for me, and I even started to wonder if he had something personal against me. It left me with a bad taste.
Worse, for the next World Cup in Brazil in 2014, I came close to missing out altogether. Our qualifying had been disastrous, and I had been dropped for the final games. Luckily, I ended up making the cut — and although we lost to Holland in the last 16, we played a great tournament.
Gianfranco Tripodo/The Players' Tribune
And now? Well, now I am drawing on all of that experience from those first three World Cups, the good and the bad — in the role that I have today: the captain of Mexico.
Man, I have to tell you … we're so excited. Our program is on the rise. We no longer have just three players in Europe — we have 13 or 14. (And I actually believe we should have 50 or 60, based on talent alone.) We have a great group of players who are in the primes of their careers, and who know each other well — but we also have all of these youngsters who are still only scratching the surface of their ability. It's this special mix of continuity and potential. I don't think we've ever had a squad quite like this.
Now, we just have to play well as a team. Easy. No, I'm kidding — of course that's always the hardest part.
A lot of us older players know that this World Cup might be our last. We'll tell each other, Dude … for real, now is the moment. I hope we can deliver — because it would mean so much to Mexico. I can already envision the whole country celebrating.
Well, perhaps except one man.
Dad, I've won the World Cup! I would say.
Nah, he'd tell me. How have you won the World Cup?
Dad, just check the news!
Nah.
Classic.
Yet even if we fall short this summer, I'll be proud of my career.
I remember this bit of advice from my father. He told me, "Son, the bigger you are in football, the more humble you should be in life." That can be hard, you know, given all the stuff that surrounds a footballer — especially when you're young. But I have grown a lot. I've learned to put my family first and to not worry about the press and stuff like that. I've learned to play with the excitement of a kid … but the leadership of a captain. I've learned to know what I want, and what I am, and — most importantly — what matters.  
Overall, I think I've done a good job of following my father's advice. And if you ask him, I'm sure he'll be proud of the person I am today.
He may not always say it at first. But deep down, I know he is.