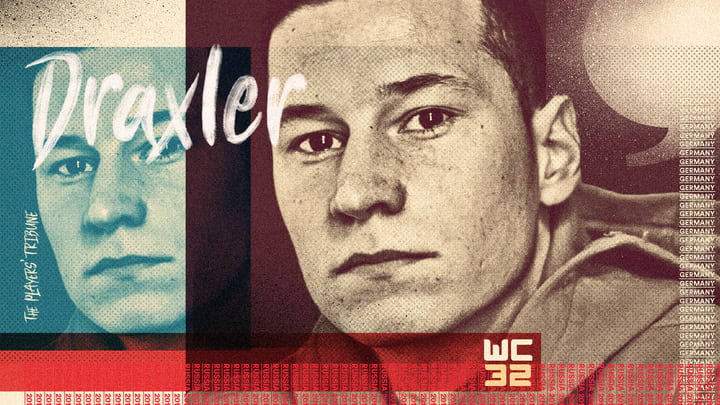 I have to tell you this story about my grandma and the World Cup toy, because that will explain a lot. It would probably take me 100 pages to describe my hometown and my family, but if I tell you this one story, you will understand completely.

After we won the 2014 World Cup in Brazil, I came back home to Germany to celebrate with my family, and, of course, I had to go visit my grandmother. So my mom and I went to see her at her house in Gladbeck, and we brought along this little Julian Draxler toy. I guess after we won, some toy company made these 3-D printed figurines of all of the national team players, you know?

We thought my grandma would think it was funny. So we walk into her house, and it smells exactly the way it's smelled for the last 20 years, and she's hugging me, and she's so happy that I'm back. And then we put the little toy figurine on her kitchen table, and we're like, "Look, grandma, isn't that nice? It's me."

She looks at the toy. She looks back at me. And then she does that thing that all grandmas do when they're confused. She kind of smiles and she's like, Oh! Very nice, yes!

But you could tell in her eyes that she had absolutely no clue why anyone would make a toy of her grandson. In fact, you could tell she barely had any idea how big of a deal the World Cup was. She was always saying to me, "I don't understand why you have to go halfway around the world just to play in a football game! Why can't you just stay here and play in the garden like you did when you were a kid? They have footballs here!"

I'd say, "Well, yes, grandma, but we were playing for the World Cup."

And she'd say, "Yes, yes, but we miss you."

It was hilarious. To her, I had gone for a kickabout in Brazil and now I was home. She just wanted to know how I was doing and if I was eating O.K.

We took a photo with her and my mum and the little Draxler toy at her kitchen table, and I posted it to my Instagram. Later that night, I was scrolling through the comments and one of them was like, "Hey, you really need to buy your grandma a new kitchen! Come on, man!"
And it's true — her entire kitchen is from the 1960s. I don't even know if you can still buy ovens like the one she has. But what people don't understand is that she's lived in the same house for 50 years, and she refuses to change anything, no matter what. My entire family is from Gladbeck and Gelsenkirchen so I have a special link to both cities. People who live here have a special way of doing things. Let's just say that my grandma does not care about your Instagram comments! ?

For a long time, coal was everything in Gelsenkirchen.

My great-grandfather worked in the coal mine.

My grandfather worked in the coal mine.

My father worked in the coal industry, too but not underground. By the '90s, the mines were all closing, so he was the first one in the family to take a different path. He started working as a fitter for British Petroleum, and he would start his day at 5 a.m. so that he could get off work in time to come home and drive me to football.

Growing up here, you're expected to love Schalke, and you're expected to play football a certain way — very hard-tackling, very physical. There's a stereotype that I remembering hearing all the time as a kid whenever we would travel for tournaments. The other coaches and parents would say, "The Gelsenkirchen kids? Yes, they work hard, but they're not very clever. They don't have much up here."

And they would point to their heads.

That really used to make me mad, because I grew up idolizing the creative number 10s, like Raúl, Zidane, Rivaldo and Ronaldinho. For me, that's the beautiful kind of football. That's how I always wanted to play. But unfortunately stereotypes in society are hard to break. Where I grew up, there were many families who migrated to Germany from all over the world to work in the coal mines, and they were an easy target for closed-minded people.

One of the cool things about growing up in Gelsenkirchen was that it seemed like everyone's parents made pretty much the same salary. Everyone felt very equal, even if they came to Germany from all over the world. So I had friends whose parents were from Bosnia and Turkey and other places, and I would eat dinner at their houses all the time. Nobody had everything, but we all had something. One kid would have the best football. One kid would have the PlayStation. And then another kid would have the PlayStation game. It was like we collected everything and put it in a pile to share, you know?

When you went to the park to play football you'd hear a mix of German, Polish, Turkish, Portuguese, Arabic and every other language under the sun. Even if you didn't understand one another completely, it didn't matter. Because 11-v-11, or even 15-v-15 is always better than 3-v-3, right? That's the language of football. I always say that we don't have the Champs-Élysées or even any fancy shopping malls in my hometown, but to me it is beautiful in its own way. It's very multicultural and hardworking, and I think that's why so many footballers have come from the area over the last 15 years.

I still get nostalgic when I think about home, but for me, it's all a bit complicated. I grew up going to Schalke matches with my father, and everyone in our family were huge, huge supporters of the club. Huge. My entire childhood, I had just one dream: wear the Schalke shirt and play in front of my family. My father gave me incredible support so that I could achieve that dream. Maybe it's hard for some people to understand, but once I was playing for the Schalke youth team at like 11 or 12 years old, I already felt like I was kind of a professional, in a way. The pressure to make it, even at that age, is very intense. If we lost a match against Dortmund on a Saturday and I didn't play well, I would be in my room all day on Sunday just thinking about what I had done wrong, and how I could do better next time.
I don't know how it is in other countries, but in Germany, or at least in Gelsenkirchen, I think you have to be a little bit obsessed to achieve your dreams. There are just too many good players. And it's funny, because my grandma was the only one who didn't care at all about football. So even when I was traveling to Munich or somewhere to play in a tournament, she would be like, "Julian, why do you have to go so far? Why can't you just play in the garden like you used to do. Isn't that fun?"
And it was fun! But my dream wasn't to play in the garden. My dream was to play for Schalke. When I was 16 years old, my youth-team coach told me, "In two days, the first team wants you to come train with them. You're getting your chance."

Honestly, I don't usually get nervous when it comes to football. But this wasn't about football, really. For those two days, I was nearly shitting my pants. All I could think about was walking into the dressing room and seeing Raúl.

What was I going to say to him?

I was just a kid. He was Raúl.

To me, it was like meeting God. So that night, I asked my father, "O.K., if I walk into the room, and he sees me, what should I say? Do I say, 'Hello, Raúl?' That doesn't sound right. Do I say, 'Hello, Mr. Raúl?' "

We finally decided that I should just shake his hand, smile and say, "Hello, I'm Julian. Nice to meet you."

Simple. Be cool.

So I walk into the dressing room the next day, and I see all these big guys that I grew up watching. Klaas-Jan Huntelaar, Jefferson Farfán and, of course, Raúl. They're putting on their socks like it's just another day, and I'm basically just trying to stare at the ground and not make eye contact. But then this guy starts walking toward me. Big guy. Cool hair. I look up and it's Jermaine Jones. He nods and puts out his hand to introduce himself.

And I say, "Guten morgen, Herr Jones!"

("Good morning, Mister Jones!")

Man, he starts laughing so hard.

He's like, "You can just call me Jermaine."

That was an unbelievable day. When I finally shook hands with Raúl, I don't even know what I said. All I can remember was that my hand was so cold and I was trying not to pass out.

One year later, I was playing in the first team with him in the Bundesliga, living my dream. But it was not as straightforward as you think it's going to be when you're a kid. My style of play is not exactly what a lot of the Schalke supporters demand from their players. The first two seasons, everything was incredible. But then Raúl left, Farfán was injured and we changed managers quite a few times. I felt like all the pressure was on my shoulders to carry the club when I was 19, 20 years old.

I was not prepared to cope with it. I actually do not think it's healthy to play for your boyhood club when you're so young, because when things are not going well, it's not just strangers who are whistling at you — it's your neighbors. It's the people you grew up with. It's the people you sat in the terraces with as a kid. It's a very suffocating feeling.
Julie Glassberg/The Players' Tribune
I was reading articles saying that I thought I was too good for the club because of my style of play, and that I was already dreaming of a move to Real Madrid or Barcelona. And it simply was not true at all.

I'll never forget the match against Paderborn at the end of the 2015 season. That was the moment that I knew I had to leave. I was coming back from a hamstring injury and I didn't have a very good game — I was still trying to find my rhythm. We won the match 1–0, but as we were walking off the field, our own supporters were whistling at me.

It was just … heartbreaking.

I came up playing in the Knappenschmiede as a kid, you know? I didn't cost the club any money. I was free. I said in my mind at that moment, I love this club. I will always love this club. But I need to change my life.

I went home that night and I told my father, "In the summer, I have to go."

It was the first time in my life that I made a decision for myself. I didn't say, "Dad, can I go? What do you think?"

I just said, "I have to go. I have to be my own person."

He was actually quite upset at first. My whole family — they didn't want me to leave home. When I told my mother and my grandmother, I cried. But I think sometimes in life you have to escape what you're familiar with if you want to grow.

I didn't leave for glory. I didn't even leave for a bigger club. When I moved to Wolfsburg, I just wanted to be in a new environment.

Everyone called me a traitor.

And you know what? When I was a kid and some player left Schalke for Wolfsburg, I said exactly the same thing. I don't even blame the fans. I just think that they don't always understand what's going on in a player's life, or the pressure that they're under.

I still truly love Schalke, and I still truly love Gelsenkirchen. Without everything I learned at the Knappenschmiede, and everything I learned from Raúl and so many other incredible players at the club, I would not have lived my dreams at the 2014 World Cup.
Clive Rose/Getty Images
When I was called for the national team that summer, it was one of the most surreal days of my life because it was so unexpected. I had a lot going against me. I was only 20 years old, I was coming off a major injury and we already had so many great players in attack — Podolski, Reus, Götze, Schürrle, Müller. But I've always had a special connection with Jogi Löw, so I thought maybe it was possible to make the team if I could prove to the coaches that I was fit. For like three weeks, during the final friendlies, I was right on the edge.

Then, two days before they were supposed to announce the final 23-man squad, the entire national team went to this spa retreat. With all the coaches and the staff and everyone, there were like 50 German men all in this big sauna. You can just picture it. We're sitting there sweating, and everyone's in a good mood. But all I can think about is, Am I going? Am I going? God, am I going?

And then Oliver Bierhoff comes and sits down next to me, and all he says is, "So what number do you want?"

I said, "What?

He said, "What squad number do you want?"

And I genuinely didn't know if he was testing me or no. So I said, "I'll take the last one. Whatever one is left."

Oliver just kind of smiled, and the next day, Jogi Löw told me that I had made the squad. That was one of the happiest moments of my life.

People often ask me what it was like to beat Brazil 7–1 in the semifinals, and what it was like to lift the World Cup.

Well, to answer the second question: It was simply indescribable to lift the trophy, so I will not even try, except to say that it was like living a movie.

And to answer the first question: I don't really like talking about the 7–1 because I think it's disrespectful to the players and to the country of Brazil. Anything can happen in a football match.

There is one memory from that night, however, that is very important to me.

After the match, we had to take a long trip back to our camp in Bahia. And on the bus ride from the airport, it was really dark. At one point we were taking these local roads through some villages, and we heard people shouting from the side of the road. We didn't know what to expect. We had just beaten them 7–1, and when we walked off the field that night, there were grown men in the stands sobbing.

So we all got up and looked out the windows, and all these Brazilians were lining the road, waving their arms. A lot of them were crying. But they were all cheering for us. One guy had a Brazilian flag in one hand, and a German flag in the other.

In every town we passed, more and more people were lining the side of the road and shouting at the bus, "Germany! Germany! Win! Win!"

It was the most incredible thing I've ever seen. Of course, they wanted us to beat Argentina in the final. They definitely did not want to see their rivals lifting the World Cup trophy in Brazil. But for them to come out of their homes and show us love in that moment, when the entire country was devastated, that's what football is all about for me.

To answer my grandmother's question, that is why you travel halfway across the world to play a simple game of football.