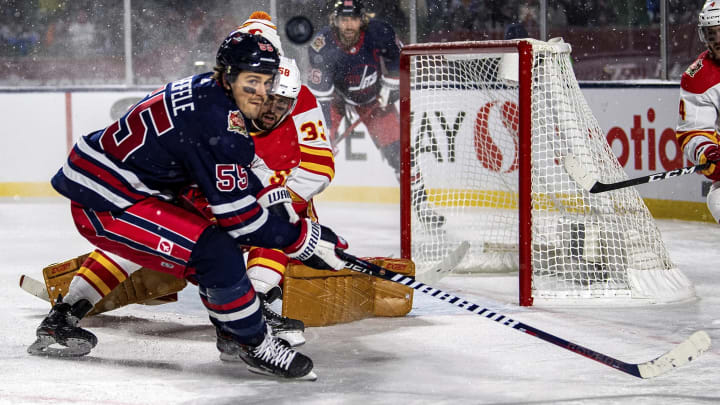 Mark Scheifele's Official* NHL Awards
LIAM RICHARDS/THE CANADIAN PRESS VIA AP
Can't play hockey right now….

Can't watch hockey right now because it reminds me of playing hockey….

But, you know what I can do?

Write about some hockey.

It's cathartic.

How 'bout that?

First of all, I hope everyone is staying safe and healthy. I think that, at their best, sports can be the ultimate escape for everyone — from the players to fans. And, right now, not having our games every other night … it's tough. It hurts. I miss it so darn much this time of year.

I'm like you guys, I just want to be playing and watching some playoff hockey.

It's the best. No other way to put it.

But this break has given me some time to think back on the season so far. It's been a real good one, and it's a shame we won't be able to play it out normally, because I think we all want to see what would have happened.
For my part, as a hockey nerd myself, I know I want to see some of these awards races wrapped up.

You feeling the same way?

Well, I got you. I'm going to pick some winners — right here, right now. I also might sprinkle in some made-up categories, because I've got nothing but time and, man, I just love hockey.

These are Mark's Official, Non-Official, NHL Awards recipients for the season (so far).
---
---
Calder Memorial Trophy

I feel like I had to start here because this seems to be the race everyone is talking about.

Right now, it looks like it's going to come down to Cale Makar and Quinn Hughes. I agree with that. Dominik Kubalík is having a great year in Chicago, but Makar and Hughes are pretty special.

Let's start with Makar.

Skates like the wind. I mean, the guy just straight up has insane speed. I remember the first time I saw him I couldn't believe how deceptive his stride was. He gets on you really quick in the neutral zone. But the thing that stands out to me the most about Makar is his ability to keep possession. Whether it's in transition, or in the O-zone, he's so hard to knock off the puck. This isn't a size thing, mostly. It's more his ability to juke you and bounce off a check. When you know he has that ability, it makes it really hard to mentally commit to a hit on him.
If you go down into the corner to get a puck off him, you've already lost the battle, because he has it.

Hughes's style is a bit more unique because he has one incredibly dominant skill: his skating. Don't get me wrong, he's a lot more than just an elite skater. But the way he works his edges — he does it as well as anybody in the NHL right now. He's not as quick as Makar, I think, but it's the way he creates just little pockets of space for himself that really separates him.

One of the plays that comes to mind is from his NHL debut last year.
Right away, look at the space he has between himself and his mark as he comes down the wall. He could cut back, he could turn and move the puck across the ice and there's nothing that guy can do about it. And then he stops on a dime and plays the puck off the back of the net to himself, which is pure creativity. To have the ability and courage to do that in your first game, man? Crazy.

The next part, though, is my favorite.

He comes around the net, and just look at his edge work here to open his body up and get off a great shot. I think 99% of defensemen come around and sling the puck to the point or kill their momentum by stopping on the half wall. It's a minor thing, but the way Hughes can use that inside edge to propel his body toward the slot and get a shot like that on net … really incredible. His team finishes up the chance and he gets his first NHL point. Awesome.
I think both Makar and Hughes are going to have outstanding careers. They're part of a new wave of D-men who, even though I'm not that much older than them, are a lot different from those who have come before.

It's close, but for me it goes to Hughes. He's just been that much more creative, and also done more to help his team.
Devin Manky/Icon Sportswire via Getty Im
---
---
Hart Memorial Trophy

Alright, first and foremost we've got to understand what the Hart means to me. It is, as defined, awarded to "the player judged to be the most valuable to his team." Personally, if I had a vote, I'd follow those instructions.

The Ted Lindsay Award, which I do have a vote in, is for the league's most outstanding player during the regular season.

Those are two separate things.

That's my rant.

O.K., the Hart.
I'm not sure if this is a controversial opinion, but my vote goes to Jack Eichel.

Look, I play in the Western Conference. I know — I know — how good Leon Draisaitl and Connor McDavid are. They are incredible and just unplayable during some shifts. Leon is probably the smartest player in the game. Connor … well, everyone knows him. And guys like Nathan MacKinnon and David Pastrnak deserve some praise as well, absolutely.

But, like I said, the most valuable player to his team? Jack Eichel.
He's 23 years old, he's got 337 points in 354 games and, believe me, he gets the toughest assignments every night. Whenever we play Buffalo, he's the first guy we look to try to nullify. He's a monster in the offensive end and an absolute pain to play against when you're trying to score. He can do it all. He's one of the most complete forwards in the game. And he doesn't take a shift off. I've been watching a lot of the Sabres this year whenever I get the time because of how dominant he is when he's on the ice. Every time he steps out there he seems like he's just got another gear over everyone else. To do that night in and night out? That's impressive.

Love this play here from him.
It's almost like Jack has the puck already and he's actually just trying to beat the Blackhawks' defender. Look at the way he feints his hips toward the boards, he wants the D-man to drop the puck to his trailing teammate. He's a few seconds ahead of everyone on the ice. Then he beats future Hall of Famer Duncan Keith and draws the pokecheck out of the goalie before putting the puck in the net. There's like 15 small things that happen in that play that most guys in the league can't do.

There are guys who might look at the scoreboard in a game like that and not forecheck with that sort of focus, that sort of intensity.

But Jack doesn't take a single shift off.

That's why he's my MVP.
---
---
Vezina Trophy

I've got this buddy, Julian Melchiori, who was playing with our AHL team, the Manitoba Moose, in 2016. He was roommates with a goalie, and I remember he was talking to me one day about the guy.

"Bro, this guy I live with, he's going to be one of the best goalies in the world one day, I'm serious."

I didn't believe him.

He said, "Man, I swear to you."

His roommate was Connor Hellebuyck.

And now, yeah, I believe him.

This isn't me being biased for my teammate. Trust me. I'm giving it to you straight. And the truth is, Helle deserves the Vezina.
He came into the league a few years ago, and has worked so hard to get his game to this level. It's not easy to be a goalie in a Canadian market — everyone is a goalie coach any time there's a new guy in town. But Helle's work ethic is unmatched by any player I've ever seen. The time he spends in the video room, in the gym — he's relentless.

He'll give up a goal during a game, and the next day he'll be on the ice facing that same shot 50 times until he gets it right.

I don't know the specific mechanics that make him great, but his hockey IQ is really incredible. I think he has a database in his head for every shooter in the league, because he's hands down the best shot-stopper out there. Our team wouldn't have won as many games as we did this year without his play.
Sometimes, as a forward, you make a mistake and you just know, because these guys are so good, that it's going to lead to a goal. But it seems like, when that happens this year, the pucks just aren't going in.

They're hitting Helle in the chest and we get to go to the bench for a change.

I know there are a bunch of stats out there that will point you in the same direction as I'm heading on the Vezina train.

Julian was right. Helle is the real deal. One of the best.

Give the guy his silverware.
---
---
Made-up Award Alert: My Favorite Goal of The Year

There's been quite a few good ones this year, but for me, Connor McDavid's goal against Toronto is my favorite — for a couple of reasons.

First, it's against a great, great D-man in Morgan Rielly. There's almost nothing he can really do here on this play, which is what makes it so special in my opinion.
Connor is trailing the play because he knows it's four-on-four, and he doesn't want to give Toronto a free drop pass to Rielly. The play turns over and immediately the Leafs are in trouble because it's number 97 with the puck. With most other players a one-on-one like this is all right.

The setup for the move starts as soon as Connor gets the puck. His eyes are up, looking to dish it to his teammate coming down the ice. But in Connor's mind, he's already seeing the move. He's baiting Rielly into moving his left hip a couple of inches, shifting his weight to the inside, so that Connor can beat him to the outside. That's the key to this goal, I think, that tiny shift of weight from Rielly that is drawn out by Connor's eyes and his position of looking to pass.

Then Connor does what he does, hits that speed-boost button that truly only he has and gets by Rielly and in on goal. The finish is unreal, too. For sure, you've got to think he's going backhand there but somehow he gets it back to his forehand and roofs it.

There's not much to explain about the end of the goal, because I don't really get how he does it.

Rielly is nearly faultless here because for the entirety of his hockey career he hasn't had to deal with a player like that.

What a goal.
---
---
Made-up Award Alert: Some of My Favorite Players to Watch

Usually when our games wrap up I'll head home and get on NHL.com and watch highlights from around the league. This year there are a few guys in particular who I've really enjoyed watching.

Even though he's in our division I still love watching Patty Kane play. No doubt he gets a lot of coverage, but for me he's one of the most influential players in the game when he's on the ice. He's got sweet hands, everyone knows that. I think what separates him from other guys in the league, though, is his ability to keep a play going forward. What I mean by that is, basically, he does the right thing with the puck almost every time, whether it's recycling possession or making the killer backdoor dish to set up a quality chance. He's got to be one of the toughest players to match up against in your own end. That type of player is so beneficial to a team because he lifts everyone up. And then you combine that with his speed and skill and he's one of the best in the world for a reason.
Another guy whose highlights I'm always checking out is Elias Pettersson in Vancouver. He's super unique because of his strength on the puck, which will absolutely catch you off guard because he doesn't look that big. It's a huge part of his game, and when I'm watching him I'm not really looking at the puck, but more at how he positions himself in the corners and when trying to beat a guy. I think a lot of guys could learn quite a bit from a Pettersson highlight reel.

Someone else who players can learn from is Mathew Barzal on Long Island. His point totals might not blow you away yet, but as far as controlling the game? Not sure there's too many better out there. He's always got the puck, and not in a selfish way. It's just that he's the one who can set up the ice in a way to let his teammates succeed.

This play is a great example of a goal that he doesn't get credit for, but that he absolutely sets up.
He makes a great move to threaten the Caps defender there, who then follows Barzal back to the point. This is where his hockey IQ comes into play: He realizes that the guy marking Bailey in front of the net is a forward now, and because of that, Bailey has a lot of space. Barzal notices that and what looks like a harmless shot is actually a perfect pass that he wants Bailey to tip in. And that all happens because of his mind as well as his strength on the puck.

In a few years he's going to be leading the league in scoring.