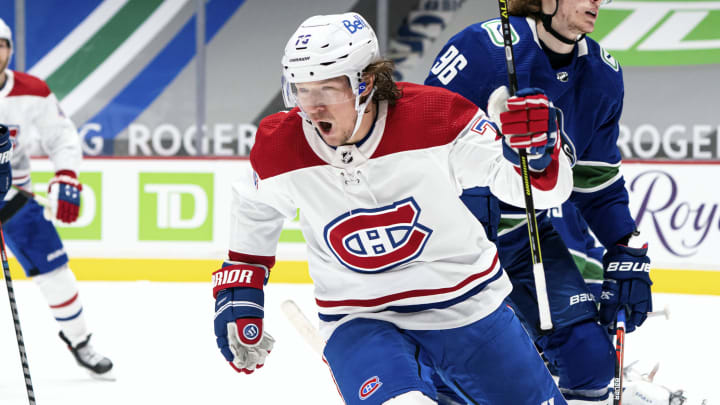 I Was Meant To Be a Hab
Let me explain L.A. to you real quick: There is no shortage of superstars in the city, of course. But there's a bit of a hierarchy among them. A-listers … B-listers … and so on. The top has LeBron, Kawhi, Beyoncé — the big, big names. But toward the middle of that structure, you'll find a great group of guys: The role players on the L.A. Kings.
That was me.
Tyler Toffoli, former D-list celebrity in Hollywood.
Don't get me wrong, it's a great gig. You're famous enough to get into some restaurants and get tickets above the dugout at Dodger Stadium. But you're not getting swarmed by paparazzi walking the dog. It's a beautiful little niche. 
And from time to time, you rub shoulders with some of those big names. I mean, my wife, Cat, and I are even friends with some of them. But, man, sometimes you run into the mega-star — the larger-than-life person who transcends the celebrity food chain. And when you see them? That's when you know you're really in L.A.
I remember one day — and this was my first summer in L.A. — I was training at the practice facility that we shared with the Lakers. I was out in the parking lot getting ready to head home, and I see this guy pop out of his car in a purple velour tracksuit. And he's wearing the biggest, flashiest sunglasses I've ever seen. I'm sort of squinting, like, Maaaaan, who is that guy??
He's walking over, and I feel like time is standing still for this guy. I'm not even sure his feet are touching the ground, to be real with you. He's just gliding.
That's the Kobe experience.
He looked at me, flashed me a peace and floated right on into the facility. I don't know if he thought I was the valet, or a King, or what — but there were two L.A.'s in that moment: Kobe's, and the rest of ours.
I called my dad like, "POPS!! I Just saw Kobe!!"
I mean, it's not every day Kobe is flashing the peace sign at a kid from Scarborough. I can tell you that much. 
I'll never forget that moment because, when I see the photos of me and the boys in 2014, with the Cup over our heads on the ice at Staples Center — I feel like we got to live in Kobe's L.A., if only for just a few months. You know, like I was just so happy for everyone in that group and everyone who was a part of that incredible run. I felt like we made the city, and all its great champions across multiple sports, really proud. From the way we battled, to the way we carried ourselves off the ice.
That's my legacy in L.A.
Bruce Bennett/Getty Images
And to win a Stanley Cup at 22 years old, to ride through L.A. and just feel on top of the world — it was incredible. But it was almost, like … I took how truly hard it is to win a Cup for granted. I just thought that winning would come naturally after that. I tried not to think that way, of course, and it's not like I didn't give my all every time we made the playoffs. But we never won it again, and I'm a different person now than the kid riding down Figueroa with the Cup beside him — I've grown a lot because of those losses in the playoffs. I'm a better player today than I was back then.
But I haven't come close to winning a Cup since.
I think about that every day.
I really do.
And it bothers me.
That's one of the reasons I wanted to come to Montreal.
Because I feel like this team, this city, feels the same way I do: We're hungry for a Cup.
And everything I've experienced — every win, every loss — has led me to becoming a Hab.
I haven't come close to winning a Cup since. I think about that every day.

- Tyler Toffoli
The truth, though?
I always thought I would be a King for life.
The organization really raised me, and I owe a lot to the leadership group, both on the ice and in the front office. I look back on those good teams we had, and I think that what made me really love being a King was the attitude we had in the room. Like here: I'll tell a quick story about Coach Sutter that sort of sums up our group.
I think it was early 2016–17. We were having an up-and-down start to our season, but we had just reeled off five straight wins, and the boys are in the room after a game and everyone's feeling good, cracking jokes and stuff. And Coach comes in and just starts ripping into us.
"That third period wasn't f****** good enough! The effort wasn't there at all. What are you guys even doing?"
He was livid, just givin' it to us. But he was doing that because our third period probably had been a little weak, and you can't play like that and expect to win many games.
So our season goes on and it's not perfect but we're grinding, trying to make the playoffs. And we run into a tough stretch in January where we lose four straight, and the fourth one is a pretty tough pill to swallow. So I'm sitting in the locker room after that game, expecting some harsh words from the coach. I've braced my mind for it.
But he comes in, big smile on his face: "Boys?? Boys!! Why the long faces here? We're doing the right things out there, the bounces are going to go our way. Don't worry. Just keep going here, boys!"
That was Sutts.
He always kept us going in the right direction and made sure we all knew that the end-goal was to be playing good hockey come springtime. Winning wasn't a style of hockey, or an effort level — it was an attitude. And every player had that in our room. That's what made it so tough to leave L.A. last year.
Winning wasn't a style of hockey, or an effort level — it was an attitude. And every player had that in our room.

- Tyler Toffoli
But it's not like I didn't know it was coming. I had been mentioned in trade rumors for well over a year. Cat and I were pretty prepared to get the news to pack up and head someplace new. I was in Colorado with the team for the outdoor game against the Avs, and I remember, the day of the game, one of our trainers looked at me and said, "Hey, just keep going. Do your thing out there." And this guy never says anything like that to me, so I just sort of look at him for a sec, and he looks at me ... and man, I could just tell. He was really saying, If this is it tonight, make sure you give it everything you have. 
So I did. A couple of bounces went my way, and I scored a hat trick in what turned out to be my final game as an L.A. King. 
Just about 48 hours later I was in a restaurant in Winnipeg with some of my teammates, when my phone lit up on the table.
CALL FROM: ROB BLAKE
Alec Martinez looks at the phone, looks at me, looks at the guys.
"Damn, boys. I think he just got traded."
A few hours later I was in Vancouver — as a Canuck.
I'd been in Winnipeg for just a single game, and I'd only brought one suit and some clothes to sleep in. That's all I had. So I did what all Vancouverites do when they need some new clothes: go to Lululemon.
I'm good friends with Tanner Pearson, so when I got to Vancouver, he hooked me up with a $200 gift card. I went straight out to get some clothes, and then went back to his place for dinner. It was pretty surreal to be catching up with him, his wife and his son again after we had been teammates in L.A. He told me about how much I was going to love the city, and I was just really, really excited. I felt like Blakey traded me there because he knew it would light that fire under me again and give me a chance to shine in a bigger role. I appreciated that a lot.
Jeff Vinnick/NHLI via Getty Images
And I think I sort of underestimated, or forgot, how big a deal hockey is in the Canadian markets. In L.A., there are a handful of massive teams that take up everyone's attention, but in Vancouver, it's really just the Canucks. They've got the MLS and CFL, but it's a Canuck town. I remember watching TSN a bit at the airport and they were saying stuff like, "Vancouver gets Toffoli in a blockbuster move."
And look, I think I'm a good player.
But me? Blockbuster move?
I'm just that guy Kobe saw one time in a parking lot.
D-list in L.A. might be A-list in Vancouver?
(No offense to the local Vancouver celebrities.)
From the second I got on the ice there, I just loved it. I was on a line with Petey and Millsy and we had incredible chemistry right from the get go. I just had a different feeling coming to the rink each day. I was rejuvenated. Obviously everything got flipped upside down when the season shut down due to the pandemic, but I felt a real connection to the city. Cat and I both did.
I got hurt in the bubble and the series against Vegas didn't quite go our way last summer, but it seemed like the start of something special out there. And I just felt like I really fit in with that group off the ice. Everything was easy.
That's why I wanted to come back to Vancouver. I could have seen myself finishing out my career there. But hockey is a business, I understand that. And at the end of the day, there was no offer from the Canucks' end, so we had to go another direction. It was disappointing, but I knew that there was going to be a team out there that wanted me and saw me for the player I know I am.
And here's the funny thing about what happened next. When I was with the Canucks, I had been watching a lot of games during my time in the bubble in Edmonton — because there wasn't a whole to do — and one of the guys who kept catching my eye? Nick Suzuki. I'm serious. I didn't get to see a whole lot of him while I was playing on the West Coast. But watching him against the Pens … I was just like, Man, I want to play on this guy's line one day.
So when my agent came to me during this last off-season and said Montreal was interested, Nick was one of the guys I thought of when I was looking through their lineup. I had heard from my buddy Nate Thompson that the Habs were a great group of guys off the ice, and that is something that matters a lot to me. And Cat and I both really loved the idea of living in Montreal, so it just made sense.
But there was one more thing that really made me want to sign with Montreal: the fans.
When I was with the Kings, we always played really well against the Habs. But there was one game in December 2014, where we just didn't have it that night. We were at the Bell Centre and they beat us pretty good, like 6–2 I think. And I remember with a few minutes to go in the game, the fans were just going crazy. It was like a playoff environment. And they were singing, "Olé, Olé, Olé, Olé, Olé! Oooooolé!" And I was just sitting on the bench thinking how brutal this was and how I couldn't wait to get out of there.
But now they're on my side. And even though I haven't been able to experience a proper Saturday night at the Bell Centre as a Hab — I know it's going to be incredible when it happens.
Francois Lacasse/NHLI via Getty Images
My agent warned me that there would be extra scrutiny and pressure if I came to Montreal, but he thought I could handle it. And I know I can. Because I want the same thing as every fan who wishes me luck when I'm walking down the street with Cat in Montreal: 
To win a Cup. That's it. That's why I came here.
And, yeah, this season hasn't been the easiest so far. We all know that. But we've had some moments that I think really show who we are, and I hope I've been able to show the fans the player I want to be. Like in that series early in the year in Vancouver. Man, I've got to tell a short story about that.
Look, I've got no animosity for those guys. Like I said, I loved my time there. In our first game against them, when I scored, I remember their bench was just lighting me up with the chirps. Just great stuff. And then, when the second one went in, only a few guys said something. Then I get the third one, and I'm skating by their bench and it's just silent … and then right as I get to the end, I hear one guy.
"Are you f****** kidding me, Toffs?"
The boys on our bench were just cracking up.
They beat us in the shootout. So they got the last laugh. But a few of  'em texted me after the game like, "Bro, if you had scored in the shootout I would have killed you."
"Are you f****** kidding me, Toffs?"
It was just … really, really fun. And that's how I've felt this entire year. Yeah, there've been ups and downs — but when it comes to hockey?? I feel like a kid again. I'm loving coming to the rink. I'm loving playing for the city of Montreal. And we're doing everything we can to make sure we give ourselves a chance this postseason. I can promise you that. And I know that, no matter what happens, we've got a lot of exciting pieces here that will keep us getting better.
I mean, you've all seen what Cole Caufield is doing, right?
He's special, man. For real. He's got that it factor. I've only seen it in a few guys in the league. He's got it. And he's also — no lie here — the funniest kid I've ever met. He's always cracking jokes at practice and loves to laugh at himself. He's just so excited to be in the NHL, you can see it. He still gets all wide-eyed when Carey or Webs talks to him, and I can see him get a little nervous when he's talking to Corey Perry. I swear he's going to say, "Yes, sir, Mr. Perry," one day. 
He and our young guys have a great group of leaders to learn from. Carey sets the tone every day with his work ethic and determination to get better. I know it's cliché, but the guy truly is the first one at the rink each day. And the way he goes about his craft, it just makes you want to work 10 times harder.
I believe in this group we have, I really do.
Was I born to be a Hab? Look, I'm a kid from Scarborough who grew up going to Leafs games. So I don't think so. But life is weird. Hockey is weird, too. And I believe this is where I'm supposed to be.
So again, was I born to be a Hab? Nah, probably not.
But am I meant to be one?
You're damn right I am.