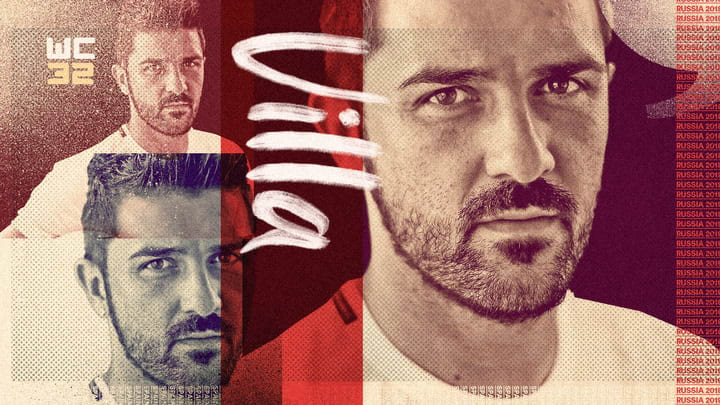 PARA LEER EN ESPAÑOL, HAZ  CLICK AQUÍ
There's a legend in my family, and my mother swears that it is true. Way back in 1981, in the small mining town of Tuilla, Spain, my mother found out that she was pregnant. At first, my father really wanted another girl for my sister to play with. But when they went to the doctor's office and found out that they were having a boy, he was overcome with emotion, and the first thing he said was, "A boy! He's going to be my little footballer!"
This was a big moment for my father, because he was living in this tiny flat with my mother and my sister, and they had no interest in talking to him about football. He was outnumbered. He needed a partner.
He was probably already plotting my training sessions in the doctor's office. If that sounds strange to you, then you really have to understand the hard life that my father was living every day. Like most of the men in Tuilla, he worked in the coal mine that sustained the town. All night long, he toiled away 800 meters underground to make sure our family had everything we needed. It was extremely difficult and dangerous work. One night when I was a child, there was an accident, and the mine caught fire.
When we woke up, we heard that he had been able to get out. When he got home, I remember him telling us how he had escaped and who had helped him. But many miners were not so lucky. They were stuck down there for days. Some, unfortunately, never made it out.
My father had to risk his life to feed his family, and he wanted a better life for me. Without him, I would never have played for Valencia, Barça or Atlético Madrid. I'd never have won the World Cup. I'd never have joined New York City. Hell, I wouldn't even be able to run properly.
This might sound like a joke, but it's really true: Without my father, one of my legs would have been shorter than the other. We'll get to that story in a minute.…
Tuilla was a working-class town, but it was also a very joyful place, dense with people, full of kids. I was so happy. I wouldn't have changed my childhood for anything in the world. My family had a tiny flat, which was always full of friends and relatives. I remember that in order to play football inside the house, I had to make my own balls out of paper and tape, because my mother wouldn't let me use a real one. Apparently I would just break things.
I guess my shooting ability has improved since then. ?
David Villa
Tuilla isn't like one of the big cities, where you always play on a proper pitch. My friends and I had to improvise. So we'd play in streets and squares. We'd play in a parking lot. We'd play on an uneven grass patch near our gate. Thinking of it, I doubt there's a single surface area in Tuilla where we didn't play football.
When I was four years old, I was (surprise!) playing football when a bigger kid fell on top of me. I remember the excruciating pain. We went to the hospital, and it turned out that I broke my femur in my right leg. Because I was so young, the doctors couldn't find a way for the bone to heal without leaving a height deficit. So basically, I'd have a leg shorter than the other.
Not ideal if you want to be a footballer!
My father turned every stone to find a solution. One day he found this doctor who had a theory about weights. I'd have to lay in the hospital bed all day, with weights that kept my legs hanging in the air, so that the bone would fuse properly. It was very hard for a four-year-old, and it took ages, but I had to do it so that the bone would fuse properly.
At least this is what my parents tell me. I have hardly any memories of this time. Perhaps because I was hanging by my legs every day! ?
Once I was allowed out of bed, I started playing football again. My right leg was still in a cast. So I'd limp out into the yard, lean against the house, and then my father would roll the ball to my left foot. And I'd kick it back, over and over and over. When people analyze my game now, they talk about how I'm able to shoot well with both feet.
Even the worst moments can lead to good things, you know?
My father is the person who has influenced me the most. By far. He wasn't just a father to me — he was a friend. He'd take me to training, watch it, and take me home. When it was dark and muddy, and I didn't want to train, he'd spur me on. When it was freezing, he'd warm up the car so that I wouldn't be cold on the way home.
Without his guidance, I would have been lost. I'd say he's more responsible for my success than I am.
When my father was away, my mother, who is a housewife, spent most of the time with us. She tried to take care of us, to take us to school…
Well, not tried. She did it like a champion. ?
She and my father gave us everything. I would love it if, in the future, my younger son, Luca, sees in me what I see in my father. He was my idol, my example. He suffered a lot in that mine, but I've always seen him as a happy person. The most important advice he gave me was: "Work."
"Talent alone is useless," he'd say. "You need to hone it every day."
I've never, ever forgotten that.
My first team was Langreo, the third-best club in Asturias after Sporting Gijón and Oviedo. My father would say that he saw something different in me compared to others. I didn't know whether he said it because I was actually a good player, or because of his love for his son.
Apparently, neither did he. Perhaps it was a bit of both.
At that time, when I was 16 years old, I just wanted to enjoy football. My mentality changed when Sporting Gijón signed me. I realized I had come to a club that developed professionals. They soon invited me to train with their second team, Sporting B. That was a dream for me, because they were playing in the Spanish third division. There was just one problem. They were training in the mornings, and I was already at school trying to become an electrician.
I couldn't do both. So I had to make a decision.
I knew I wanted to be a footballer. Safe to say, so did my father. We just had to convince my mother. I wasn't making any money, and she obviously didn't want me to quit school. But none of us had expected me to play elite football this early, so I told her:
Mom, I'm gonna give myself two or three years to make a living out of this. And if it doesn't happen, I promise I'll go back to school.
You can usually tell in football. If I had turned 22 without making it, I'd still have time to study. But thank God I didn't have to. Six months later, I had signed my first professional contract.
On the day it happened, I was with my representative in the Sporting offices. He was talking about money, but I was so excited I didn't even care.
Honestly, I'd have signed whatever they put in front of me.
There are some clubs where the only people who turn up to watch the second team are the players' parents and relatives. Not Sporting Gijón. When I made my debut at home for Sporting B, the stadium was full. There were 3,000 people. The press was there.
That was the first time I really felt pressure as a footballer.
It hit me hard. I mean, I was completely unprepared. A professional plays in front of tens of thousands of people, you know? He talks to the media, knows the world and travels often. I was from Tuilla. I hadn't even boarded a plane until I was 18, when I flew to Las Palmas.
When I joined the Sporting first team, in the second division, my whole family would come to watch me play. Even my uncles and cousins turned up.
But that all changed in 2003, when I moved to Zaragoza. Two weeks later, I married my girlfriend, Patricia, who I had met at school. We were both 21 years old. And now we were moving to a new city, a five-hour drive east from Gijón.
Believe me, it was so hard.
Javier Soriano/AFP/Getty Images
We had never lived away from our parents before. I was playing in La Liga, where I had to deliver every week, because Zaragoza had spent a lot of money on me. I'm so glad I had the help of Patricia, my parents, her parents, my siblings — everyone close to us. Because everything was happening so fast. In two and a half years, I had gone from playing with friends in Gijón to facing Ronaldinho, Roberto Carlos and Zinedine Zidane.
A lot of journalists wanted to get rid of me at the start, because I wasn't doing well. But the coach, Paco Flores, kept faith in me. I started scoring, and by the end of the season I was the team's top scorer, with 17 league goals. One day my representative told me: "If you keep this up, a better team will come and pay your buyout clause."
Uh, my buyout clause?
I didn't even know what my buyout clause was.
I had just signed the contract knowing what I'd earn and for how long. So I asked him what it was.
"Twelve million euros."
What?
I just looked at him. He wasn't joking.
I thought, "Nobody… nobody is going to pay that." You feel it's not real, that you're not worth that kind of money. (But about two years later, Valencia really did pay it).
Everything was changing so fast for me. The most surreal moment was February 2005. I will never forget it. These guys come walking out onto the pitch at the end of our training. I'm practicing free kicks, and they're coming right towards me, and I don't know why.
One of the guys is the media director for Zaragoza, and he is holding a red shirt, the same one I had as a kid.
Then it dawns on me. I freeze. I shake my head.
This can't be happening…
I knew I had been scoring a lot of goals lately, that our fans had been chanting Villa selección! The press were mentioning my name too, but, honestly, I didn't think it was gonna happen.
Villa for Spain? Come on. It was just a childhood fantasy.
You see, as a kid I had my favorite clubs — Sporting Gijón, Barcelona — but the only shirt I had was that of the Spanish national team. It had no name or number — it was all about the team. My biggest dream was to put it on and play for my country. But, like I said, it was just a fantasy….
Villa for Spain? Come on. It was just a childhood fantasy.
And now, I'm standing on the training pitch and the media director is walking towards me with the shirt. It was a moment that I will never forget.
"Congratulations," he says. "You've been called up to the national team."
They even brought a photographer to take a picture of me with the shirt. I'm telling you now, playing for Spain is the greatest thing I've ever done. And to be able to do it so young, at 23 years old…. It was one of those moments when you start reflecting on how far you've come. The national team had Raúl, Fernando Morientes … players I looked at and said, "I want to be like them."
Now we'd be sharing the same locker room.
Antonio Calanni/AP Photo
My Spain debut came on 9 February 2005 in Almeria, in a World Cup qualifier against San Marino. The coach was Luis Aragonés. He was one of the people who helped me the most — may he rest in peace — and we'll all remember him forever.
At our first training session, he told me, "Do the same here that you do at Zaragoza. That's why I brought you here."
I started the game on the bench. I kept hoping and praying. You know how it goes.
Maybe he'll put me on for the last 10 minutes…
Five minutes before halftime, the fitness coach told me to warm up. He didn't say anything else. Then at halftime, Luis grabbed me.
"You're going on now," he said. "Straight out. As soon as the second half starts. So you better step it up during that warmup."
Pfff! You can imagine. I've never done a better warmup in my life!
When we got to the 2006 World Cup, our past was hanging over us. People kept talking about how we never made it past the quarterfinals. At the Euros we hadn't done it in 22 years. And at the World Cup, we hadn't finished among the last four since 1950. One of those failures was still etched into my mind.
Henri Szwarc/Bongarts/Getty Images
Spain were playing Italy in the quarterfinals at the 1994 World Cup, and I remember Luis Enrique had his shirt covered in blood. Mauro Tassotti had broken his nose. I cried a lot when that happened. Not just because Spain lost, but because Luis Enrique was my idol.
We played well at the 2006 World Cup. Unfortunately, France had more experience than us. I was sure that defeat would help us at Euro 2008, but people were still talking.
You play nice football, but you never win anything.
It was always the same story, you know?
That's why the stakes were so high when we faced Italy in the quarterfinals at Euro 2008. We had been the better side, so when it went to penalty kicks, the journalists had already started typing.
SPAIN PLAY WELL, LOSE ON PENALTIES.
I could almost see the headlines as I walked up to take the first spot kick.
It made me think of my first game at Sporting B. The psychology of a player is so important — to have the mindset to withstand that pressure. I'm sure there are many players I played with who had more talent than me, but who never made it because they lacked that toughness.
When we won that shootout against Italy, I'm telling you, we already felt like champions. It was like a trophy for us. Because we had changed the story, you know?
The story everyone thought they knew the ending to.
Winning that tournament changed our mentality for the 2010 World Cup. We were more relaxed. We now knew what it felt like to win together. We feared nobody.
For the first time, we felt like true favorites.
So of course, we lost our first game.
Julie Jacobson/AP Photo
What a smack in the face: 1–0 to Switzerland. Many people said we were passing it too much, that we had to defend more. I actually think it was one of the best games we played. We had 24 attempts, we had all the possession. The ball just didn't want to go in.
It was hard to take. But it made us realize we couldn't afford any more mistakes.
When we played our decisive group game against Chile, I remember their keeper rushed out and cleared the ball straight to me. I had an open goal, but I was 45 yards out. I struck it first-time with my left. When I saw the video later, I thought, 'My God, If I'd controlled the ball with my right foot, I'd have a far better chance of scoring.'
Luckily, the ball went in.
But why did I do it?
I think it comes down to instinct. You're born with it. Things happen so quickly that you don't have time to think. A ball can land in the box and you just hit it. Later you realize, "I didn't need to shoot from there, I could've gotten closer." But … well, you just did it.
What you can learn is to stay calm. If you get mad, well, you're not gonna score many goals. It happens to me too. I'll be losing easy balls, screwing up my dribbles. So I'll keep telling myself:
One has to land. At least one has to land.
So when a chance finally comes my way, I'll be calm enough to put it away.
When you enter the knockout phase at a World Cup, you usually keep an eye on the other games to see who you might get next. But in South Africa, we didn't care. Seriously. We were that confident. Not in a cocky way. It was more of an internal conviction.
It was strange: even you didn't know why you were so confident. You just were.
Even when our final against Holland stood at 0–0 in extra time, and I had been taken off, I felt we'd win. But I'll be honest, I thought it would be on penalties. On the bench, our goalkeeping coach was already preparing for it.
Then Andrés Iniesta scored and … well, you can imagine. We stormed out of the dugout.
Jewel Samad/AFP/Getty Images
That goal by Andrés is the happiest moment of my career. No doubt. It's not my moment, but I knew we had achieved something nobody in our country had done before. To make it even better, I went up in the stands afterwards to see my family. They were all there.
We weren't really conscious of what we had achieved until we came back to Spain. There hadn't been that many Spaniards in South Africa, but when we arrived in Madrid and saw the whole country celebrating, it was like winning another trophy.
The joy is still there. Even now in New York, people stop me to talk about it.
Thank you for the five goals you scored.
Give Iniesta our thanks.
I'm 36 years old now, and this will be the first World Cup in a long time that I will have to watch on television. But I have been blessed to have come from such humble beginnings and to have played in three World Cups for my country. For that, I owe everything to my father. What worries me the most is the day I won't be able to do what I do. The day I won't be as fast. The day my level dips. The day I realize I have to quit football.
That's why I place such importance on training, diet and the small details. I know that day will come, but I want it to be as late as possible. And until then, I'll keep playing football my way. I'll keep trying to add things to my game. Talent alone is useless. You've got to hone it every day.
A wise man once taught me that. Thank you, Dad.