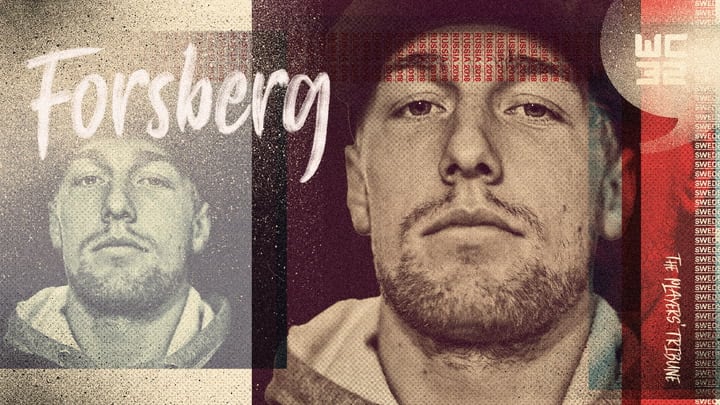 The only time I get nervous in football is after I play a bad game. You see, when I get home that night, I know what's coming… a meeting with "the Sheriff."

And let me tell you, it can be brutal. The Sheriff always gives it to me straight.

"You were a disaster!"

"Where were you there?"

"Why didn't you make that run?"

"Do you call that a corner? Seriously? Seriously?"

And if the Sheriff gets really pissed off … well, you don't want to be in the same room. Trust me, I know … because I know the Sheriff better than anyone.

After all, she is my wife.
via Emil Forsberg
You may think I'm joking about this, but I'm not. Her feedback is dead serious, and I take it seriously. In fact, I almost always agree with her analysis. Of course, I could start answering back. But, well, this is marriage, and you know how these arguments work. I've got no chance!

But more importantly, my wife happens to be Shanga Forsberg, former footballer for Leipzig and the Swedish women's national team. Seriously, she watches more football than I do.

In fact, she has made me the player I am today. Well, her and this other friend of mine, who I'll get to in a second. You see, before I met those two, I was just a shy kid from Sundsvall, a small town in Northern Sweden. Everyone knows Swedes as quiet and respectful. But in the north, we're even more reserved. The southern Swedes are practically Spanish compared to us.

The culture in the north is: Never speak up. Always stay in the background. I get this from my father, Leif, who is so mild that Shanga calls him "the teddy bear."
But if you want to make it big in football, being quiet can work against you. Luckily for me, I also inherited some talent from my father. He was a prolific striker for our local team, GIF Sundsvall, and when I watched videos of him when I was a kid, I could see many similarities that we share. But he also had this aggression: He was flying into headers, and kicking people and getting elbows in return.

And then I realized, I don't have his attitude. I lack that toughness.

And I really needed it. When I was in my early teens, I faced my first rejection, and it hit me hard. I had been trying to get into this place called the Halmstad Elite Camp, which is where the Swedish Football Association picks the youth national team. And guess what their reason was for rejecting me?

… Wait for it….

They thought I was too small.
I was crushed. I thought, What am I supposed to do? Magically grow taller? If I can't even make this camp, how am I ever gonna play for Sweden?

Around the same time, when I was 14 years old, I also met Shanga. Her parents are from Kurdistan, where people aren't as reserved as they are in Sweden. So, you know, if they have a problem, they confront it. If they want to say something, they say it. And Shanga is like that — really direct, super intense and not scared of anyone. That's why I call her "the little Sheriff."

Straight away, she started pushing me to be more aggressive and helping me to get better. When I was 17, I made my debut for Sundsvall, in the second division. We got promoted in my third season — and that's when I met my friend Hasan Cetinkaya, the best football agent in Scandinavia.
via Emil Forsberg
I'm not contractually obligated to say that, by the way. Hasan really is the best.

The first time I met him was at a posh hotel in Sundsvall. It was funny because I had just done an interview with a newspaper, and they had painted me blue for the photo shoot. I tried to wash it off before I got to the hotel, but I was worried I still looked like one of the guys from Avatar. To make things worse, I was wearing this ugly jacket and sweatpants — I still don't know what I was thinking! So when Hasan strolled in wearing this slick suit, I was afraid that he was going to turn around and walk back out the door. Thankfully, he didn't. In fact, we clicked straight away.

Hasan was just so convincing. Like Shanga, he has this directness, this confidence. He said, "Emil, I know everything about you — I know who you are and how you play. Just keep playing your football, and I'll take care of the rest. We'll make something big happen."

Right there, he had me. I mean, those words are pretty cool to hear when you're 20. I was like, Wow, yeah, I really want this. Almost as soon as the meeting was over, I called him and said, "O.K., let's do this. Let's work together."

Although I played well that season, we ended up getting relegated. Going down with your childhood team … man, it's bitter as hell. But almost before I had had the time to get down, Hasan snapped me out of it.

He said, "Emil, I have lots of offers coming in for you … but there's only one that counts: Malmö."
Bobbo Lauhage/EuroFootball/Getty Images
I thought, Really?!

Malmö is the most successful club in Sweden. A dream for me. But we were on vacation in Thailand at the time of the negotiations, and the whole thing was a bit of a soap opera. I'd be about to fall asleep, way past midnight, when Hasan would call me and tell me what I had to do. It went back and forth for ages. I thought, Are all transfers this difficult? Do I really have to do all of this? And that's when Hasan taught me — that, yes, you really do have to. And Shanga kept telling me the same stuff.

They'd say, "Emil, you can't just sit there. You've gotta work for it. You've gotta take the initiative!"

By the time we flew back to Sweden, the deal was done. I was supposed to land in Sundsvall at night and get up for a flight to Malmö at 5 a.m. Trouble was, I had gotten sick. On the way back from Thailand I had spent half the time in the toilet. The flight lasted 11 hours! I actually felt sorry for the lady next to me. I was sitting in a middle seat, so she had to get up every five minutes.

I'd be like, "Excuse me, just gotta nip to the toilet."

I'd come back, but almost before she sat back down again … "Yeah, sorry, gotta go again…."

When I got home, I didn't sleep a wink. The next morning I'm off to Malmö, feeling like death. My eyes are red, my body aches. I'm so tired I don't even know where I am. When I arrive, they guide me into a press conference, and I'm just sitting there shaking.

Every response was like, "Y-y-y-ess. I am v-v-verry excited."

When I finally got back to Sundsvall, I swear, I hardly left my bed for 10 days.

I did well in my first season at Malmö, although one thing bugged me … the coach kept taking me off after an hour. But you know me — I didn't really feel comfortable talking to him about it. So I followed my instincts. I thought, Oh well, I'll just work harder and hopefully I'll play more.
Emil, you can't just sit there. You've gotta work for it. You've gotta take the initiative!
"Hopefully…"

Shanga and Hasan weren't having any of that. They told me to march into the coach's office and tell him that I deserved to play. "You've gotta make your mark," Hasan said. "Show him that you're not gonna be messed about. Come on, man, earn some respect! Take the initiative!"
The next season, I was playing the full 90. But in the first few months, I wasn't scoring or providing assists. I wasn't delivering. As you can imagine, I had some fiery meetings with the Sheriff. And as for Hasan … he was going mental.

"You're playing like a goddamn ballerina!" he said. "Man, what the hell is this? What have I told you? You've gotta stick your chest out, man. Speak up! Be decisive! Take the initiative!"

Ah, yes, just like a Swede! No problem!

But I knew he was right. So I met with our fitness coach and did some extra training during the winter break. When the season resumed … man, I was flying. I was smacking in goals for fun. Suddenly there were all these rumors about me moving to a bigger club. Again I left it to Hasan and went on vacation with Shanga. But now Hasan was acting mysteriously.

He said, "Yeah, Emil, just enjoy your holiday. When you come back, everything will be done."

I said, "Wait, what? What will be done?"

He didn't say more, so I spent two weeks in Los Angeles not knowing what was going on. When we came back, it turned out Hasan had set up a dream move … to the German second division.

Honestly, it wasn't exactly what I had had in mind. RB Leipzig? East Germany? I mean, I wasn't demanding a move to Ibiza here, but come on….

Only later did I begin to realize that Leipzig wasn't an ordinary second-division club. They had ambitions. They told me I'd be the one to drag them up to the Bundesliga and get them into the Champions League. Their vision for the club impressed me, and in the end, I signed the contract.

Within two years, we had reached the Bundesliga.
Roger Petzsche/GEPA pictures
By that time I had also made my debut for Sweden. A year later, we beat our arch rivals Denmark in a playoff to qualify for Euro 2016. I was so excited — this was going to be my first international tournament. We had a good team. We had Zlatan Ibrahimović. I was so psyched up for it.

So what happened? We finished bottom of our group.

It was a disaster. People in Sweden were slaughtering us. Zlatan and I had been the two players who people really had expected to deliver, so we had to hear about it. If you read the press, you'd have thought I had scored an own goal in every game.

But the setback didn't bother me. I mean, I had the Sheriff at home … I knew I had played badly. And anyway, what was I supposed to do? Lie down and die?

No chance. I thought, Forget the Euros, that's history now. There's a new season coming, and I'm gonna be king.
Then a voice popped into my head. "I'm gonna be king? Did you really just say that?"

Maybe the time around Zlatan had rubbed off on me! But I really did say it.

I wasn't afraid to think like that anymore. I had spent so much time with Shanga and Hasan that I no longer let doubt affect me. I wasn't just happy to stay in the background. I wanted to make my mark.

And when the season started, I exploded. I scored eight goals and created another 19 — which is pretty damn good for a winger. I was making the right runs, I was taking charge of the game. In the end, Leipzig finished second and made the Champions League. All of our ambitions had been realized.

And the Sheriff's analysis?

"… Pretty good."
Matt Gordon/The Players' Tribune
In the fall, Sweden drew Italy in the World Cup qualifying playoffs. That was the biggest game of my life. We hadn't been to the World Cup since 2006, so this was huge for our country. Now, obviously, Italy wasn't our dream opponent. You don't dream of facing Buffon in a situation like that. But here's the thing: Never for a second did I think we'd lose.

And when I met up with my teammates, they felt the same. I'm telling you, we may not be the flashiest team … we may not have the biggest stars, especially now without Zlatan. But we have an amazing confidence. When we won 1–0 in Sweden, we knew we only needed a draw in Milan. And that night there wasn't a single Swedish player who looked at the Italian team and thought, "Oh shit, this guy's better than me."

Not one.

When we got the draw, the feeling was indescribable. We celebrated with our fans, and when we looked up into the crowd and saw 70,000 Italians swearing and throwing things at us….

Well, it was a beautiful moment.

And if you see me play a bad game at the tournament in Russia, you can save your comments. Don't worry. I will be hearing a full tactical analysis from the little Sheriff later on.